International capacity from US in Q3 will be down just 10%; Mexico and Colombia seats growing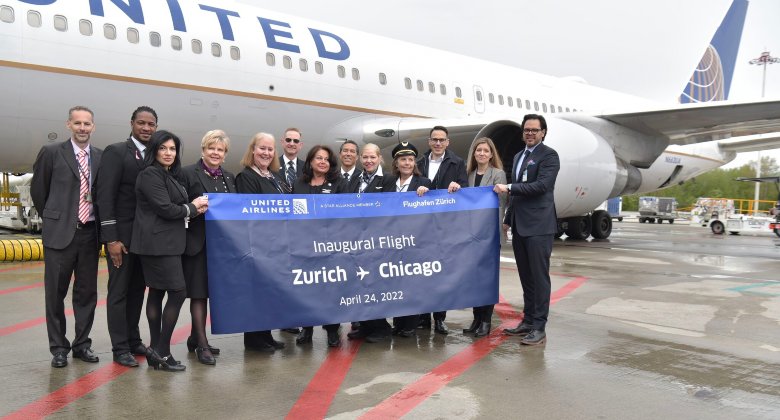 Analysis of the latest airline schedule data provided to Cirium, indicates that capacity on international routes from the US is set to be around 10% down in the third quarter of 2022, compared with the same period in 2019. While such an overall reduction might be expected, given some of the travel restrictions that are still in place, there are considerable variations among different country markets.
If we treat Europe as a single market, then it retains its position as the biggest international market, though capacity to Europe as a whole is down by 12%. Considering that non-essential travel from Europe to the US was only permitted from last November this is an impressive recovery.
Mexico overtakes Canada thanks to 30% growth
Back in 2019 Q3, there was more capacity to Canada from the US than there was to Mexico. Three years later and Mexico is now the bigger market with the number of available seats up 31%, while the Canadian market is expected to see capacity reduced by 12%. All these figures must be treated to some degree as estimates, as all airlines continue to fine tune their capacity taking into account staffing issues, rising fuel prices and passenger booking trends.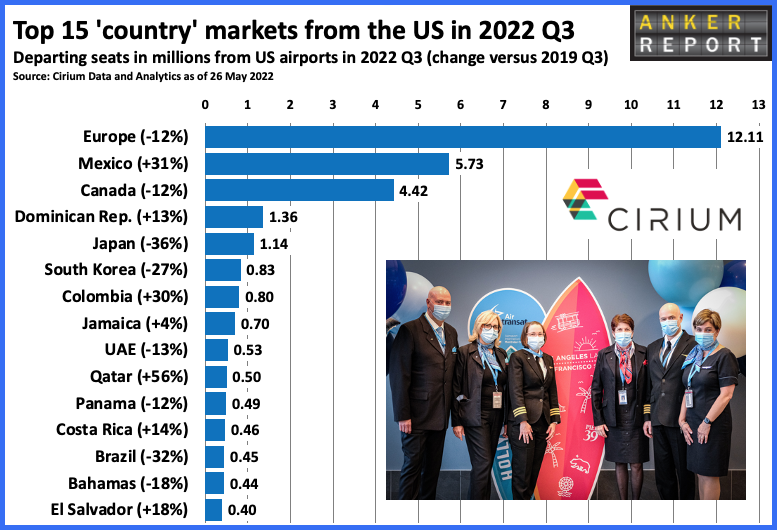 Caribbean and Central American markets have done quite well, with the Dominican Republic showing 13% growth, and seats to Costa Rica and El Salvador up 14% and 18% respectively. Two Asian countries (Japan and South Korea) are still in the top 15, but both have seen significant capacity reductions. China would easily have made the top 15 in this graph three years ago. However, capacity in that market is down 98%, ranking it just behind Nigeria and only just ahead of Togo.
Greece and Turkey fastest-growing European markets
Of the top seven European country markets, six are showing a capacity reduction of between 10% and 20% for Q3. The exception is the Netherlands, where capacity is down just 8%. Just two of Europe's top 15 country markets are showing growth of more than 20%, Greece (+33%) and Turkey (+80%).
Since 2019, Athens has welcomed new non-stop services with American from New York JFK (last June), with Delta from Atlanta (last July) and Boston (started end of May 2022), and with United from Washington (last July). Growth in the Turkish market is entirely due to Turkish Airlines, as no US carriers serve Istanbul. Since 2019, the Star Alliance carrier has increased capacity on all nine of its existing routes and has added new routes to Dallas/Fort Worth (last September), New York Newark (last May) and Seattle (started end of May 2022).