Ireland has 24 North America airport pairs with eight airlines; Dublin-Chicago ORD top market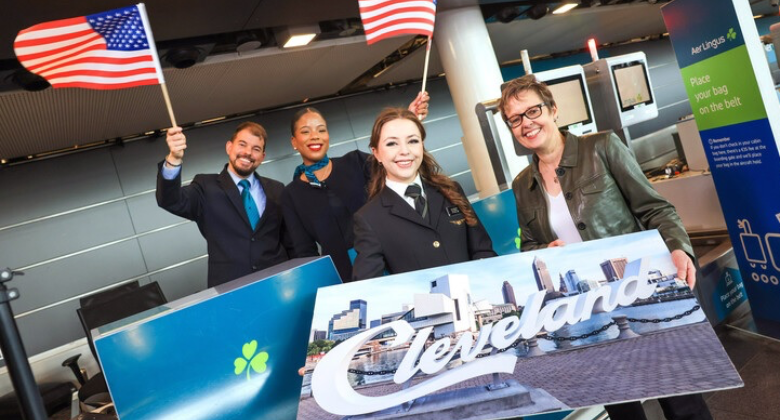 Ireland is the seventh-largest European market to North America by non-stop capacity this July-September. According to Cirium schedules data, there are 789,000 one-way seats available, 6.7% more than last year but 4.3% lower than in 2019. Despite the continued recovery, it is the third highest Q3 capacity to date. As Cork lost North America service in 2018 and Knock in 2007, all flights are from Dublin and Shannon.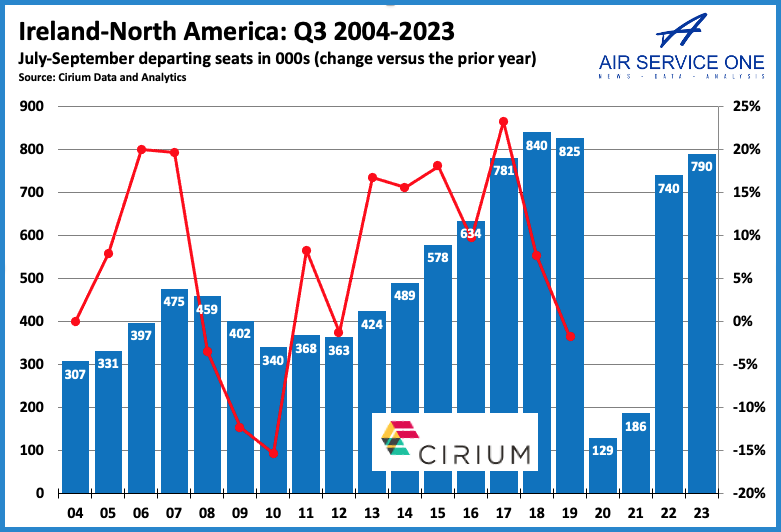 24 airport pairs in Q3; Dublin-Cleveland is new
Dublin has non-stop passenger flights to an impressive 20 North American destinations this peak summer. Operated by eight airlines, they are Atlanta, Boston, Calgary, Cancun, Charlotte, Chicago ORD, Cleveland, Dallas DFW, Hartford, Los Angeles, Montreal, Newark, New York JFK, Orlando, Philadelphia, San Francisco, Seattle, Toronto, Vancouver and Washington IAD. (Miami is winter-seasonal.)
Cleveland is brand-new. Aer Lingus inaugurated the four-weekly, 5,580-kilometre route on 19 May 2023. It uses the 184-seat A321LR, the same as Hartford (daily), which returned on 26 March 2023 having last been served in April 2020. Dublin is Cleveland and Hartford's only European destination.
Meanwhile, Shannon is linked to four destinations: Boston, Chicago ORD, Newark and New York JFK. Shannon does not feature in the top 10 routes list. Instead, Dublin-Chicago ORD is number one. It has 91,000 departing seats in Q3, along with 28-weekly flights. They are by Aer Lingus (14-weekly), American (daily) and United (daily).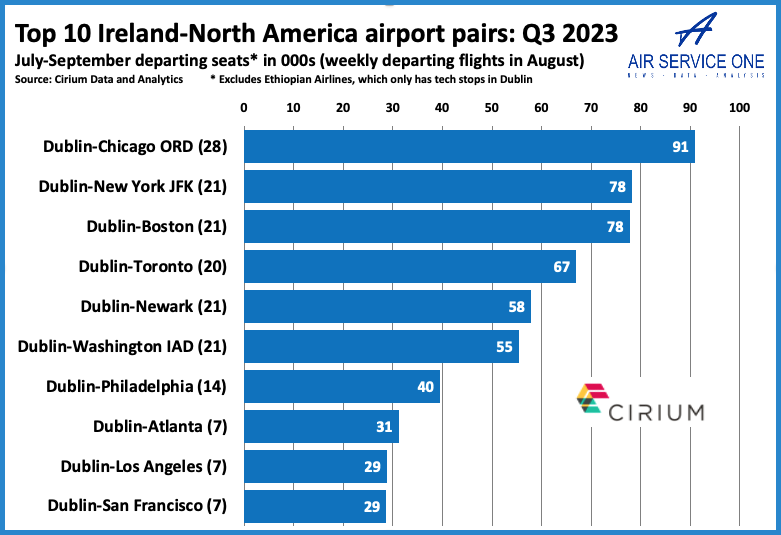 Eight airlines operate; Aer Lingus has over half of the seats
Obviously, Aer Lingus is very much the leading carrier. It has 53.6% of departing seats and serves 13 destinations from Dublin and two from Shannon. Almost a third of Aer Lingus' capacity – and 42.3% of its flights – are by its A321LRs. Six of the carrier's 15 routes are exclusively by the narrowbody, while another two see it alongside the A330.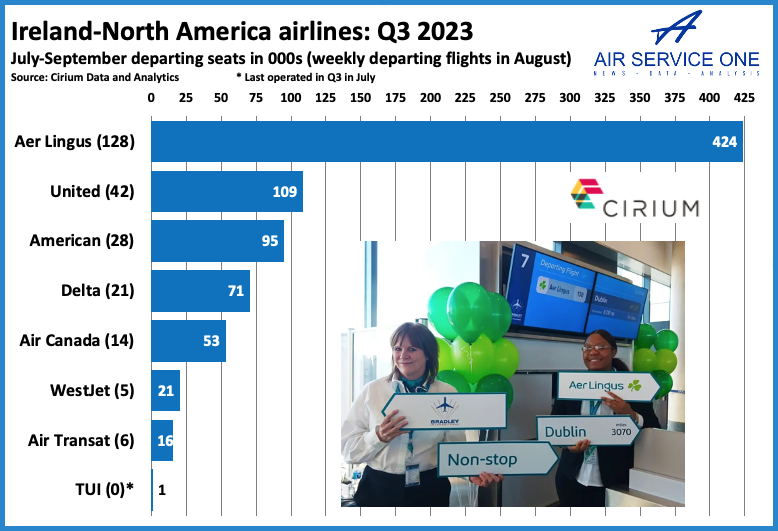 Five destinations have lost Ireland flights
Using Cirium to examine the past 20 years informs that five destinations in North America no longer have non-stop Ireland flights. There was an emphasis on smaller cities and lower-cost and less congested secondary airports for major cities. In all, the five had 628,000 departing seats from Ireland:
Halifax (all from Dublin): ASL Airlines 2015-2017, then WestJet in 2019 and 2022
Hamilton: FlyGlobespan from Shannon in 2007, also Dublin 2008-2009; Norwegian from Dublin in 2019
Providence: Norwegian from Dublin and Shannon 2017-2019, along with Cork 2017-2018
St John's: WestJet from Dublin 2014-2018
Stewart: WestJet from Dublin and Shannon 2017-2019
Norwegian (and its Boeing 737s) played a crucial role, including from Shannon and Cork, the latter now without any North America flights. It does not help that Cork has a relatively short runway (6,998 feet) and is nowadays relatively quick to travel by car to Dublin. In 2007, Knock had Boston and JFK flights by FlyGlobespan.
Minneapolis expected to return in S24
Minneapolis would have made the above list but for the announcement in August 2023 that Aer Lingus will resume the 6,010-kilometre route on 29 April 2024. However, while it was scheduled with a planned 4-weekly A330-200 service, it was soon removed, suggesting that details are being finalised. The route was originally launched in July 2019, when it was daily in the summer by wet-leased Boeing 757s. The planned lower frequency in S24 would counteract the greater per-flight capacity.