ITA Airways plans 85 summer routes with almost 70 aircraft; now has 11% of the Italian market by ASKs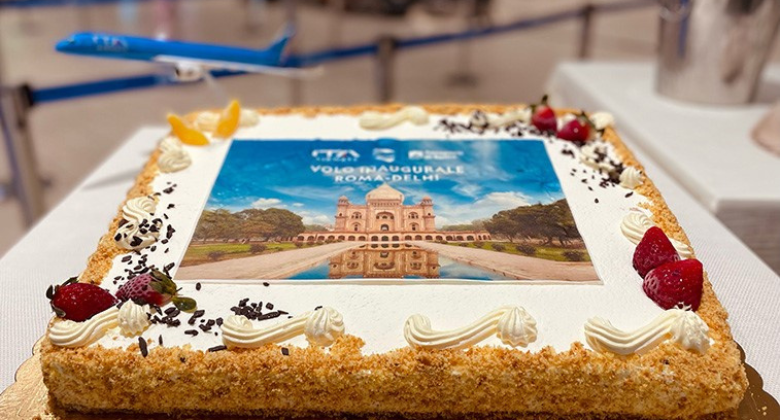 ITA Airways has 12.29 billion ASKs to, from and within Italy this summer, according to Cirium schedules information data. It is behind only Ryanair as the largest airline serving the southern European nation. Replacing Alitalia, ITA's first commercial flight was on 15 October 2021. Eighteen months later, it remains 30% smaller by ASKs than perpetually troubled Alitalia was in S19 – which might be a good thing.
ITA has 68 aircraft: A220-300s, A319s, A320ceos, A320neos, A330-200s and A350-900s, with A330-900neos due to enter revenue service in June. It also wet leases CRJ-1000s from Hibernian Airlines (part of the Air Nostrum Group) and E190s from German Airways; these are exclusively used from Milan LIN.
85 routes this summer
The Italian carrier's scheduled network this summer comprises 65 airports in 23 countries (Alitalia in S19: 106 airports in 46 countries). Some 21 of the 65 airports are in Italy. With six airports each, Germany and the USA are ITA's second joint most-served country. ITA will begin Rome FCO to San Francisco and Washington IAD soon, as discussed below.
ITA has 85 summer routes: 56 international and 29 domestic. Some 37% of its ASKs are domestic against 63% international. Aside from Milan MXP to New York JFK, the carrier's only Malpensa route, its entire network is from Rome FCO (55 routes) and Milan LIN (29 routes), the latter the closest airport to central Milan. As shown below, ITA has 22% of Rome FCO's ASKs (Alitalia in S19: 31%) and 60% of Milan LIN's (S19: 61%); it is numero uno at both airports.
Comparing ITA's non-European ASKs to Alitalia using Cirium tells that it is far more recovered to North America (-15%) than any other region. ASKs to the Middle East (-62%), Africa (-61%) and Asia (-54%) remain a fraction of what they were in S19. Hopefully it reflects ITA's focus on where it can be stronger and where might perform better.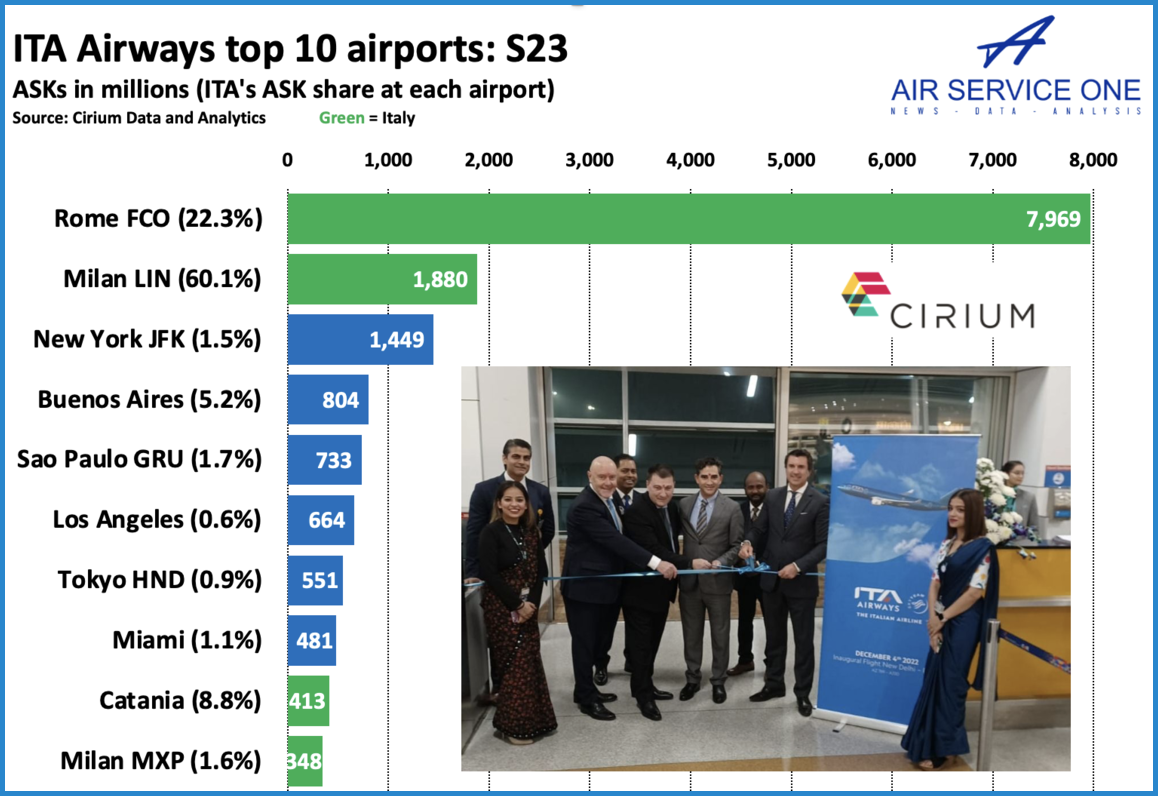 Three long-haul routes start soon
Examining ASKs rather than flights or seats necessarily means long-haul destinations feature prominently in ITA's top 15 routes, as shown below, along with high frequency short-haul operations. With 3-daily flights, Rome FCO-New York JFK is the most served. The market has 9-daily non-stop flights this summer, with a further two to Newark. Never has the city pair had 13-daily flights before. The 15 include two of the three routes starting soon:
2 June 2023: Rome FCO-Washington (5-weekly, later daily)
1 July 2023: Rome FCO-San Francisco (3, later 5)
29 October 2023: Rome FCO-Rio de Janeiro (daily)
Rome-San Francisco has never been operated by the airline. However, ITA won't have it all to itself: soon after it was announced, United revealed a daily service beginning from Italy on May 26th. Alitalia started Washington IAD in May 2019, while it launched Rio de Janeiro in June 2011.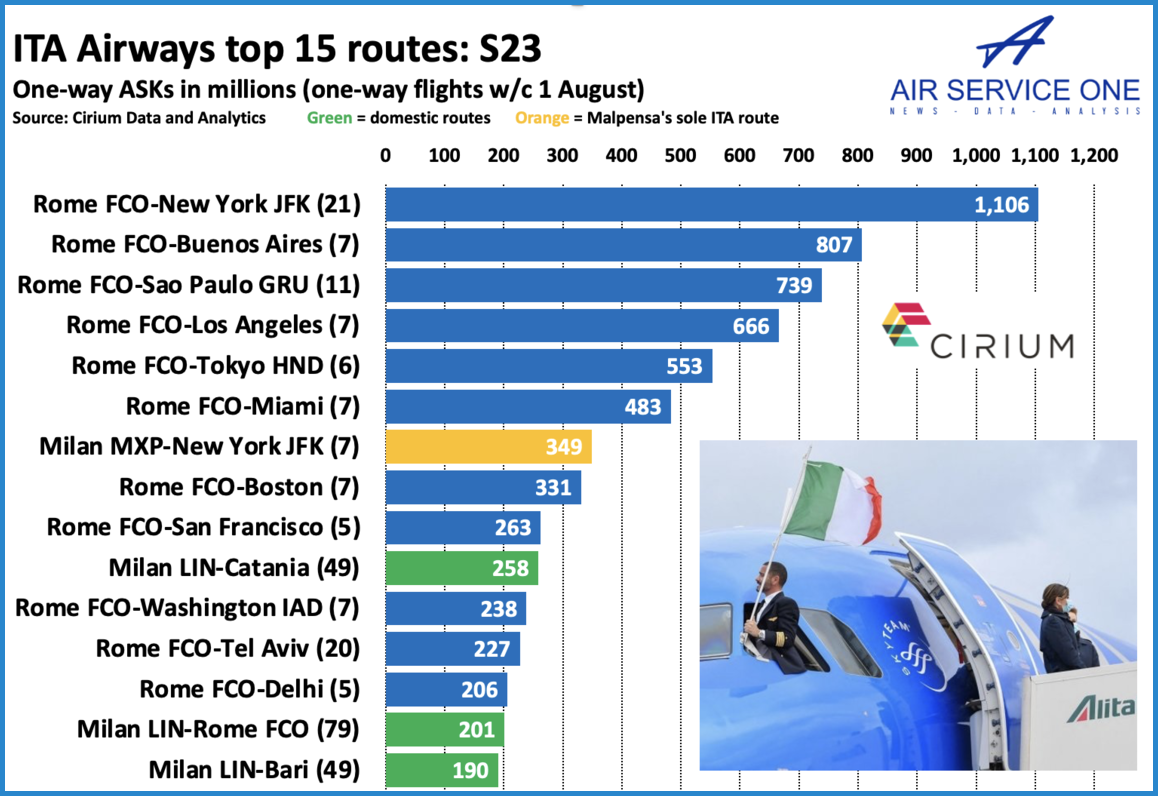 ITA is the second largest airline serving Italy
ITA has 11% of Italy's ASKs this summer, based on combining domestic and international. It is less than half the size of Ryanair (23.7%) but bigger than easyJet (7.3%) and Wizz Air (7.1%).
In S19, Alitalia had a one third share of Italy's domestic market. Not helped by the fast growth of (U)LCCs in the intervening period, ITA now has just 23.9% this summer, although that is still nearly one in four seats. ITA is distantly second behind Ryanair, with half of the market (49.5%). Other important domestic operators are easyJet (10.0%), Wizz Air (6.9%) and Volotea (5.0%).
ITA has 8.9% of Italy's huge international market, second to Ryanair's 18.6%. Intriguingly, Wizz Air – which has recently focused on Italy as a major growth area – is now third. It has overtaken easyJet for third place (7.1%). The gap between Wizz Air and ITA is closing, including at Rome FCO, very much ITA's top airport. Measured in ASKs, Wizz Air is now Fiumicino's second largest European carrier.