ITA and Virgin Atlantic add Maldives routes; Middle East carriers still heavily dominate Europe-Male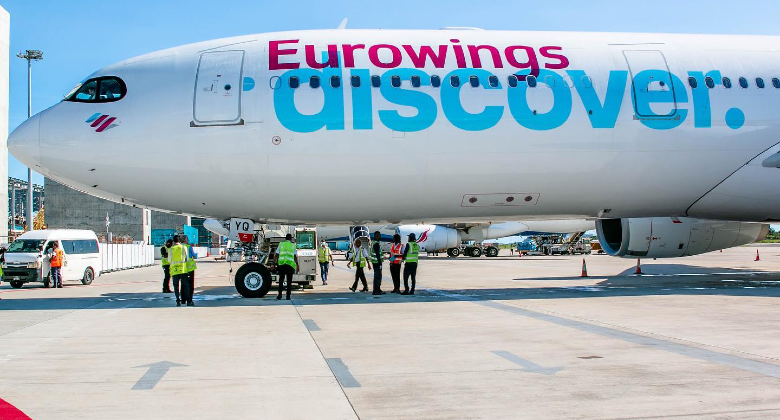 Europe to the Indian Ocean tourist destination of the Maldives is a large and growing market. It saw an estimated 1.2 million passengers between January and September 2019. Despite the pandemic, or because of it, traffic increased by around 12% versus the same nine months in 2019. Especially good growth was seen from Russia (+106%), Turkey (+101%) and the UK (+38%).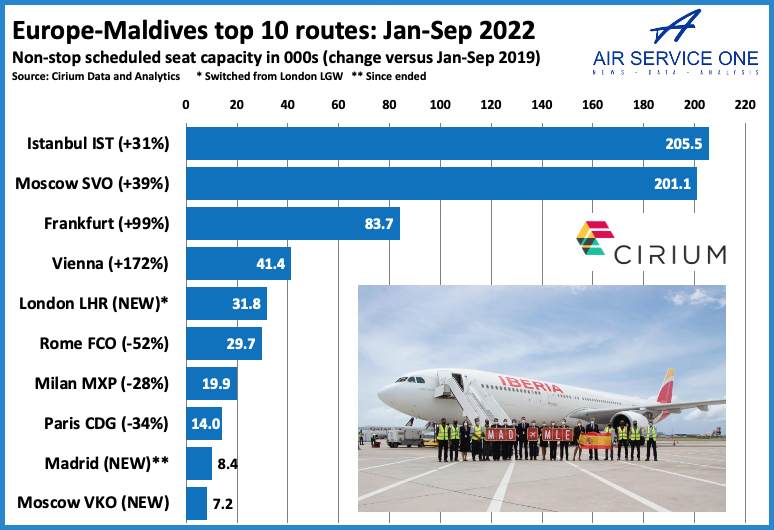 A 32% rise in non-stop seats
Analysis of Cirium schedules information data shows that the market benefited from a 32% rise in non-stop seat capacity. In 2021, it received LOT Polish from Warsaw in February, Azur Air from Moscow VKO in April, Iberia from Madrid in July 2021 (ended in February 2022) and Eurowings Discover from Frankfurt in April 2022. British Airways returned from London LHR in October 2021.
Many other carriers have grown strongly. For example, Austrian Airlines' capacity rose by 172% from a longer season and 3- to 5-weekly flights, instead of 2-weekly in 2019.
Aeroflot's capacity from Moscow SVO grew by 39%, becoming the second-largest Europe-Maldives non-stop operator, while Turkish Airlines grew Istanbul IST-Maldives seats by 31%. Turkish Airlines' Male frequency rose from daily to a maximum of 11-weekly. The Star Alliance carrier also recently celebrated a decade of operations on the route.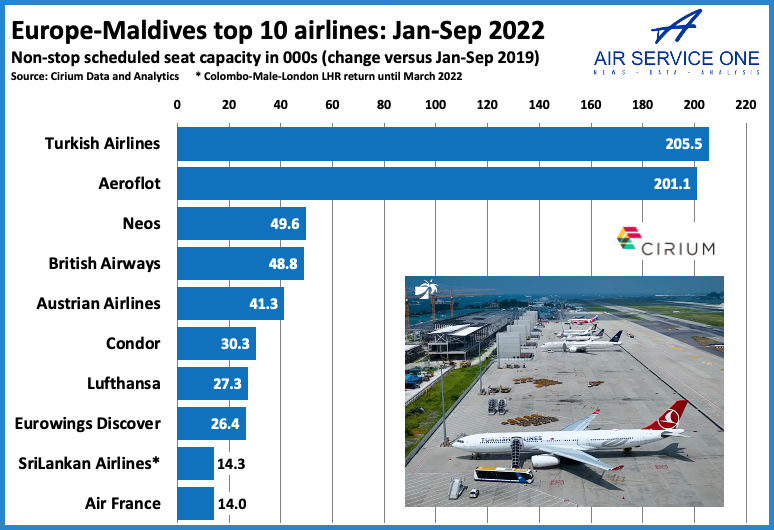 It remains controlled by Middle East carriers
Despite the rise in non-stop capacity, approximately 839,000 Europe-Maldives passengers, or about 70% of the total market, connected en route in the first nine months of 2022. It remains relatively underserved by non-stops.
About 670,000 passengers connected in Dubai, Doha or Abu Dhabi with Emirates, flydubai, Qatar Airways and Etihad Airways. They had an estimated 79% of all indirect passengers. Emirates and flydubai particularly grew in domination, carrying 20% more Europe-Maldives passengers than in 2019.
ITA and Virgin Atlantic are coming
Building on the Maldives' growing popularity is ITA. On 17 December, ITA will begin Rome FCO-Male (2- to 4-weekly). It effectively replaces forerunner Alitalia, which served it between 2017 and 2020. It will compete against Neos (offering weekly service) and ITA's entry means that Rome capacity will rise again.
Looking further ahead Virgin Atlantic recently announced plans to introduce a 3-weekly London LHR service from 22 October 2023, competing with British Airways' daily winter operation. London was the Maldives' largest European market in January-September 2022, with 169,000 passengers, 36% higher than in 2019.