Italian air traffic recovery at 92% in July; traffic above 2019 levels at nine of top 20 airports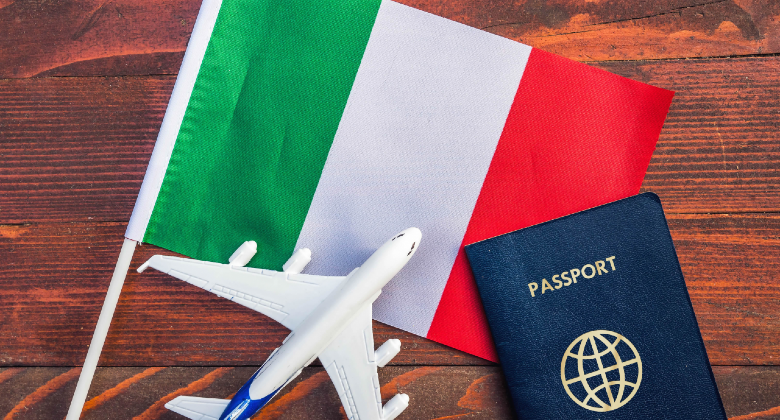 Passenger data for July from Assaeroporti reveals that Italy's airports handled 18.8 million passengers. That is only 8% fewer than in July 2019. Among the top 20 airports (all of which handled at least 250,000 passengers in July) almost half actually saw an increase in passenger throughput compared with three years earlier.
Brindisi and Turin see traffic growth of more than 20%
Leading the way was Brindisi, located in the heel of Italy. Traffic was up 25% in July compared with 2019 thanks mainly to Ryanair, which has increased capacity by more than 50% in the last three years and now accounts for half of all seat capacity at the airport. It has added 11 new routes (of which four are domestic) while dropping just two (Berlin TXL and Frankfurt FRA). Wizz Air has also contributed to the growth. It started serving Brindisi for the first time in December 2020 (from Milan MXP) and now also offers flights to Milan LIN.
The only other Italian airport among the top 20 reporting more than 20% more passengers in July was Turin. Again, Ryanair and Wizz Air are the drivers of growth. There have been significant capacity cuts from Air Dolomiti, Alitalia/ITA Airways and Blue Air, as well as the collapse of Air Italy and Blue Panorama Airlines. However, Ryanair, which now accounts for almost 50% of capacity, has increased its monthly seat offering by over 150%, having made the airport a designated base in October 2021. Wizz Air has now emerged as the airport's second busiest carrier with 13% of seats (across a network of 10 routes), ahead of Volotea with 8%.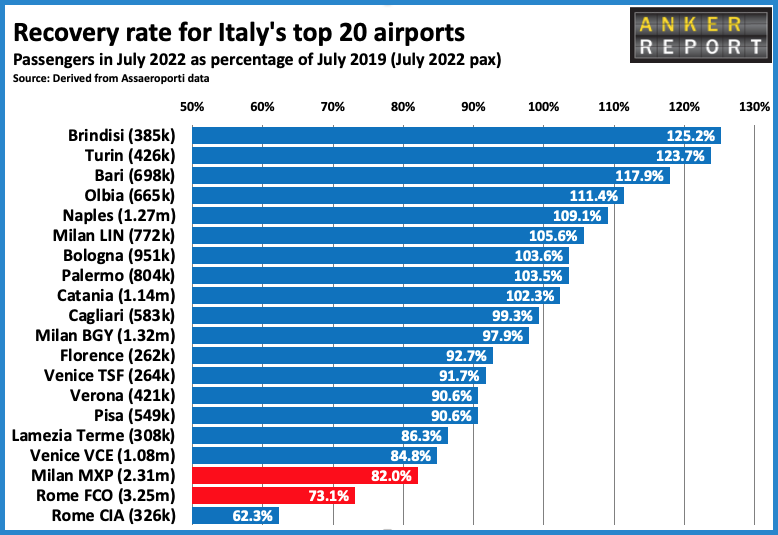 ITA Airways only half as big as Alitalia was in Rome
Italy's two busiest airport, Rome FCO and Milan MXP, had among the lowest recovery rates. In the case of Rome's main airport, this was not helped by the demise of Alitalia and its rebirth, on a much smaller scale, as ITA Airways. The new flag-carrier's July capacity at Rome FCO is down 50% compared with Alitalia in 2019. It now has just 26% of seats, down from 39% in 2019. easyJet and Vueling have also cut capacity at Fiumicino by between 40% and 50%, while Air Italy and Blue Panorama have ceased operating and Aeroflot flights are currently suspended.
The good news in Rome FCO is that Ryanair has more than doubled its capacity at the airport, while Wizz Air has opened a base and is now the airport's third biggest carrier, accounting for around 9% of seats. As a result, Vueling has fallen from second to fourth at the airport in terms of seat share.
Traffic more than doubled at Perugia and Trapani
Outside the top 20 airports, two airports have seen traffic more than double since July 2019. Trapani welcome over 113,000 passengers in July 2022, which was 179% more than three years earlier, while Perugia saw demand increase by 121% to just over 50,000 passengers. Conversely, Reggio Calabria and Rimini have both seen passenger numbers fall by between 40% and 50%.