Jackson Hole, Wyoming, passed one million passengers in 2021, has 13 routes in S23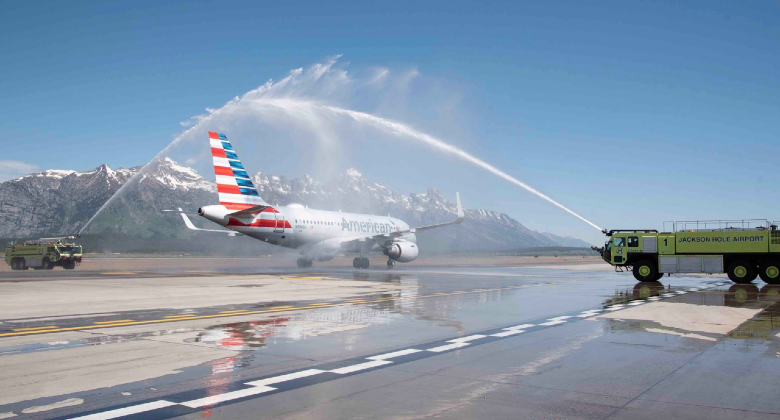 Jackson Hole enjoys a world-class location. Situated in Grand Teton National Park and not too far from Yellowstone, Jackson Hole is Wyoming's busiest airport. Well placed to capitalise on the pandemic-driven desire for outdoor activities, including skiing, Jackson Hole welcomed more than one million passengers in 2021. As the following figure shows, it was the first time it exceeded that milestone. Traffic was 11.4% above 2019.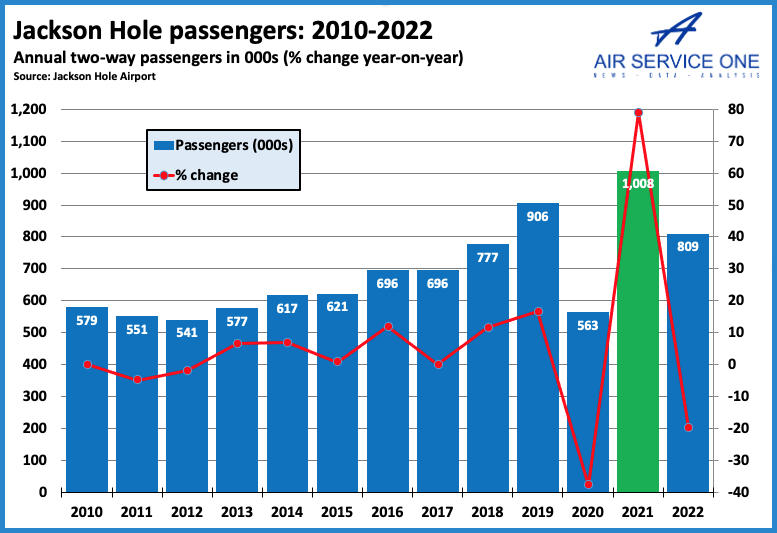 Runway works impacted 2022, but…
As things increasingly returned to normal and as coronavirus-orientated new routes came to an end, passenger traffic reduced to 809,000 in 2022. It was influenced by the April-June full runway reconstruction, with no passengers in May and considerably fewer than normal in April and June.
The impact of this is seen in the seasonality figure, below. Not surprisingly, most of the runway work was carried out in the less busy shoulder period, one of two annually. Indeed, peak summer and peak winter are by far the busiest times, one for summer outdoor fun and the other for skiing.
According to Cirium schedules information data, Jackson Hole has 138 weekly non-stop departing flights in the crucial month of July 2023. It is down by more than a third (-35.6%) versus the 2021 peak and 10.4% lower than in July 2019.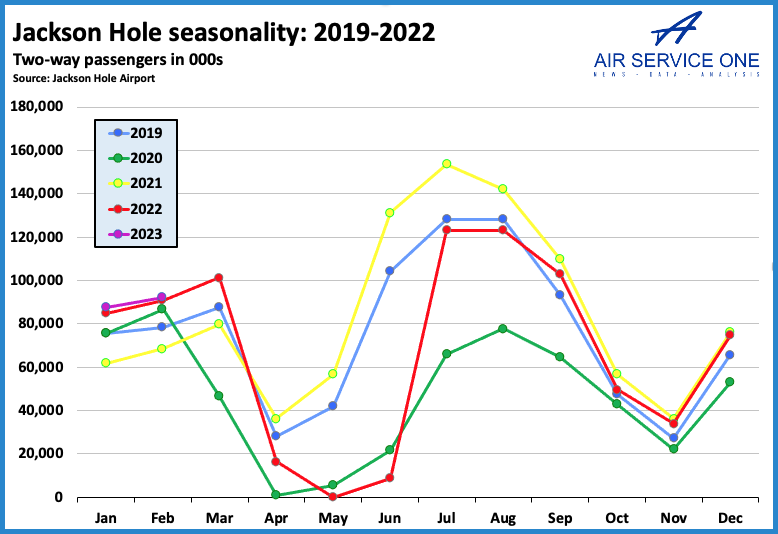 United is the largest carrier; Allegiant and Frontier have gone
Jackson Hole is served by five carriers, as detailed in the following figure. United has nearly half (47.1%) of the 138 weekly flights in July. This is no surprise: Wyoming is United territory. Cirium tells that it has nearly seven in ten Cowboy State flights, more than four times as many as number two, Delta. It is, of course, because of its well-placed Denver hub.
Of the four airlines to have fewer departures from Jackson Hole in July, United has reduced the least. When combined with Allegiant and Frontier no longer serving the airport, United's dominance has risen by a considerable 13 percentage points in two years. United also has six routes (Chicago ORD, Denver, Houston IAH, Los Angeles, Newark, San Francisco) – at least twice as many as each of the other carriers.
Capitalising on the pandemic, and the greater motivation of people to visit the great outdoors, Allegiant launched Jackson Hole in June 2021. It had four routes (Las Vegas, Los Angeles, Phoenix AZA, Reno), and exited the airport in August that year. It is different with Frontier. Always served from Denver, it added Jackson Hole in 2008, and it continued until 2014. The ULCC returned in 2018 and exited in 2021. They were somewhat offset by the arrival of Sun Country in May 2021.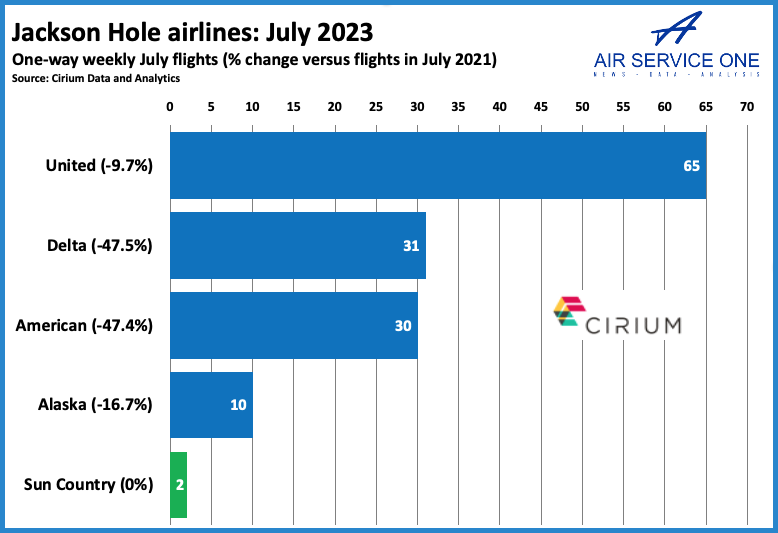 13 summer routes; Denver remains #1
Cirium shows that Jackson Hole has 13 summer routes, as shown below. Based on July flights, Denver is, not surprisingly, the most served. Some 655 kilometres away, it has 28 weekly flights and a fifth of Jackson Hole's total. Now fully served by United, it sees A319s, A320s and Embraer 175s.
On 21 June, Sun Country's summer-seasonal Minneapolis service – first introduced in 2021 – returns. Operating 2-weekly, it will route Minneapolis-Jackson Hole-Bozeman-Minneapolis. Passengers can book Jackson Hole-Bozeman, in one direction.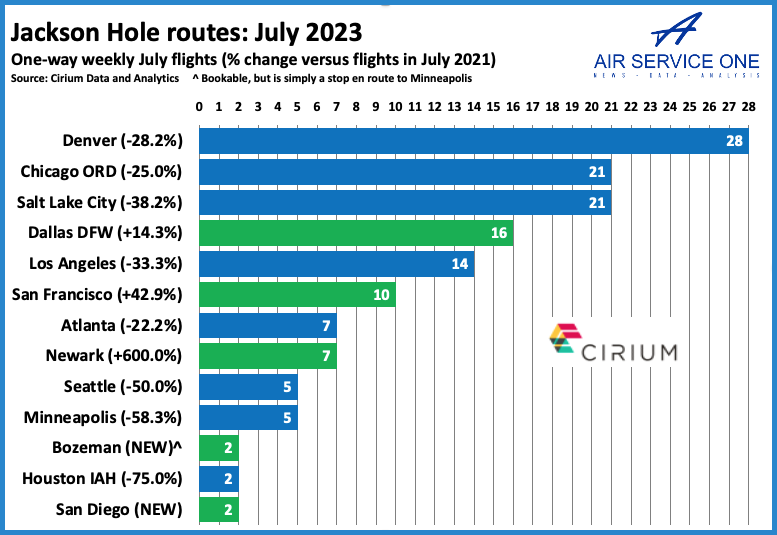 Nine destinations in S21/S22 are not served this summer
Using Cirium to compare Jackson Hole's network in S21 and/or S22 versus S23 reveals that nine destinations are no longer served, as detailed below:
Boston: American, served June-September 2021
Charlotte: American, December 2020-April 2022 (served in S21)
Detroit: Delta, May-September 2021
Las Vegas: Allegiant, June-July 2021
New York JFK: American, June 2021-April 2022
New York LGA: American, June 2019-beginning April 2023
Phoenix AZA: Allegiant, June-August 2021
Phoenix PHX: American, July 2017-beginning April 2023 (summer-seasonal in all years except S23; returns in December)
Reno: Allegiant June-July 2021