Jersey had 1.34 million passengers in 2022; easyJet top carrier; 30+ routes this peak summer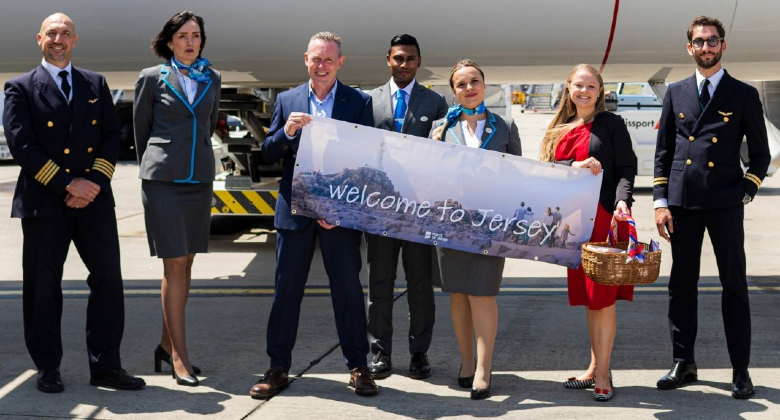 Located closer to France than the UK mainland, Jersey is one of the self-governing British Crown Dependencies. Situated in the Channel Islands and covering less than 120 square kilometres, Jersey's airport welcomed 1.34 million passengers in 2022, its lowest volume for many years. Down by almost a quarter versus 2019, it was not helped by the end of the once-dominant Flybe Mk1. It ended the year as the UK's 18th busiest airport (it is not a UK airport, but for simplicity is treated as such here).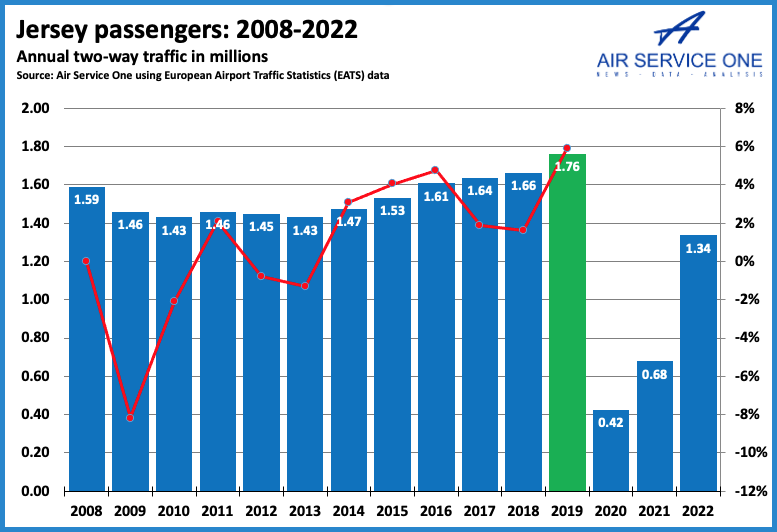 Recovery continues in Q3
Not surprisingly, Jersey is a reasonably heavy summer-seasonal destination, as shown in the following figure. According to Cirium schedules information, departing seats in the all-important July-September Q3 totals 323,000. While this is 9.2% greater year-on-year, it is still 10.5% lower than in 2019. That is around six percentage points less recovered than the UK generally. Given passengers in June 2023 – the month before the peak summer begins – was 15.6% below 2019, it remains to be seen how traffic develops.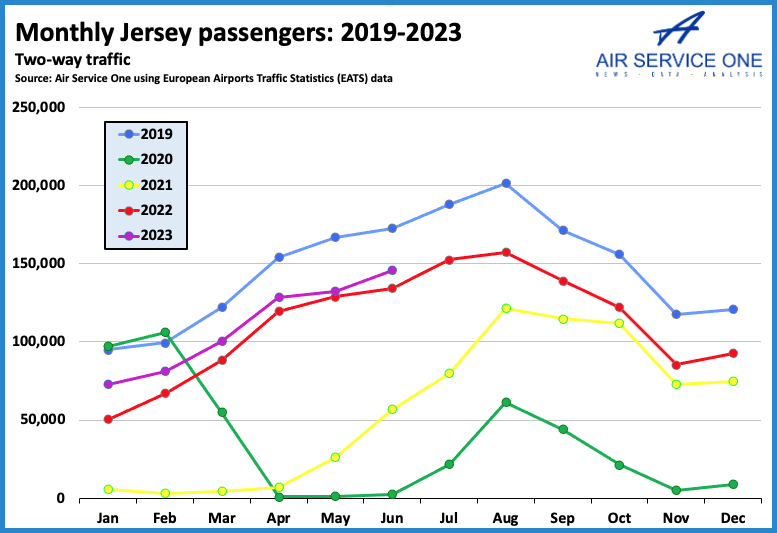 easyJet is Jersey's leading carrier by seats
The LCC has virtually half of Jersey's Q3 seats, helped by using A319s and A320s. If flights were examined instead, Blue Islands – with its ATR 72s – would be first. easyJet added Jersey to its network in March 2008, initially from Liverpool and London LTN. They continue to be served in Q3 2023, along with Amsterdam, Belfast BFS, Edinburgh, Glasgow, London LGW and Manchester. easyJet's available seats have grown by a fifth versus 2019, partly in response to the end of Flybe and growth on LGW-Jersey given the end of British Airways.
easyJet launched Amsterdam on 1 April 2023 (2-weekly), a market last served by Blue Islands between 2013-2015. Since first serving Jersey 15 years ago, easyJet has ended routes from Birmingham, Bristol, London SEN and Newcastle; all but SEN is now served by another carrier.
easyJet only served Birmingham and Bristol during the very COVID-impacted S21. It was a time when other carriers – like Loganair – added Jersey. Due to international border closures, ULCC Wizz Air had announced Cardiff and Doncaster in 2021, but they did not begin.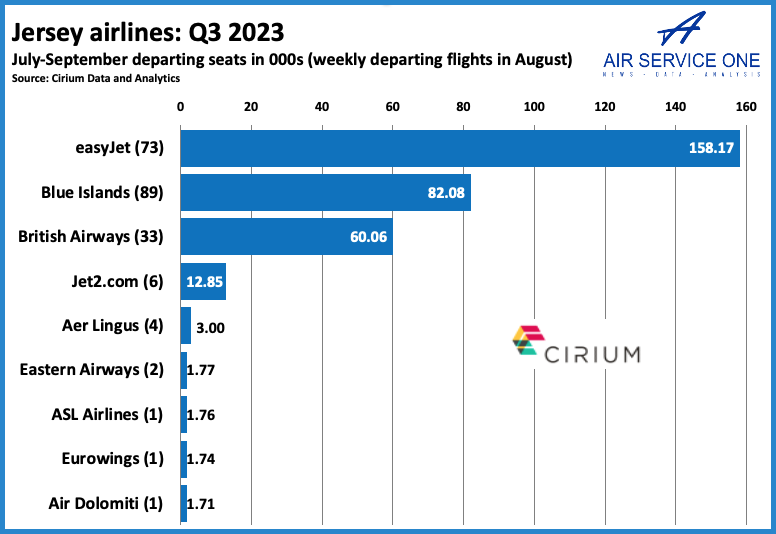 Jersey welcomes Air Dolomiti and new Aer Lingus route
Jersey gained Air Dolomiti on 27 May 2023, with a Saturday-only service from Munich. The German city has long had Jersey flights by Lufthansa's regional partners. Cirium shows they began in 2008, operated 2012-2019 and returned in 2022, often operated by Air Dolomiti itself. However, the carrier – wholly owned by Lufthansa – is now operating the route in its own right.
It followed the 8 May 2023 launch of Aer Lingus Regional from Belfast City (typically 2-weekly), an airport pair last served by Flybe in 2013. It competes indirectly with easyJet from Belfast BFS (3-weekly).
30+ routes; London LGW is number one
London LGW has more Jersey seats than any other route, but only just. Having launched it in March 2014, easyJet has been the sole operator from LGW since British Airways ended it in September 2022 to concentrate on LHR. The two London airports are among 22 across the UK with Jersey flights. Internationally, Amsterdam, Dublin, Düsseldorf, Funchal, Ibiza, Palma and Rennes are served this Q3.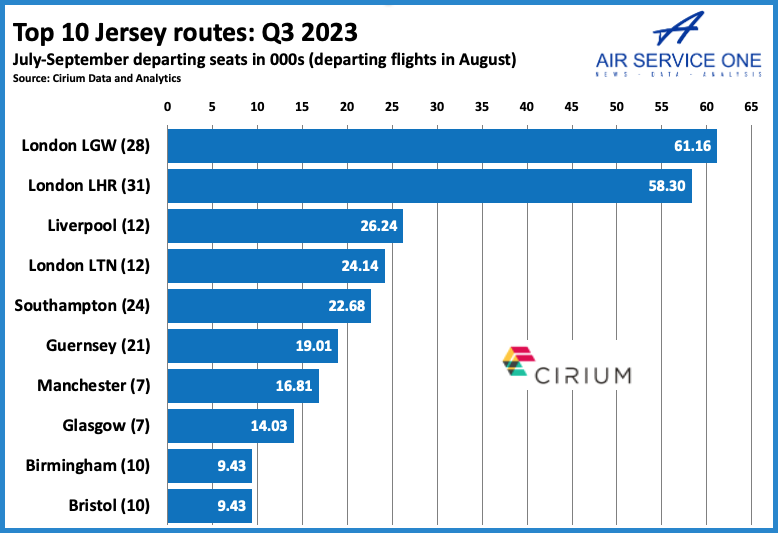 The exit of Flybe is still felt
In July-September 2019, Flybe Mk1 was Jersey's largest airline, both by flights and seats. It had 54.7% of flights and – because of relatively small aircraft – 38.6% of seats. It had 14 routes from the airport, including Doncaster Sheffield, which has since closed. Four years on, four remain unserved: Aberdeen, Cardiff, Inverness and Newquay.