Jet2.com makes Liverpool base #11 starting in March 2024 with 20 routes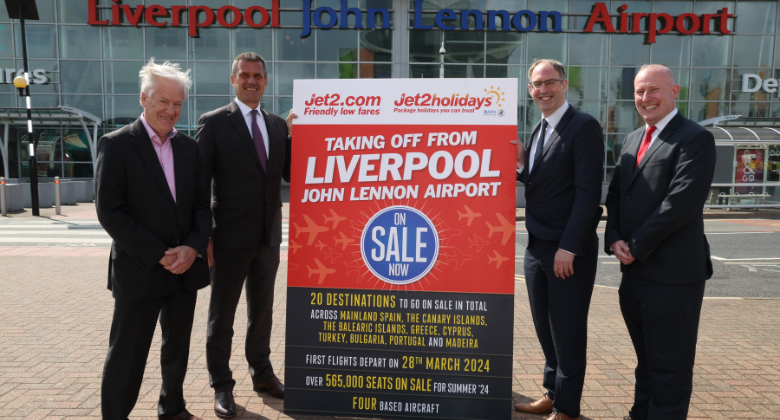 Liverpool is to become Jet2.com's 11th base (all in the UK) when operations begin next March. Four 737-800s will be based at the airport with the airline planning to operate 20 routes during the first summer season with up to 54 weekly departures. Seven of the routes are to destinations not currently served non-stop from Liverpool. Jet2.com's last new UK base was Bristol (July 2021) and before that London STN and Birmingham (both in March 2017). The airline's base from nearby Manchester opened in December 2004.
Liverpool's fourth new airline post-pandemic
Post-pandemic Liverpool has already welcomed three new airlines; Lufthansa from Frankfurt, PLAY from Iceland and Aer Lingus from Dublin. Jet2.com will become the fourth new carrier. Analysis of Cirium schedules data for August 2023 shows that the airport is expecting 355 weekly departures. easyJet leads the way with 168, followed by Ryanair (128), Wizz Air (25), Loganair (17), Aer Lingus (11) and Lufthansa six). PLAY's service to Reykjavik resumes 2-weekly on 1 September.
Jet2.com's network will consist of the following routes (planned weekly frequency in S24 shown in brackets, as well as weekly frequency of current incumbents for S23):
Alicante (4 versus easyJet 9, Ryanair 7)
Antalya (4 versus easyJet 4)
Bodrum (2 versus easyJet 2)
Bourgas (2)
Corfu (2 versus easyJet 1)
Dalaman (4 versus easyJet 6)
Faro (4 versus easyJet 16, Ryanair 3)
Fuerteventura (2 versus Ryanair 1)
Funchal (1)
Gran Canaria (2)
Heraklion (2 versus easyJet 1)
Ibiza (3 versus Ryanair 1)
Kos (1 versus easyJet 1)
Lanzarote (3 versus easyJet 2)
Menorca (2)
Palma de Mallorca (7 versus easyJet 12, Ryanair 5)
Paphos (1)
Rhodes (2)
Tenerife TFS (5 versus easyJet 3, Ryanair 3)
Zakynthos (1)
Of the 20 routes on sale, four are also operated by the only two airlines which have established bases at Liverpool, Ryanair and easyJet. These routes are Alicante, Faro, Palma de Mallorca and Tenerife TFS. Only one route will face competition from just Ryanair – Ibiza – while seven will face competition solely from easyJet, namely Antalya, Bodrum, Corfu, Dalaman, Heraklion, Kos and Lanzarote (also flown by Ryanair but only in winter).
Seven of the 20 routes are exclusive to the airline – Bourgas, Funchal, Gran Canaria, Menorca, Paphos, Rhodes and Zakynthos.
What they said
Steve Heapy, CEO of Jet2.com and Jet2holidays said: "We are absolutely delighted to be expanding our award-winning flights and holidays to Liverpool John Lennon Airport, which becomes our 11th UK airport. This announcement significantly expands our footprint and comes on the back of the significant demand that we know is out there across Liverpool, Merseyside and the wider region from customers and independent travel agents. We have seen time and time again how popular our product is when we bring it to new customers, and we look forward to bringing our VIP customer service to holidaymakers from Liverpool John Lennon Airport and delighting them with our product."