Jet2.com to base up to 16 aircraft at Stansted next summer; new routes for W23/S24 already on sale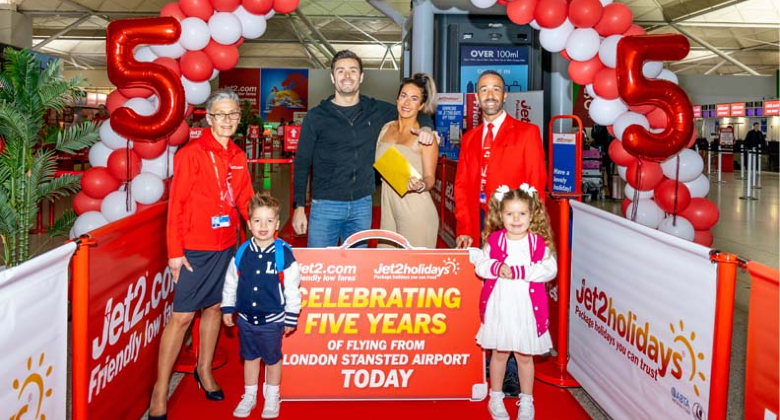 Jet2.com opened its London STN base on 30 March 2017. Alicante, Faro, Lanzarote, and Palma began that first day – routes unsurprisingly still going nearly six years later. In S19, Stansted overtook Leeds Bradford to became Jet2.com's second largest base, behind Manchester.
It had 976,000 departing seats from Stansted in S22, according to Cirium schedules information, up by a strong 8% over pre-coronavirus. It had 10% of Stansted's capacity. While S23 is far away and things may change, Jet2 has scheduled 1.1 million departing seats, 13% higher YOY. It is basing a 15th aircraft at Stansted and 16 for the all-important peak summer period.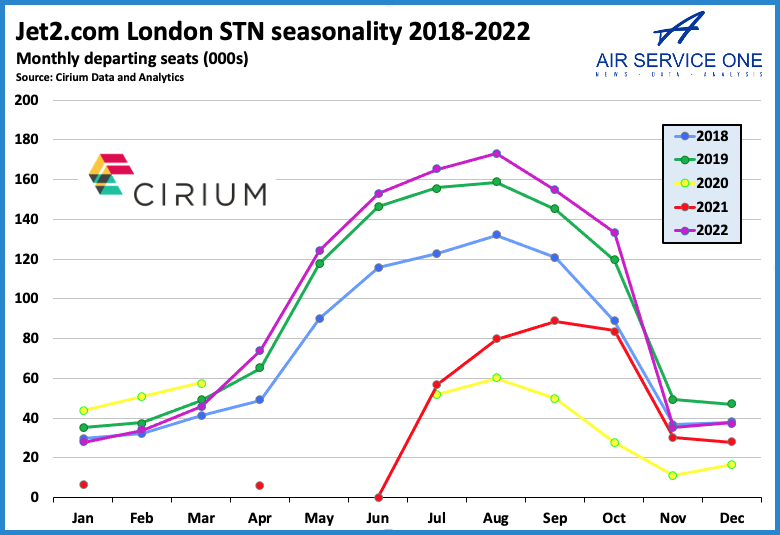 Spain, Greece and Turkey have 80% of capacity
Jet2.com had 47 Stansted routes in the summer just gone. Analysing Cirium schedules information reveals that 80% of seat capacity was to Spain, Greece and Turkey. It had 11 routes to Spain, 13 to Greece and four to Turkey.
While very traditional Spain was down by 2% versus pre-pandemic, just like Portugal (-20%) and Cyprus (-15%), Greece was up by 63% and Turkey by 47%. As shown in the graph, Dalaman and Antalya were Jet2.com's joint third route by departing flights and Heraklion seventh. In S19, Antalya was seventh, Dalaman eighth and Heraklion 14th.
Ryanair is easily Jet2.com's biggest competitor from Stansted, although they target somewhat different customers. Analysing Cirium information reveals that they competed head-to-head on 27 (57%) of Jet2.com's routes this summer.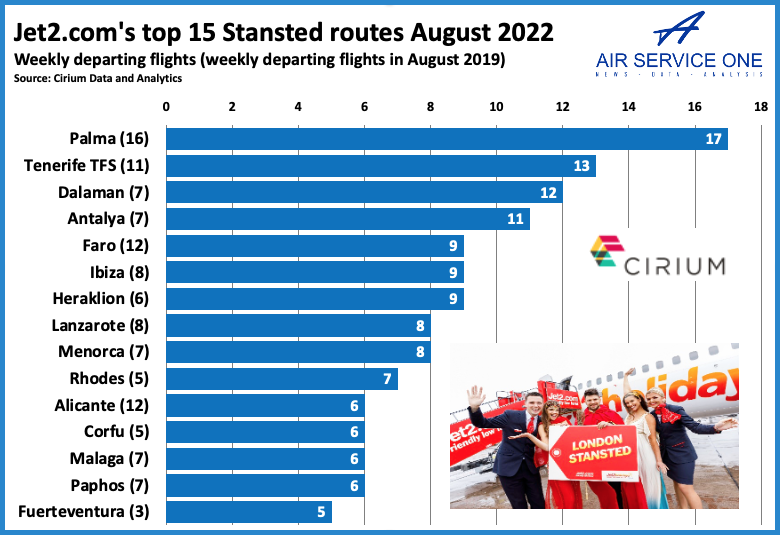 New Stansted routes added
The following ten routes have all started or are set to do so in the next 18 months. Notice that it includes four that launch in W23 and (yes) S24; all are bookable.
29 April 2022: Santorini
1 May 2022: Catania
15 May 2022: Kalamata, Olbia
30 March 2023: Athens
30 March 2023: Rome FCO
23 November 2023: Vienna
30 November 2023: Prague
3 May 2024: Nice
6 May 2024: Tivat
One of the new routes planned for next summer is to Rome FCO. Older readers may recall that London STN to Rome CIA was the launch route for British Airways' low-cost carrier Go, way back on 22 May 1998. Jet2.com will be launching its Stansted-Rome route almost quarter of a century after that event. After easyJet bought Go it initially continued to offer a wide range of services from the airport. However, for S23 easyJet currently only has on sale flights from Stansted to four destinations; Amsterdam, Belfast BFS, Edinburgh and Glasgow.
Of course, not all of Jet2.com's routes have worked. It has suspended Stansted to Almeria, Friedrichshafen, Lleida, Lyon, Nice (but it is resuming), Pula and Toulouse.