JetBlue adds Kansas City and Milwaukee to its network with daily Boston and New York JFK flights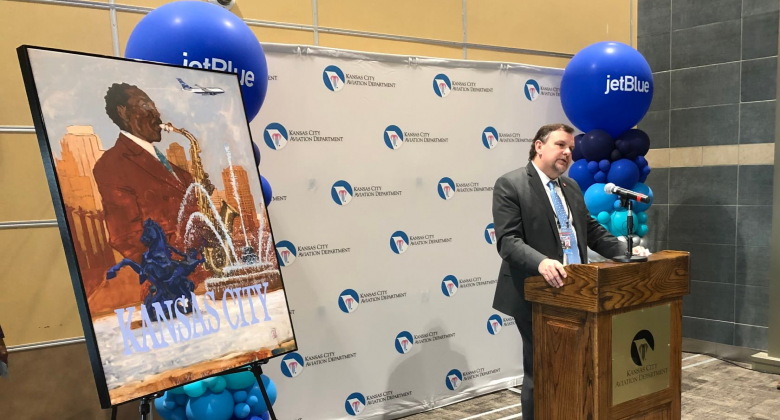 In a double celebration, JetBlue launched its first ever flights to both Kansas City and Milwaukee on Sunday 27 March. Both airports will now be served daily from Boston and New York JFK, the airline's two busiest airports. JetBlue will use A220-300s on all four routes and faces no direct competition on either of the New York routes. However, Delta offers up to 3-daily flights on both of the Boston routes.
Kansas City International Airport ranked as the 41st busiest airport in the US in 2019 with 11.8 million passengers while Milwaukee Mitchell International Airport ranked 54th with 6.9 million. Apart from these two airports, there are currently four other airports that JetBlue will be serving in 2022 that it did not serve in 2021. Flights to Puerto Vallarta in Mexico began from New York JFK on 19 February. Vancouver will be added to the airline's network in June with flights from both Boston and New York, while Asheville in North Carolina will welcome Boston service from 16 June. Finally, JetBlue returns to Baltimore/Washington on 9 June with multiple-daily flights from Boston. The Maryland airport was last served by the carrier in April 2020 according to Cirium data.
What they said in Kansas City
Andrea Lusso, VP Network Planning, JetBlue, said: "We are excited to expand our presence in the Midwest and introduce our award-winning service and low fares to Kansas City. The new service will offer our customers flying for business and leisure an opportunity to explore the heart of America and will give Kansas City customers access to our New York and Boston focus city networks."
Pat Klein, Director of Aviation, Kansas City Airport, said: "For some time Kansas City travelers have asked for JetBlue. We feel JetBlue has made an excellent choice in adding Kansas City to their growing network, and that travelers in the region will respond well."
What they said in Milwaukee
Andrea Lusso, VP Network Planning, JetBlue, said: "Adding Milwaukee to our route map will help diversify our markets, support our Northeast growth strategy and give our customers more travel options. We are excited to offer our customers flying for business or leisure an opportunity to explore Milwaukee and connect Milwaukee residents to our New York and Boston focus city networks."
Brian Dranzik, Airport Director, Milwaukee Mitchell International Airport, added: "JetBlue's outstanding customer service and in-flight product will be a big hit for Milwaukee travelers. Many people have been asking when JetBlue would come to Milwaukee. I'm glad that day has arrived. With our community's support, JetBlue will do well here and carry many travelers to New York and Boston."