JetBlue and Spirit currently compete head-to-head on over 40 routes, mostly from airports in Florida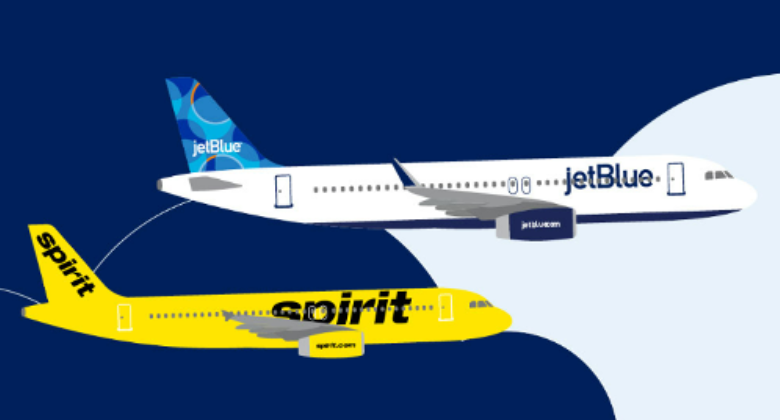 Last Thursday it was announced that JetBlue and Spirit had agreed a merger under which JetBlue will acquire Spirit to create an airline with over 450 aircraft. Cirium schedule data for August 2022 shows that JetBlue is the sixth biggest airline operating from US airports, with Spirit just behind in seventh. As it stands, combining the two airlines would create the fifth biggest carrier in the US. However, fourth ranked United would still be 80% bigger than the new JetBlue.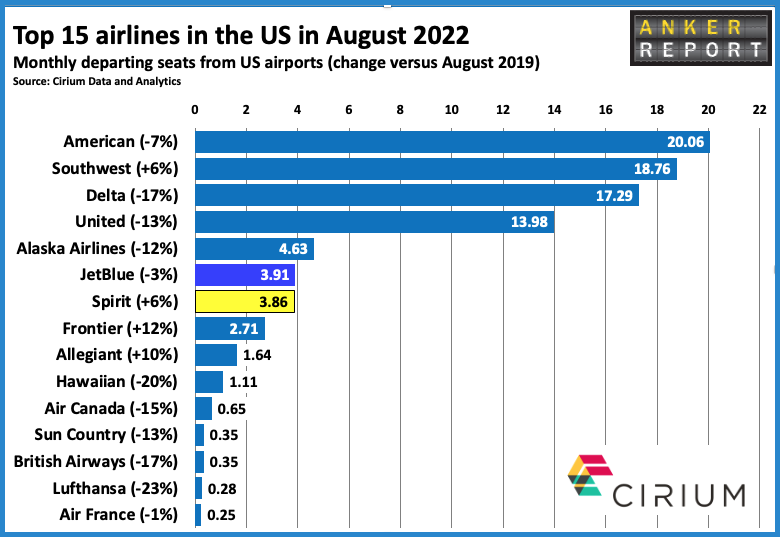 JetBlue focussed on east coast airports
JetBlue operates 255 routes (or 510 if you count both directions for each route) across 104 airports. Compared with August 2019 it has reduced flights by 9%, reduced seats by 2%, but increased ASKs by 1%. Its busiest airports by some distance are New York JFK and Boston. It even operates transatlantic flights to London from JFK and will begin UK service from Boston later this week.
The majority of the airline's busiest airports are on the US east coast. Only Los Angeles and San Francisco, among the top 15 airports, are on the west coast.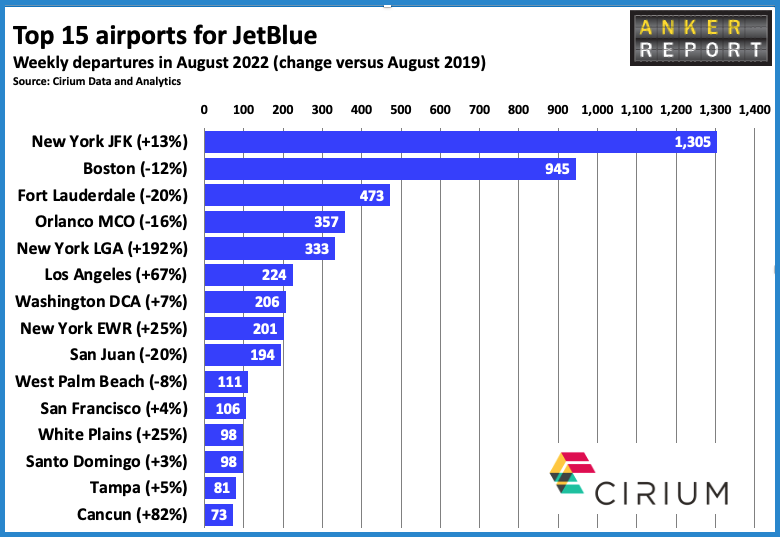 Spirit serves over 80 airports
Spirit operates 263 routes (or 526 if you count both directions for each route) across 83 airports. Compared with August 2019 it has increased flights, seats and ASKs by 7%. Its three busiest airports (Fort Lauderdale, Las Vegas and Orlando MCO) are considerably busier than all the other airports. Its top 15 airports are spread more evenly across the US and include two airports in Texas (Dallas/Fort Worth DFW and Houston IAH) and New Orleans in Louisiana.
Currently overlap on 42 routes
The two airlines currently compete head-to-head on 42 routes (or 84 if you count both directions for each route). That equates to roughly one in every six routes that the airlines operate. The airports with the highest level of route overlap are both in Florida. JetBlue and Spirit compete directly on 19 routes from Fort Lauderdale and 12 from Orlando MCO. Both these airports are ranked in the top four for both airlines.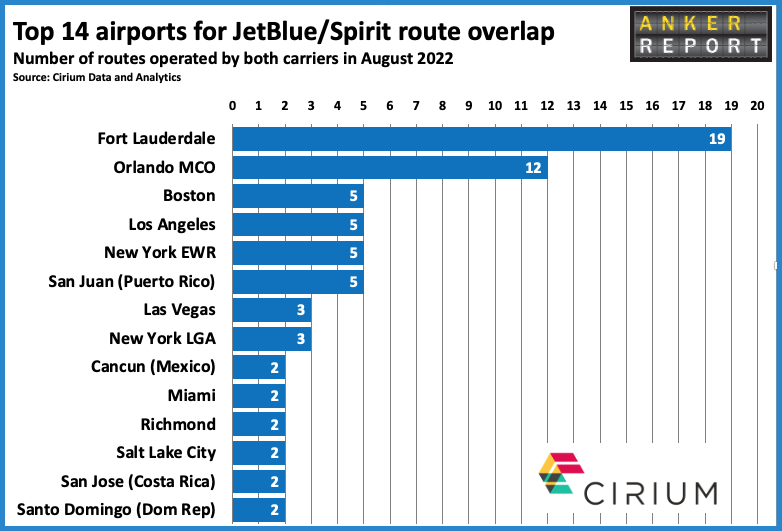 The merger will be subject to US regulatory approval. The impact of such a merger on customer choice to/from Florida is certain to be one area that will be looked at closely. To see how the two airlines are promoting the benefits of the merger check out www.lowfaresgreatservice.com.