JetBlue fast growing internationally; 94 routes from 11 US airports in Q4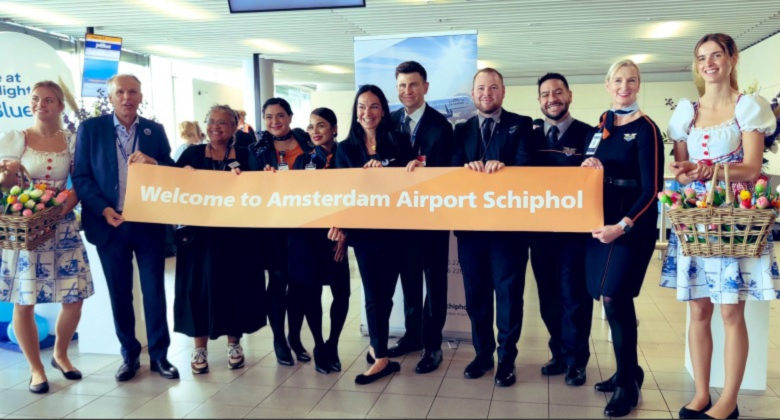 The international market is a growing part of JetBlue's network. According to Cirium schedules information, the carrier has a record 1.71 million departing non-US seats in October-December 2023 (Q4), up by more than a fifth versus 2022 and well above the pre-pandemic period. In contrast, domestic capacity remains down by 9% year-on-year.
About 15% of JetBlue's Q4 seats are international, making it the fifth-largest carrier by foreign US capacity. The vast majority of capacity is to the Caribbean, where it is the leading operator to/from the US. JetBlue's non-US network expansiveness will increase again next year with the launch of Ireland and Scotland: New York JFK-Dublin will begin on 13 March 2024 (daily), followed by JFK-Edinburgh on 22 May (daily).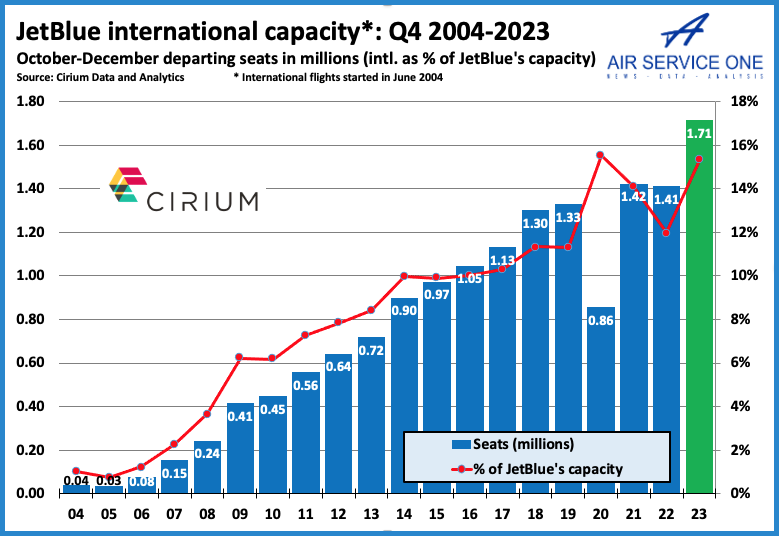 Some 11 US airports have international service
JetBlue's international network is from 11 US airports. They include San Juan (Puerto Rico is a US territory) and Washington DCA, which has just a Saturday-only service to Nassau, Bahamas. While Boston is JetBlue's second most-served airport overall, it is third internationally, behind geographically well-positioned Fort Lauderdale.
Given the size of New York and that JFK is very much JetBlue's top airport, it should not be surprising that it is also first for non-US service. It accounts for half of the market on a network spanning 36 routes in Q4. They include the following additions:
Puerto Vallarta, 19 February 2022 (5-weekly)
Vancouver, 9 June 2022 (daily); marked carrier's foray in Canada
Paris CDG, 29 June 2023 (daily)
Amsterdam, 29 August 2023
Saint Kitts, 2 November (3-weekly)
Belize City, 6 December (3-weekly)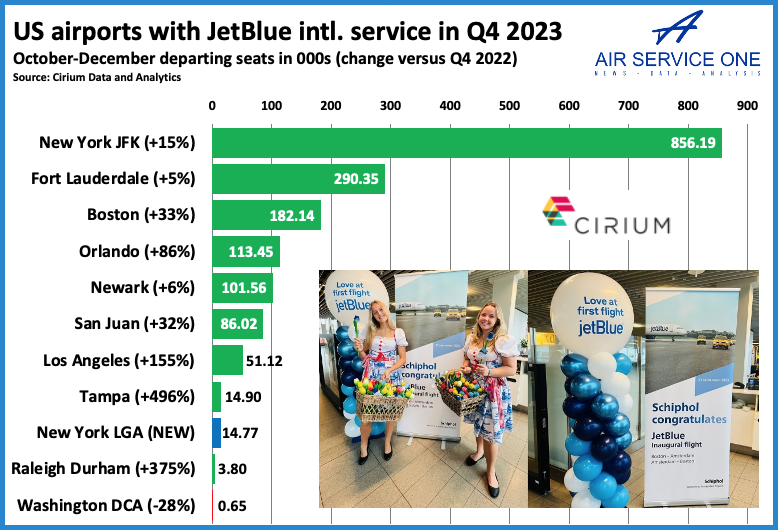 40 international airports in 28 countries
JetBlue's Q4 network comprises the Caribbean (21 airports in Q4), South America (seven), Central America (four), Europe (four), Mexico (three), and Canada (one).
Europe was first served in 2021, followed by Canada in 2022. Comparing capacity to Q4 2022 shows that everywhere has grown: Central America (+124% more seats), Europe (+63%), North America (+31%; mainly because of Mexico); the Caribbean (+15%), and South America (+7%).
The 40 destinations are in 28 countries of which the Dominican Republic leads, where it serves Puerto Plata, Punta Cana, Santiago and Santo Domingo. JetBlue is so dominant there that it is the largest airline serving the Dominican Republic from anywhere. JetBlue is also the largest airline serving Jamaica, Aruba and Grenada in these three months.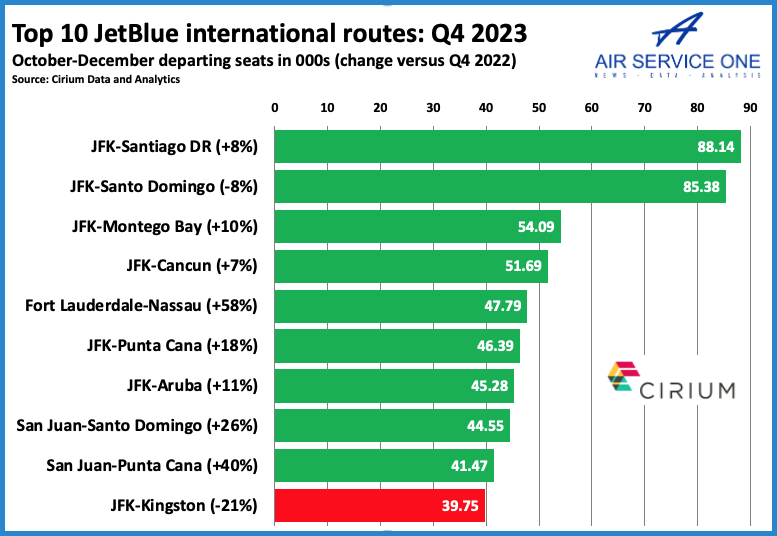 92 routes in Q4
According to Cirium, JetBlue's non-US network comprises 92 routes, not much more than the 86 in 2022. As routes have increased by just 7% but capacity by 21%, growth is from higher frequencies and upgauging.
One thing has not changed: then as now, JFK-Santiago, Dominican Republic, is the top route. In fact, it was JetBlue's first international route when its first non-US service took off on 10 June 2004. Nearly 20 years later, JetBlue competes directly with Delta. In the first week of November, JetBlue has 29-weekly departures and Delta 18. It was last served by American in 2018.