JetBlue makes it six carriers offering flights between London and Boston; United also new in 2022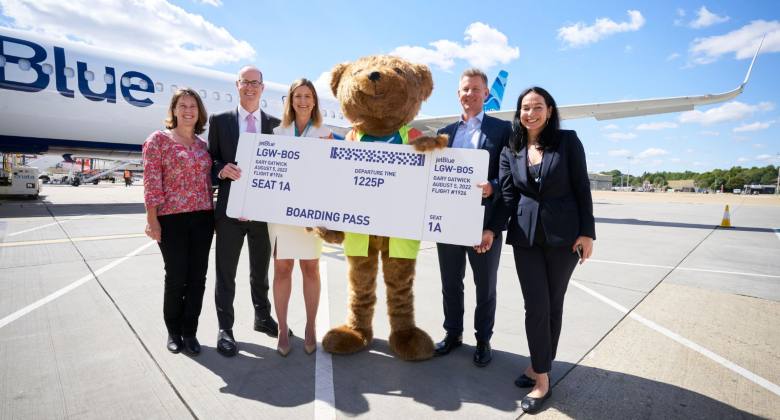 In 2019, Boston ranked as the fourth biggest US travel destination from London based on scheduled, non-stop seat capacity, as collated by Cirium. It was only beaten by New York JFK, Los Angeles and Chicago ORD. However, if measured by ASKs (Available Seat Kilometres), Boston falls to sixth behind San Francisco and Miami. At around 5,250 kilometres (depending on which London airport is used), Boston is the shortest London-US route currently flown.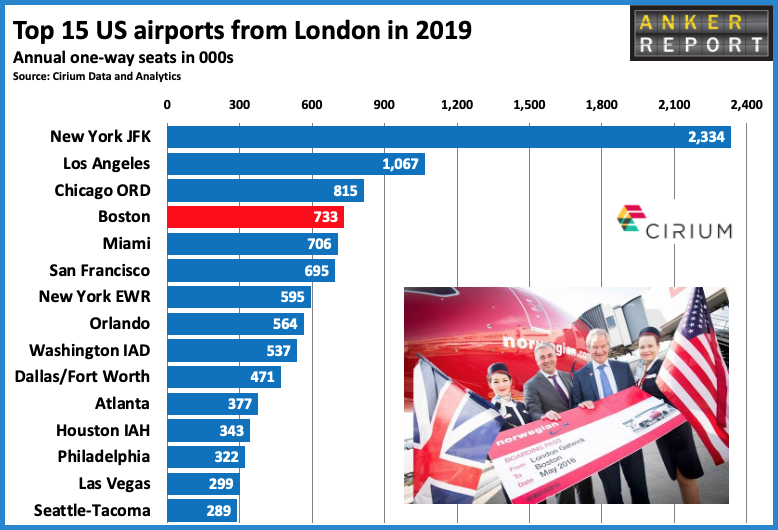 2019 was busiest year
Between 2004 and 2019 annual one-way capacity was consistently between 550,000 and 620,000 seats. However, in 2011 and 2012 there was peak as a result of Delta launching flights. When American left the market in 2013, capacity returned to the previous level. American resumed service in June 2021
Capacity grew by more than 10% in both 2018 and 2019. This was driven by Norwegian increasing capacity in 2018 and being joined in the market (briefly) by Primera Air. In 2019, Virgin Atlantic increased its capacity by 60% after launching a second daily service.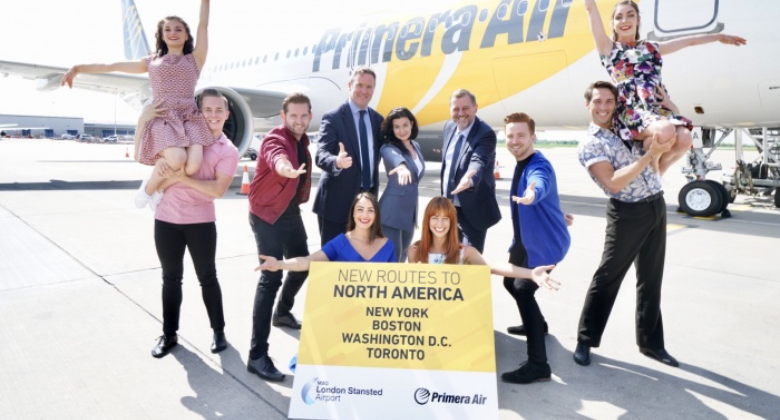 This is how the market has developed:
2004-2010: American, British Airways and Virgin Atlantic all operate Heathrow-Boston
2011: Delta starts Heathrow-Boston
2013: American drops Heathrow-Boston
2016: Norwegian starts Gatwick-Boston
2018: Primera Air starts and ends Stansted-Boston
2020: Norwegian ends Gatwick-Boston
2021: American resumes Heathrow-Boston
2022: United starts Heathrow-Boston, JetBlue starts Gatwick-Boston and Heathrow-Boston
As a result, there are now six airlines this summer connecting Boston and London with non-stop service; American, British Airways, Delta, JetBlue, United and Virgin Atlantic. United began daily service on 14 April 2022 using 767-300s. JetBlue, launched its first Boston-UK service on 4 August flying to Gatwick with an A321neo, with the first Gatwick-Boston service departing on 5 August. A second Boston route, this time to Heathrow, is set to launch on 20 September.