JetBlue plans record 280 routes in Q2; JFK remains its busiest airport; 12 new routes are coming this year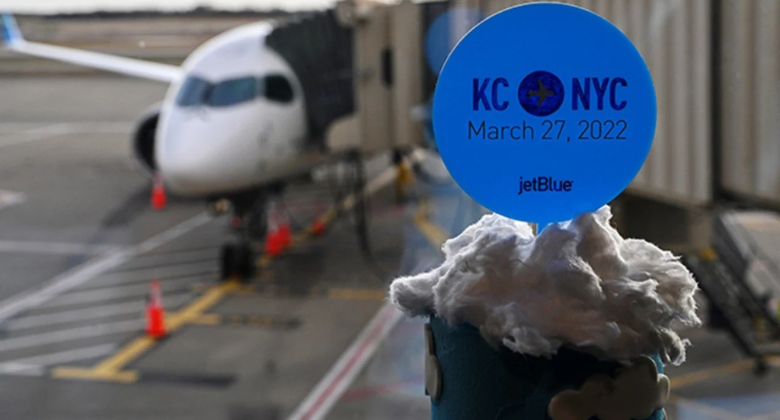 JetBlue is the seventh largest airline serving the US this April-June (Q2) by available seats, and fifth biggest internationally. According to Cirium schedules information data, JetBlue has 12.2 million one-way seats this Q2, its highest in any April-June period and 3.1% above its previous record (Q2 2018). As shown below, international capacity is at its greatest level, while domestic has more or less recovered. With a fleet of 296 aircraft, JetBlue has a 4.1% share of the US domestic market and 4.4% internationally this April-June.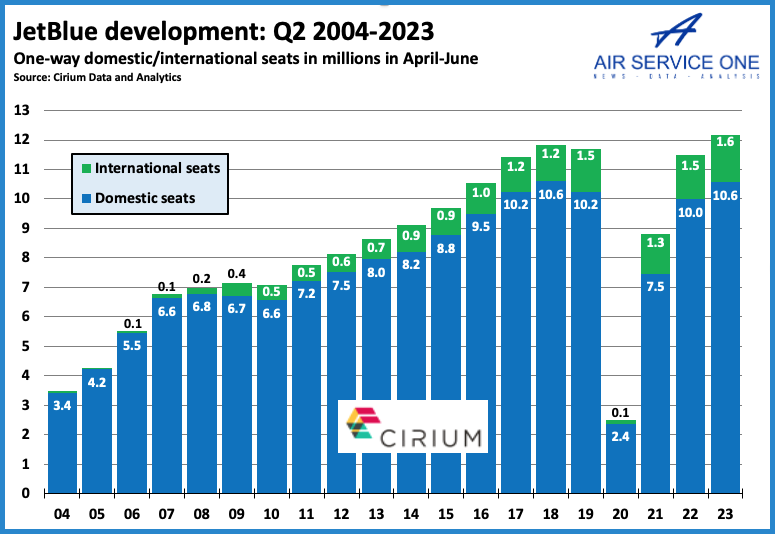 280 routes in Q2 2023
Examination of Cirium data tells that JetBlue has 193 domestic routes this April-June with 35 states served. It also has 87 international routes. While international accounts for nearly a third of its network (31%), it had just 13% of available seats (1.6 million of the 12.2 million). Two of its top 10 routes, shown below, are international. (New York JFK-San Juan is considered domestic as Puerto Rico is a territory of the US.)
International now includes Canada flights (Vancouver) and three European airports (London LHR, London LGW and Paris CDG). New York JFK-Paris CDG begins on June 29, while slots (temporary for now) have been gained at Amsterdam, which will launch later in the year.
Still known as 'New York's Hometown Airline' – a registered trademark – JFK has 86 of JetBlue's 280 routes, exceeding the 72 from Boston. As the following figure indicates, JFK features six times in its top 10 routes list, including with its most-served airport pair: JFK-Los Angeles. With 139,000 one-way seats, JetBlue is the second largest of the three carriers in the non-stop market (it has a third of the capacity). But because it only has narrowbodies, it ranks number one by flights.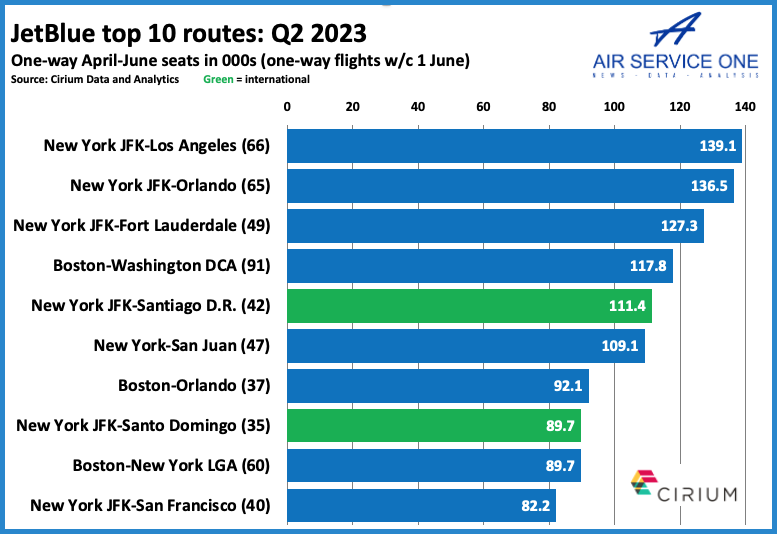 JFK is still the number one airport
JetBlue serves 108 airports in Q2. Naturally, JFK, Boston and Fort Lauderdale remain its three most served, as shown in the following figure. Despite its long heavy presence at JFK, it is surprising how fast it has grown there recently, partly because of its Northeast Alliance with American.
With more than 2.5 million one-way seats, never has it had so much Q2 capacity at JFK, surpassing its previous highest (in 2022) by 1% and a fifth higher than in the pre-pandemic period. In comparison, Boston and Fort Lauderdale remain below previous peaks. JetBlue's JFK growth has particularly been because of international development. With more than one in four JFK seats (26.2%), it is the airport's second largest operator.
Using Cirium to compare JetBlue's full airport network in Q2 2023 versus 2022 shows that it has added Baltimore, Paris CDG and Pointe-a-Pitre. Baltimore exited its network in April 2020 but returned in July 2022. Haiti's natural disasters meant that JetBlue ended Point a Prince in March 2022, but it returned in November that year. Obviously, Paris CDG is brand-new. No airport exited its network in this time.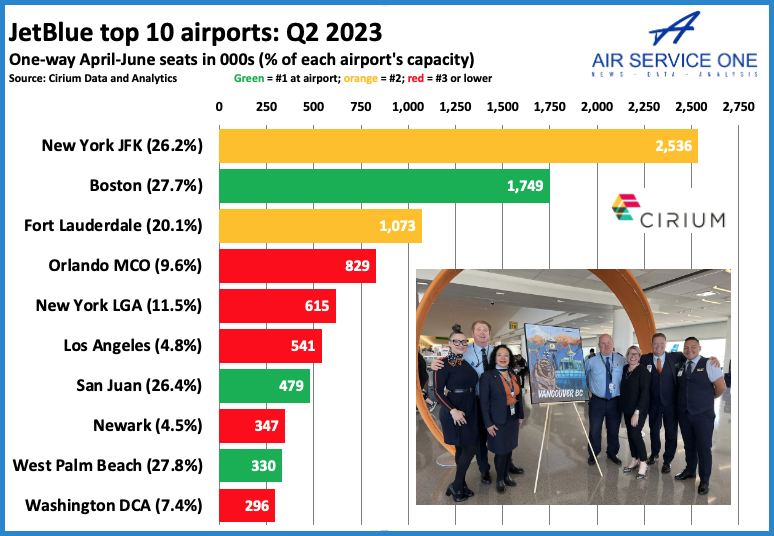 19 airports have joined its network since 2018
Examining JetBlue's full network versus Q2 2018 (its previous best Q2) reveals that 19 airports are now served that were not then: Asheville, Bozeman, Georgetown (Guyana), Guatemala City, Guayaquil, Houston IAH, Kansas City, Key West, London LGW, London LHR, Los Cabos, Miami, Milwaukee, Ontario, Paris CDG, Puerto Vallarta, Pointe-a-Pitre, San Antonio and Vancouver.
However, 13 are no longer served: Anchorage, Camaguey, Daytona Beach, Holguin, Houston HOU, La Romana, Mexico City, New York SWF, Long Beach (replaced by Los Angeles – now its fifth busiest airport), Oakland, Santa Clara, St Croix and Washington IAD.
12 new routes in 2023
JetBlue expects to begin 12 new routes this year, none of which have been operated before and only two of which are above daily. (Amsterdam is not listed as it is not yet scheduled or on sale.) With four routes, New York LGA – now JetBlue's fifth most-served airport – is the winner. They include Bermuda, 1,243 kilometres away. It was served by American (briefly) until 2021, with the last regular flights by Delta in 2004. (Frequencies are in the week each route begins.)
30 March: New York LGA-Nassau (daily)
5 May: New York LGA-Atlanta (27-weekly)
5 May: New York LGA-Bermuda (daily)
25 May: New York LGA-Hyannis (daily)
25 May: White Plains-Charleston (daily)
25 May: White Plains-Martha's Vineyard (daily)
15 June: Boston-Vancouver (daily)
15 June: Los Angeles-Puerto Vallarta (daily)
15 June: New York JFK-Washington DCA (21-weekly)
29 June: New York JFK-Paris CDG (daily)
4 November: Orlando-Punta Cana (daily)
4 November: Orlando-Santiago D.R. (daily)