Jordan is the Middle East's fastest growing country from Europe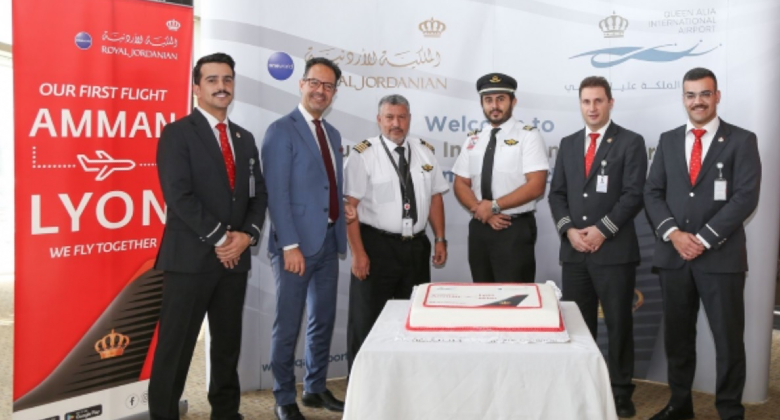 Jordan has 797,000 departing seats to Europe this winter, more than any other winter, according to Cirium schedules information data. Capacity has risen by 16% versus W19. Jordan has far outpaced Europe to the Middle East as a whole, which remains down by 9%. In fact, Jordan's Europe capacity has doubled versus W17.
Amman, the capital, has mainly been responsible, although Aqaba, a coastal resort and gateway to the world-famous Petra and Wadi Rum desert – both with UNESCO World Heritage Centre status – has contributed.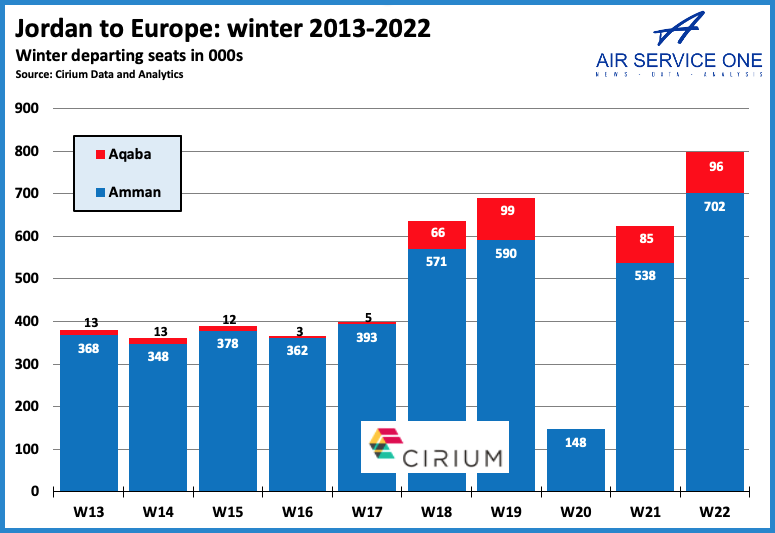 EU open skies and government proactivity
Key to this development has been Jordan's EU open skies deal, which was signed in 2010. While progress was remarkably slow at first, it has accelerated recently. Helping too is the seemingly proactive approach of the country's government and the Jordanian Tourism Board, which was unambiguous last year when it said, "the ministry and JTB's main priority is to attract more visitors by supporting charter and low-cost flights." It succeeded in attracting Edelweiss, Vueling and Wizz Air, the latter now Jordan's third-largest carrier to Europe, along with strong growth by incumbent Ryanair.
Of all the incumbents, it is Royal Jordanian that appears to have grown especially well and from the highest base (+23% versus W19). However, that is heavily because it has slowly been clawing back lost capacity rather than true growth. Royal Jordanian's Europe capacity has risen by just a fifth versus W13. At the same time, the flag carrier's share of Jordan-Europe seats has fallen from 53% then to just 31% now, mainly because of more (U)LCCs.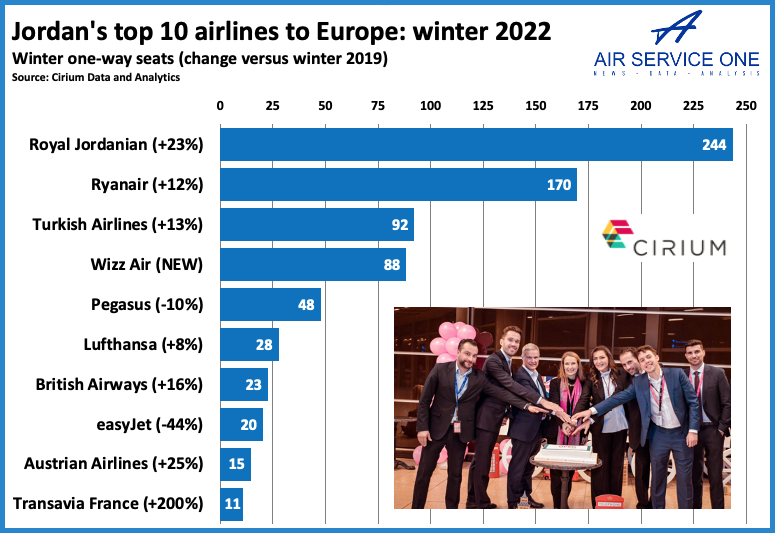 Many new routes
Jordan has welcomed numerous new European routes recently, including the following, with figures in brackets denoting weekly flights. An examination of Cirium schedules tells that is it the first time that London LTN, Brussels CRL, Venice TSF and Warsaw WAW have had Jordan flights, while it marked the return of Lyon, first served by Transavia France for four months until March 2020.
1 October: Royal Jordanian, Amman to Lyon (2)
1 October: Royal Jordanian, Amman to Milan MXP (3)
30 October: Ryanair, Rome CIA to Amman (2)
30 October: Ryanair, Venice TSF to Amman (2)
30 October: Ryanair, Brussels CRL to Aqaba (1)
30 October: Wizz Air, Venice VCE to Amman (2)
3 December: Vueling, Barcelona to Amman (2)
13 December: Wizz Air UK, London LTN to Amman (3)
13 December: Wizz Air, Warsaw WAW to Aqaba (2)
2 February: Edelweiss, Zurich to Amman and Aqaba (2)
27 March: Royal Jordanian, Amman to Stockholm ARN (2)