July data shows big improvement in flights and seats compared with June
The end of July is almost here and all across Europe schools have finished for the summer holidays and everyone is looking forward to getting away for a well deserved holiday. Or are they? With ever-changing travel restrictions still in place, no sign of a relaxation in the rules for travelling from Europe to the US, and COVID case numbers once again surging across much of the continent, what can airlines and airports really expect from the peak summer season?
July capacity at 63% compared with 45% in June
Analysis of planned airline schedule information, provided to Cirium Data and Analytics, suggests a much improved situation in July compared with June. Seat capacity is expected to be at around 63% of July 2019 figures, compared with 45% in June.
This is supported by the latest Eurocontrol data, which shows that flights have increased from 55.6% of their 2019 equivalent on 1 July, to 67.7% as of 24 July. However, passenger demand is likely to be below this figure as load factors are still some way below normal for the majority of European airlines. For example, Ryanair's June load factor was 72%, Turkish Airlines's was 68% and Wizz Air's was 64%. SAS reported a passenger load factor of just 48% in June, although this was an improvement of 12 percentage points compared with May. In addition, yields are still likely to be down significantly compared with pre-pandemic levels.
Some carriers back to 2019 levels
Four major airlines are now operating at over 80% of their 2019 levels; KLM and Ryanair passed the 80% mark during the last week while Turkish Airlines is at almost 90%. Wizz Air is now at 95% of its flight offering from July 2019, while Widerøe and Pegasus Airlines are doing even better. Other smaller carriers are also doing well. UK regional carrier Loganair is at 110% (having taken over a bunch of routes from failed UK carrier Flybe) while Volotea is at 99%. At the other end of the scale, Aer Lingus is at just under 27%.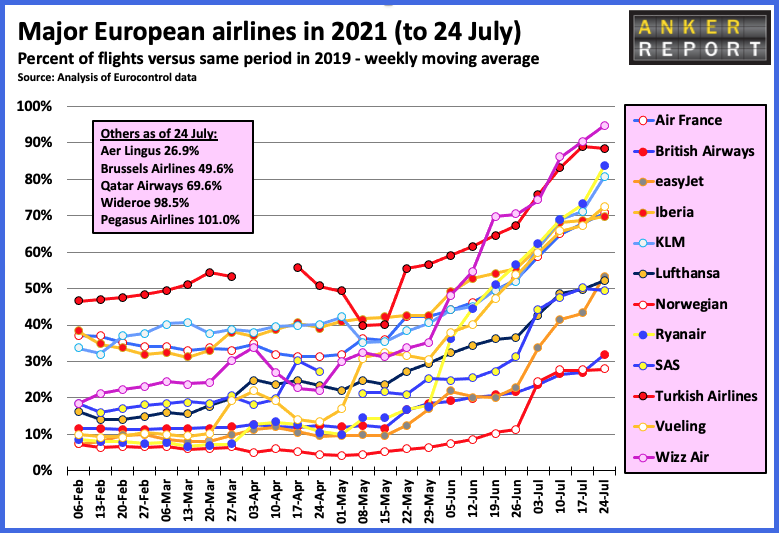 Albania leads recovery, Slovakia lagging
Looking at European schedule data for July by country confirms the trends of previous months. While all countries have seen an improvement compared to June, the rankings have not changed that much. Albania leads the way, as it did in June, with Bosnia & Herzegovina, European Russia and Ukraine all maintaining their top five status.
Greece has jumped from 12th to eighth, Malta has risen seven places from 25th to 18th, while Belarus has dropped from 29th to 38th, as several nations imposed bans on flights to/from the country after the recent incident involving the 'kidnapping' of a Ryanair flight passing through its airspace.
The top six European air travel nations (highlighted in red) remain in the same order as in June; with Turkey leading the way in terms of recovery, ahead of Spain, Italy, France, Germany and the UK. The same four countries are still in the bottom four; Finland, Ireland, Slovakia and Slovenia. Whether the popularity of certain countries, as preferred destinations for summer holidays, changes these rankings much in August and September remains to be seen.