JumpStart Unites Airports, Airlines in Milwaukee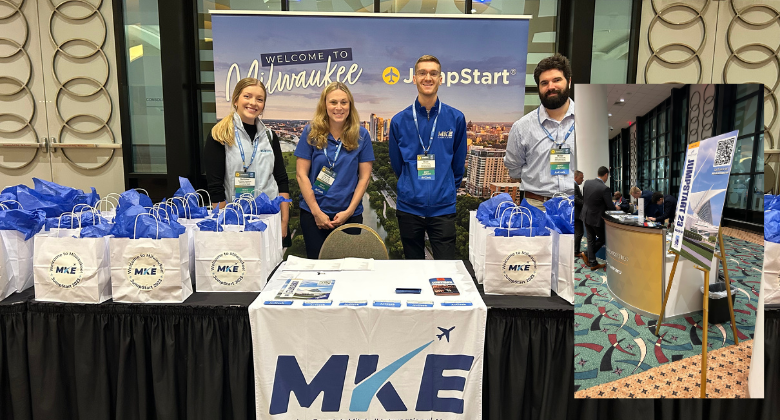 Nearly 400 air service industry professionals gathered in Milwaukee this past week to attend Airport Council International-North America's 2023 JumpStart Air Service Development Conference and Small Airports Committee meetings. The June 12-14 event afforded attendees the opportunity to sit together for informative sessions filled with lively discussions, in addition to more than 1,000 one-on-one, face-to-face meetings between airports and airlines.
JetBlue Airways Vice President of Network Planning & Airline Partnerships David Jehn keynoted the event. While limited in what he could disclose about JetBlue's anticipated first quarter of 2024 merger with Spirit Airlines, Jehn was quick to speak to JetBlue's, "great products and great service at low fares." Dubbed the "JetBlue Effect", MIT research has concluded that every round trip fare drops by an average of $64 when JetBlue enters a new market. This is great news for JetBlue airports connecting passengers to Belize City and St. Kitts, both destinations JetBlue targeted for growth as part of a broader reach into underserved international markets. With the early June route additions of BZE and SKB, JetBlue now flies to 27 countries in the Caribbean and Latin America.
Regional connectivity insights were shared from industry insiders ranging from Regional Airline Association President & CEO Faye Malarkey Black to The Landline Company Co-Founder & CEO David Sunde. While RAA's Malarkey Black maintained that "regional airlines are critical infrastructure," and urged attendees to contact their local media to cover lost air service the ongoing pilot shortage, Sunde offered a regional airline alternative in the form of the "world's first multi-modal airline."
"Yes, it is a bus," Sunde clarified, noting the simplified regional experience offered by Landline, a nationwide multimodal operator. "The Landline passenger experience is seamless and premium."
A number of airlines also provided input on how airports could best sell their city pair destinations.
Welcoming Portland, Maine, and Charleston, West Virginia, in May, Breeze Airways Director of Schedule Planning Blake Haag said the two-year-old airline is looking to "amplify our unique value proposition," in its point-to-point marketplace. "We want to make sure our costs stay low so we can continue to offer an elevated experience."
From a hub-and-spoke mainline carrier perspective, American Airlines Director of Short Haul Network Planning Phillippe Puech, noted that AA is "fortunate to have tremendous hubs."
He said that there has been a migration toward the Sun Belt hubs. Meanwhile, AA's northern hubs, including Philadelphia and Chicago, have been a bit slower, although "there is traction in those communities."
Regardless of the hub, Puech said international travel is having a moment.
"Long haul is looking absolutely very good," Puech said.