Kansas City opens new terminal; almost 10m pax in 2022 on over 50 routes, but none to Europe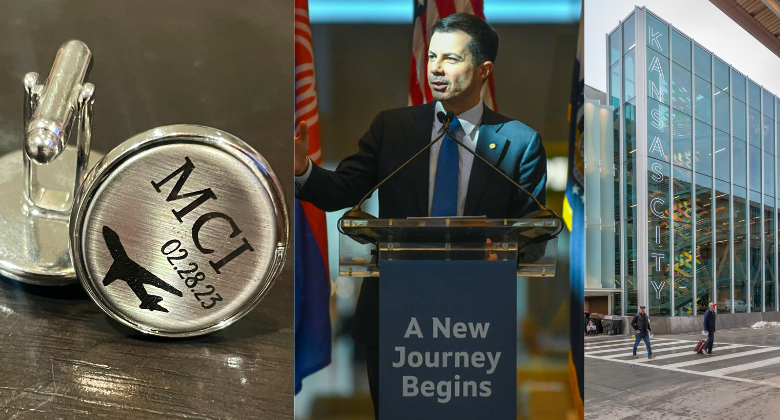 History was made on 28 February when Kansas City opened its brand-new airport terminal. The first departure was Southwest to Chicago MDW, which took off at 05:07. A single facility, it replaces the airport's three 'horseshoe' terminals, which opened in 1972. The new terminal provides much more space and a higher quality modern experience, which may help the airport's recovery and future growth. Kansas City ended 2022 with 9.8 million two-way passengers, 17% lower than the 11.8 million recorded in 2019, according to the airport's own statistics.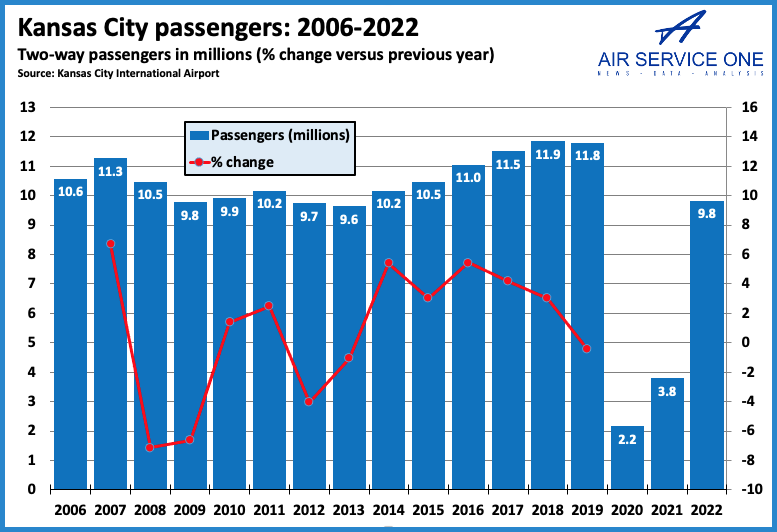 52 destinations from Kansas City
Kansas City has non-stop passenger flights to 52 destinations this summer, of which 50 are domestic spread across 28 states. Destinations include Long Beach, which Southwest begins on 9 March (daily) and has not been served before. Southwest will also resume three routes that it last served in 2020: Indianapolis on 9 April (starts at 11-weekly, later 13), Milwaukee on 11 July (6-weekly, later daily), and Minneapolis-St. Paul on 11 July (6-weekly, later daily).
The 630-kilometre link to Minneapolis, Kansas City's 12th most-served route this summer, is also important because it will have a third airline for the first time. On 29 May, Sun Country – a new airline for Kansas City – will launch a 2-weekly operation, joining Delta and Southwest. The airport pair has 42 weekly flights in the peak summer.
The two biggest routes from Kansas City are Denver and Atlanta. Denver is served by three airlines with Southwest offering up to 7-daily flights, United up to 5-daily and Frontier 4-weekly (according to Cirium data for June 2023). The longer route to Atlanta is served by Delta (8-daily) and Southwest (3-daily). However, if capacity is combined across airports serving the same city then Chicago (427k seats) and Dallas (407k) are both bigger than Denver and Atlanta.
No Europe route, but huge indirect traffic
Examining Cirium data for 2004-2022 reveals that Kansas City's international capacity has never exceeded more than 0.76% of its one-way seats, a figure achieved in 2018. That coincided with its most international capacity in the analysed period. It was a year in which Icelandair served Kansas City from Reykjavik KEF (May 2018-September 2019) – the airport's first and only European route, at least in the past 33 years. Elsewhere, Frontier, American, and Delta flew to Cancun, while Air Canada operated from Toronto YYZ.
According to the United States Department of Transportation, Icelandair carried 28,403 passengers – the vast majority of which continued across Europe – and had an average passenger load factor of just 65%. Despite this, Kansas City's lack of European flights is noteworthy. It has often been at the top, or near the top, of the biggest US airports list without European service. In 2019, it had approximately 225,000 two-way indirect Europe passengers.
Southwest has almost half of all capacity
Kansas City is currently home to 11 scheduled airlines, 10 US carriers and Air Canada. By far the biggest is Southwest which accounts for almost 50% of seats this summer. It is offering non-stop flights to 36 destinations this summer compared with 32 in S19. However, its capacity is still down 8% versus S19 and flights are down 13%. Alaska Airlines (down 14%) and Allegiant (down 14%) are still considerably below their S19 capacities.
Across all airlines, capacity is down around 2% this summer compared with S19. Flights are down 12% indicating an increase in average aircraft size. Since S19, Kansas City has lost Icelandair but gained JetBlue (with flights to Boston and New York JFK) and Sun Country (with flights to Minneapolis/St. Paul).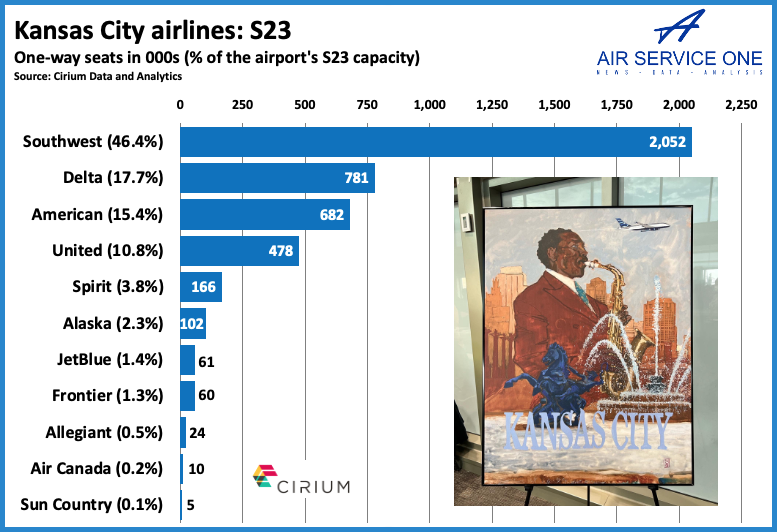 More international capacity in 2023 than any other year
While 2023 is far from finalised and may change for better or worse, Kansas City has over 74,000 one-way international seats this year – 30% more than its previous record in 2018. Yet only Cancun and Toronto YYZ are served, the latter returning on 17 June (daily). The growth is entirely because of Cancun, which has over 61,000 one-way seats and up to seven weekly flights with Frontier, Southwest and American. Cancun seats have greatly exceeded the previous best of 29,000 last year and 23,000 in 2018.