Kansas City, Raising expectations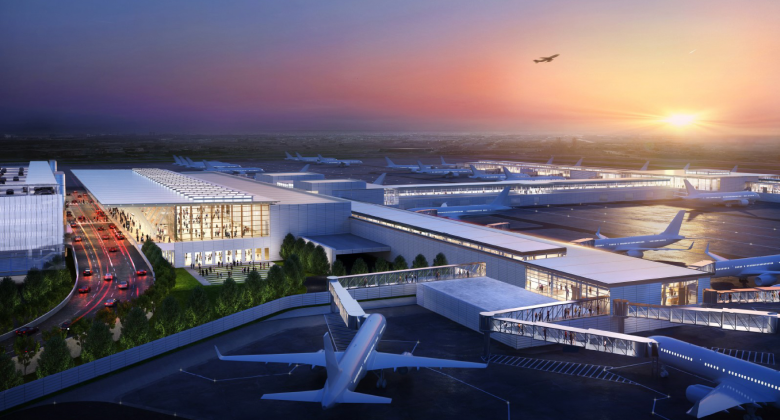 Things are heating up on the ground – and will soon follow in the skies – as construction on Kansas City International Airport's new, single terminal is taking shape. A much-needed improvement for the growing metro area, the new terminal will offer a better concentration of amenities and services beyond just shopping and dining.
The new terminal is a transformation to a traditional facility separating departure and arrival passenger and vehicular traffic. Passengers will enter a light, airy, and wide-open terminal with tasteful touches throughout. The heartbeat of Kansas City will be highlighted with live, local musicians, fountains, world-class flavor and a wide variety of merchandise and amenities.
Consolidated and flexible security checkpoints with multiple lanes will accommodate the ebb and flow of passenger volume. Two concourses, with aircraft parking on both sides, will have moving walkways to expedite passenger movement. Centralized flight and baggage information display systems will increase passenger convenience and airline efficiency.
Parking will be improved, with a terminal-adjacent garage with plentiful covered parking and Smart Technology indicating space availability. Among its many other improvements, the new facility will feature nursing rooms, service animal relief areas, inclusive play areas, central customer service help desks, and dedicated commercial curb space for ride shares, taxis, city transit and shuttles. Electric airport parking buses can wirelessly charge while passengers load and unload. Plug-and-play technology will be in place for airlines at ticket counters, departure lounges, glass passenger boarding bridges and back-of-house functions. The flexible international arrivals area can also be used for domestic wide-body flights.
With a current expected completion date of March 2023, every detail of the new Kansas City International Airport terminal is designed to raise expectations when it comes to air travel. For more information, visit BuildKCI.com.