New Route of the Day (26 June 2021): KLM between Amsterdam and Verona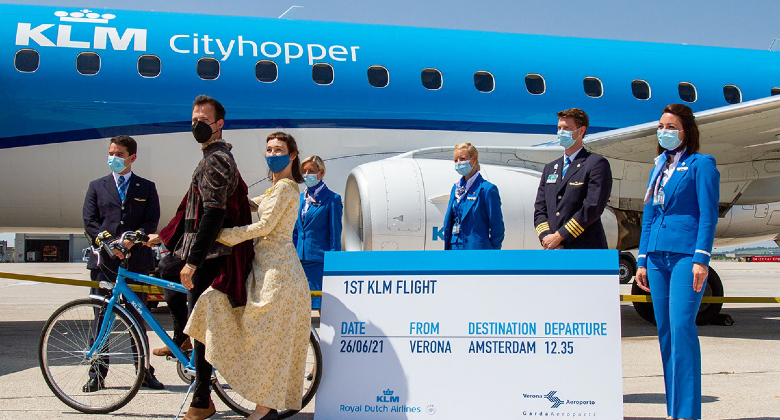 On Saturday 26 June, KLM added Verona in Italy to its Amsterdam network when it began operations on the 885-kilometre route. The service is set to operate daily using KLM Cityhopper's Embraer E175s. The service will complement the existing daily service operated by KLM's in-house LCC Transavia, which has been operating the route during the summer season since 2004. To celebrate the new route, Romeo and Juliet turned up on a bicycle (as you do).
Verona becomes KLM's 12th Italian destination
KLM serves 11 other destinations in Italy; Bologna, Cagliari, Catania, Florence, Genoa, Milan LIN, Milan MXP, Naples, Rome FCO, Turin and Venice VCE. Of these, Naples was the most recent addition, launched in 2019. Since the start of the pandemic, KLM has added several new non-stop destinations from Amsterdam, including Belgrade, Cairo, Cork, Palma de Mallorca, Poznan, Riyadh and Southampton. On the same day that it launched service to Verona, the carrier also began a new daily service to Dubrovnik in Croatia, competing head-to-head with easyJet.