KLM serves 162 destinations this summer; London LHR still top route; just one new route added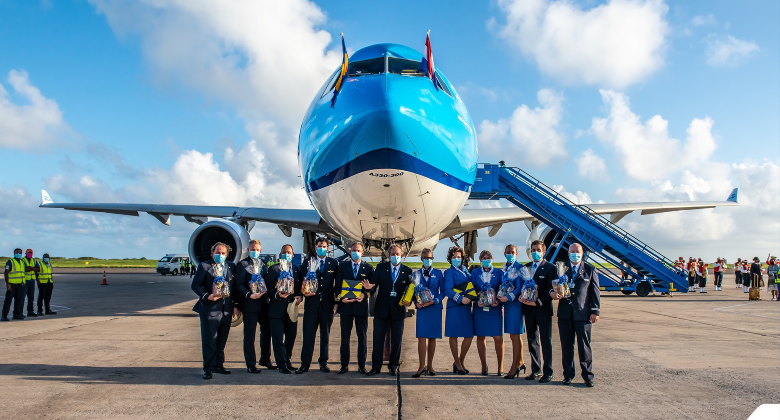 KLM is the 11th largest airline serving Europe this summer. According to Cirium schedules information, it has 11.72 million one-way seats, of which around one in ten is by Cityhopper, its Embraer-operating regional partner. KLM is Europe's sixth largest flag carrier, after Turkish Airlines, Lufthansa, British Airways, Air France and SAS. It faces the implementation of Amsterdam's further coming slot constraints and fewer overall aircraft movements per year.
KLM serves more UK airports than anywhere else
Examination of the Netherlands' flag carrier's network reveals 162 destinations this summer, involving 64 countries. With one in seven seats, the UK – a short flight away – is the most served. Only Germany comes close, with these two nations accounting for nearly a quarter of KLM's capacity.
Analysis of Cirium schedules tells that 93 of KLM's 162 destinations are in Europe, 18 in North America, 16 in Asia, 10 in Africa, 10 in South America, seven in the Middle East, five in the Caribbean and three in Central America.
With 17 airports, it serves more UK destinations than anywhere else, with Cityhopper playing an especially important role in this connectivity. Then there is the USA (12 destinations, excluding partner Delta Air Lines), Norway (11), Germany (10), Spain (8), France (8) and Norway (7).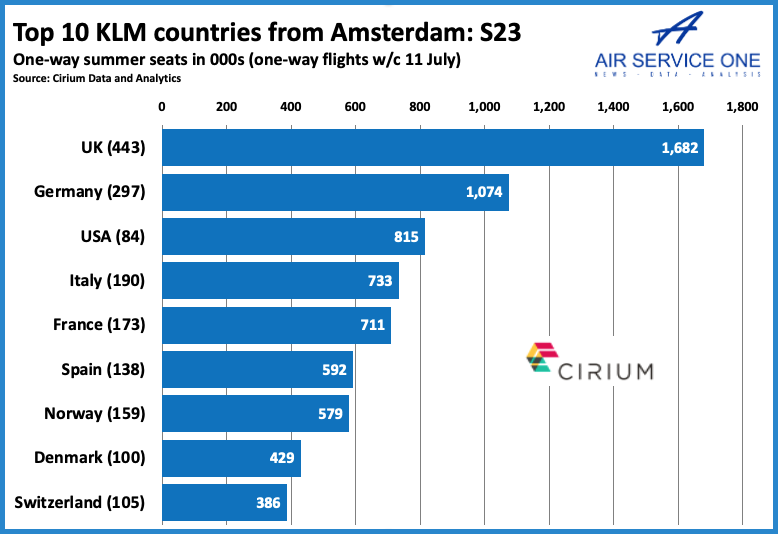 London LHR is the leading route
With 288,000 one-way seats in S23 and 57 July flights, the 370-kilometre link to London LHR is KLM's top route.  It is one of two airlines in the market, alongside British Airways (276,000 seats, 48 weekly). All but one of KLM's top 10 routes is in Europe. The exception is New York JFK, with 181,000 seats and 18-weekly flights.
It is perhaps unfair to include KLM's partner Delta, although the US carrier's Amsterdam network would be considerably less extensive without this partnership. Indeed, given the degree to which they work together, it is intriguing. When they are combined, JFK overtakes LHR for the number one spot by seats (303,000). Atlanta is third (283,000) and Minneapolis eighth (211,000). This at least indicates the power of the pair.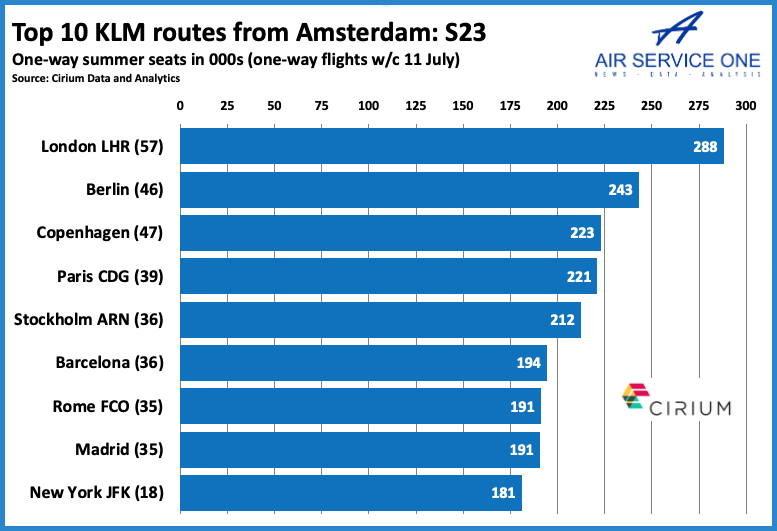 Just one new route added this summer
KLM introduced Amsterdam to Rennes on 26 March 2023, the start of S23. Served daily, the 660-kilometre route uses Cityhopper's Embraer E175s. While KLM has not served it before, it was previously in the hands of Group member Air France, whose Hop regional unit operated it between March 2016 and March 2023. It simply switched to KLM.
Two routes introduced in W22 no longer exist: Aarhus and Katowice, both operational between 30 October 2022 and 25 March 2023. They join 22 others that have ended in the past 10 years, excluding airports that have closed and those in Ukraine and Russia, which cannot, for now, be served. They are as follows, with the month denoting when each ended:
Almaty (October 2017)
Abu Dhabi (April 2020)
Cairo (February 2022)
Chengdu (February 2020)
Cologne (January 2016)
Colombo (March 2019)
Dallas DFW (October 2015)
Doha (December 2022)
Fortaleza (April 2020)
Fukuoka (January 2016)
Freetown (January 2019)
Havana (April 2020)
Hangzhou (December 2021)
Harare (October 2014)
Luanda (April 2020)
Marseille (October 2019)
Mauritius (March 2019)
Nur-Sultan (October 2017)
Tehran (September 2018)
Växjö (April 2020)
Verona (served briefly until August 2021)
Xiamen (February 2020)