Knock welcomed 722,000 passengers last year; Heathrow is coming; UK routes have 82% of capacity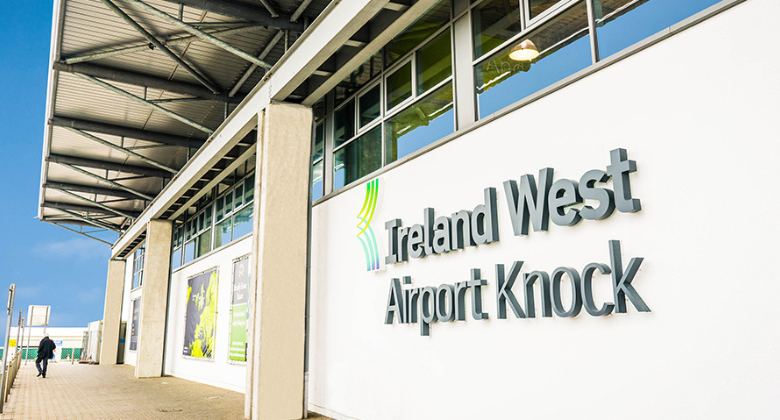 Situated in County Mayo, Ireland West Airport Knock is one of six airports in the country to have airline service. Knock ended 2022 with 722,000 passengers, according to its own statistics. While that was 10% below 2019 – its best year to date – it was still its fifth best year on record, albeit its lowest volume since 2016. Exclusively served by Ryanair and Aer Lingus since S20 following the end of the original Flybe, Knock is preparing to welcome its first London LHR service.
Heathrow is coming
Launching on 26 March, the 625-kilometre Heathrow route will be served daily by Aer Lingus's A320s and will enable onward connectivity over Heathrow. It will be Aer Lingus's fourth Heathrow route, joining Dublin, Cork and Shannon. It appears that the new route will use a slot pair that Aer Lingus previously had for its Belfast BHD service. Knock-Heathrow replaces Knock-Gatwick, a route that Aer Lingus has served since 2009. It followed the end of it by both easyJet (really) and Ryanair, both of which operated from 2005-2006.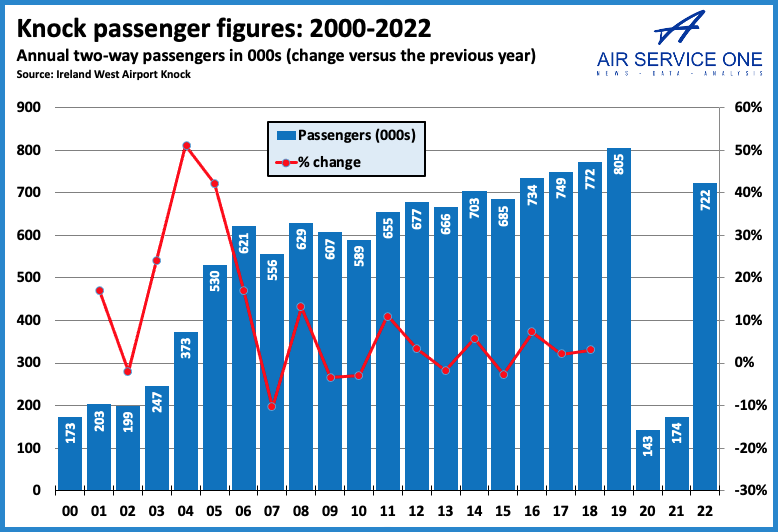 The UK has 82% of Knock's capacity
This summer, Knock has flights to Germany, Italy, Portugal, Spain and the UK, a balance of inbound and outbound demand. Some 17 routes are served, including Heathrow and the return of Lanzarote by Ryanair (weekly from 28 March), previously served by the carrier between 2011 and 2020. They build on Ryanair's Birmingham introduction last year (29 March 2022, 3-weekly), which had replaced Flybe. Readers may recall MyTravelLite, bmibaby and Aer Lingus Regional all previously served Birmingham-Knock.
Knock has flights from nine UK airports this summer, which accounts for 82% of the airport's flights, according to Cirium schedules information data. UK airports take the first nine spots in Knock's top routes list by frequency. London alone has four in ten flights, with Ryanair from Stansted and Luton the top two routes.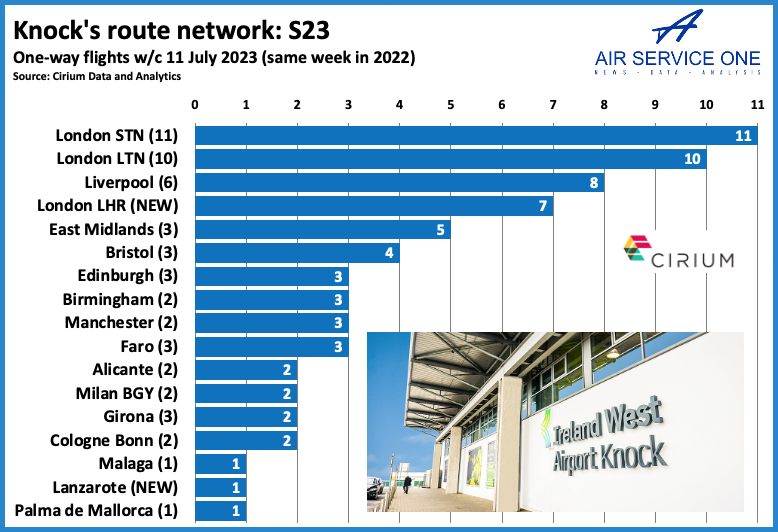 16 routes have been cut – including the USA
Curiously, almost as many routes have been cut since 2004 as are served this summer, according to analysis of Cirium data. They include Tenerife TFS, the most recently ended (Ryanair in 2020). The most significant, or at least different, are New York JFK and Boston, served by FlyGlobespan's 737s and 757s during S07.
Bulgaria: Bourgas
France: Paris BVA
Germany: Düsseldorf, Frankfurt HHN
Ireland: Dublin
Lithuania: Kaunas
Netherlands: Eindhoven
Spain: Gran Canaria, Reus, Tenerife TFS
UK: Glasgow GLA, Glasgow PIK, Leeds Bradford, Teesside
USA: Boston, New York JFK