Korean Air capacity recovery rates to Europe and North America compared; Budapest added in S22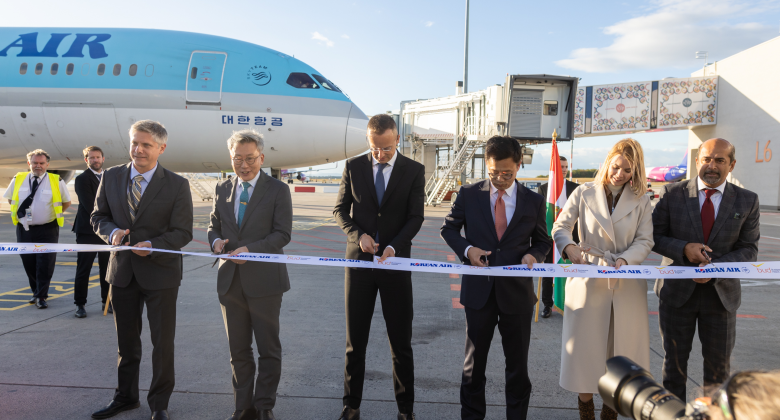 Korean Air recently added its first new European route since the start of the pandemic when it began 2-weekly service between Seoul ICN and Budapest in Hungary on 3 October. The 8,160-kilometre route is already served 2-weekly by LOT Polish Airlines. Analysis of the SkyTeam carrier's monthly capacity since January 2019 to Europe and North America clearly shows how the airline has recovered more of its capacity to North America than to Europe.
Using January 2019 as the starting point (index = 100) Korean Air's North American capacity in December 2022 is set to be at just under 81% while European capacity is still lagging behind at just over 62%.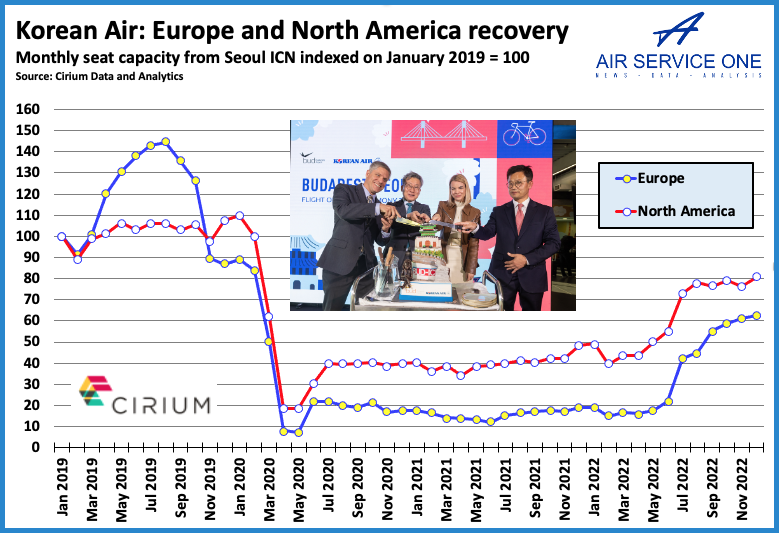 Four European routes still suspended
Comparing the airline's November 2022 network with that of November 2019 reveals that while Budapest has been added in Europe, four European airports are no longer served non-stop. These are Madrid, Moscow SVO, Prague and Zagreb. These were all served either 3- or 4-weekly three years ago. That leaves a total of 10 European destinations still served non-stop; Amsterdam (4-weekly), Barcelona (3-weekly), Budapest (2-weekly), Frankfurt (5-weekly), Istanbul IST (weekly), London LHR (daily), Milan MXP (3-weekly), Paris CDG (daily), Rome FCO (3-weekly), Vienna (3-weekly)
US and Canada routes all still operating
All 14 North American routes that were operated in November 2019 (12 in the US and two in Canada) are still being offered in November 2022, though total seat capacity is down 22% and the number of flights is down 15%. Looking at the combined Europe and North America markets, 11 of Korean Air's top 15 routes by ASKs are to North America. The three North American routes outside the top 15 are Seattle, Las Vegas and Guam.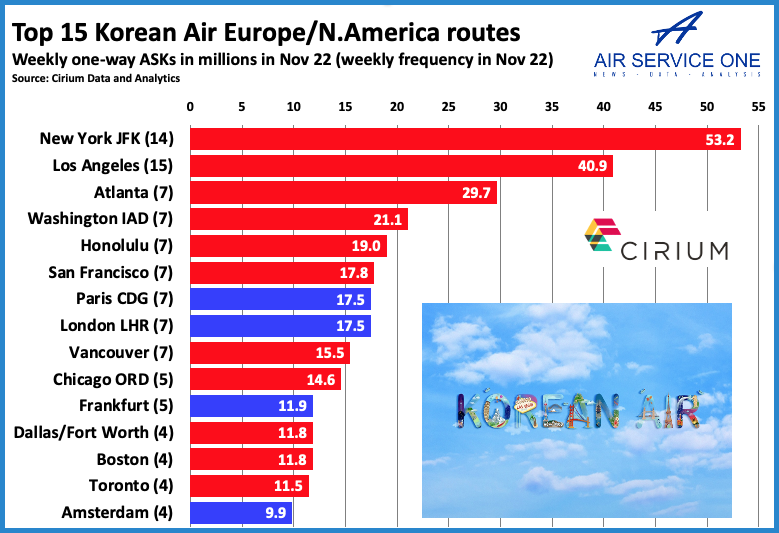 New York JFK and Los Angeles are the only European or North American routes served 2-daily. Combined with the sector lengths, these two routes are way out in front for ASKs (Available Seat Kilometres). The JFK route is also served daily by Asiana Airlines, while the LAX route is also served by Asiana (this time 2-daily) and newcomer Air Premia (5-weekly).