Košice hopes for the most passengers ever in 2023; set to welcome SWISS next year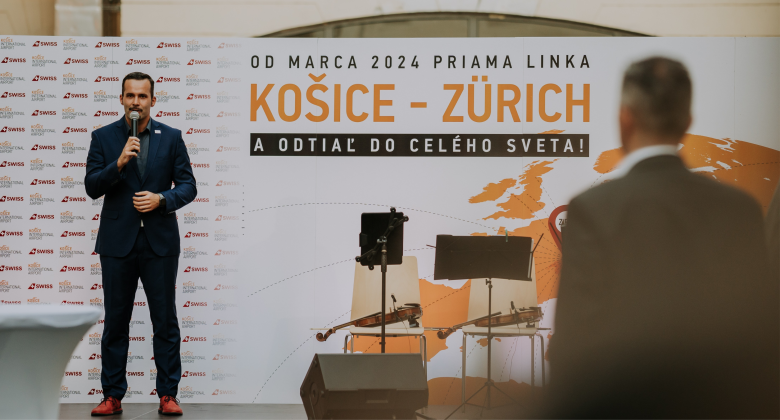 The largest city and economic centre of eastern Slovakia, Košice is the country's second most populous city. Air Service One caught up with Juraj Toth, the airport's Aviation & Business Development Manager, to talk about the recovery, carriers and network, and future development.
Hopes for a record passenger volume this year
Košice handed approximately 517,000 passengers in the first nine months of 2023, which was a 15% increase year-on-year and 9.5% on the pre-pandemic 2019. While a small regional airport, it is among Europe's best recovered.
"If all goes well, we should cross the 600,000 annual passenger mark for the very first time in the history this year."
While Slovakia's capital, Bratislava, inevitably has higher traffic, its recovery is much slower. Analysis of data collected by Air Service One shows that January-August passengers remained down by nearly a fifth versus 2019.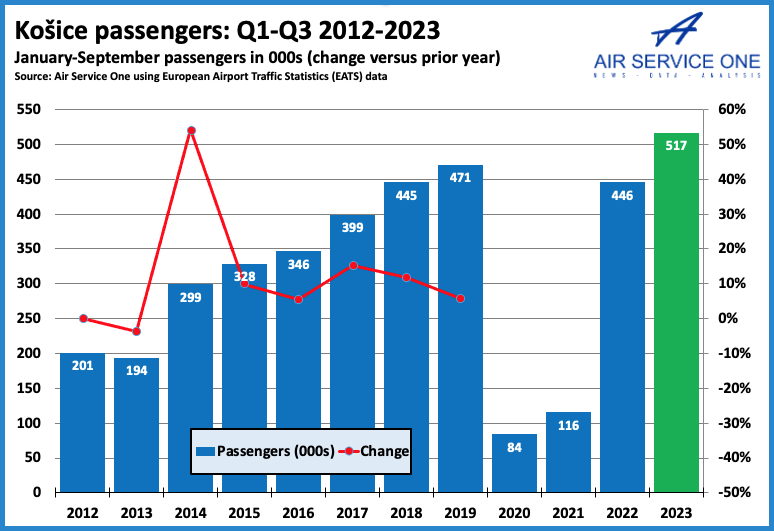 A good mixture of carriers
"We are proud to have a mix of legacy, low cost and charter operations, which deliver decent connectivity to our region." Its scheduled network is as follows, all of which are year-round except summer-seasonal Dublin, which Toth hopes returns next summer. It is notable how strong Košice's full-service operation is in its network.
Austrian Airlines: Vienna (11-weekly)
LOT Polish: Warsaw (6-weekly)
Wizz Air: London LTN (5-weekly)
Ryanair: London STN (5-weekly)
Ryanair: Prague (4-weekly)
Ryanair: Liverpool (2-weekly)
Ryanair: Dublin (2-weekly)
Charters are important, too. In the all-important summer, flights for tour operators are to Bulgaria, Croatia, Cyprus, Egypt, Greece, Tunisia and Turkey. Toth also said that they have had winter charters to Cabo Verde, Oman and Tanzania (Zanzibar).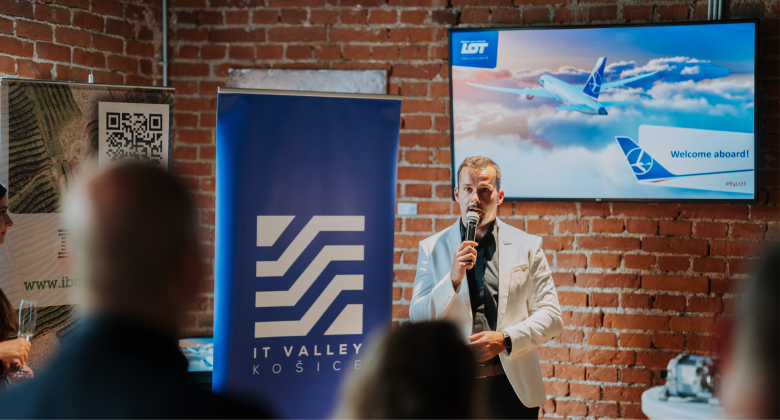 A third full-service airline is coming
The biggest development is SWISS. It will launch a 3-weekly Zurich service on 27 March 2024, just before Easter, the first time the 955-kilometre airport pair has been served. As well as good point-to-point demand – Zurich was among Košice's largest unserved European markets – it will provide even more onward connectivity.
"We are super excited about the arrival of third legacy carrier and third Star Alliance member. This will boost our connectivity to another level and open some fantastic new markets for passengers from our catchment area, like Singapore, South Africa and Brazil."
Where's next for Košice?
"We are constantly working on developing the connectivity for our region. It is a never-ending process with lots of bumps on the road, sometimes long years of work without any results but also some positive surprises appear every now and then."
Pressed on what destinations are particularly sought, Toth said Košice is missing year-round sunny destinations, especially in Spain, Italy, and Portugal. More European markets for VFR demand would make sense and he hopes for flights to another global hub.