Last Week in Europe – Monday 10 January 2022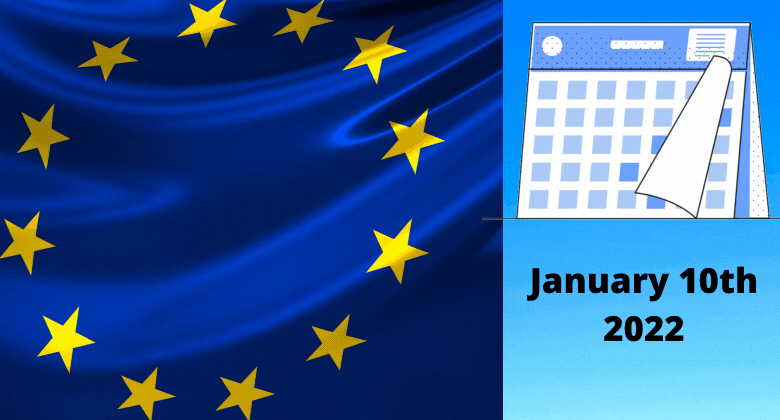 The following graph shows how many flights some of Europe's most significant airlines have been operating compared with the same period in 2019. The sudden volatility in the figures for the last week can be partly explained by the fact that comparison in January 2022 is being made with January 2019 (three years previously) while at the end of December 2021 the comparison was with December 2019 (two years previously). For those carriers that were growing (or shrinking) quickly in 2019 (like Wizz Air) this will be reflected in the figures.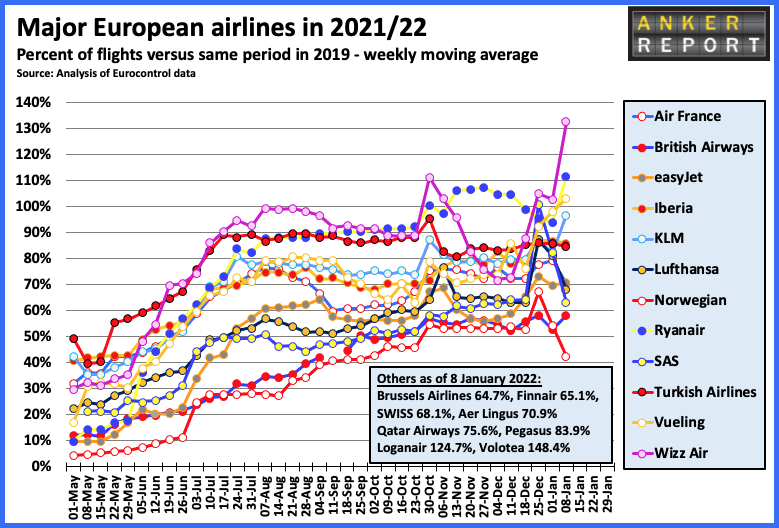 New routes launched during the last week
Between Monday 3 December 2022 and Sunday 9 January 2022, we have identified 12 new routes that were launched by airlines involving airports in Europe. Figure in brackets is weekly frequency.
3 January 2022
easyJet: Barcelona – Milan LIN (4)
Turkish Airlines: Istanbul – Cebu (via Manila) (3)
4 January 2022
Air Serbia: Nis – Istanbul IST (2)
Saudia: Jeddah – Amsterdam (2)
Turkish Airlines: Trabzon – Van (2)
5 January 2022
Air Serbia: Kraljevo – Istanbul IST (2)
Amelia: Paris ORY – Brive (11)
6 January 2022
Air Serbia: Belgrade – Nis (4w), Nis – Cologne Bonn (2w)
8 January 2022
Jet2.com: Glasgow – Geneva (1)
Pegasus Airlines: Trabzon – Gaziantep (2w)
Transavia France: Paris ORY – Ivalo (1)
European airport passenger statistics
During the last week the following airports have revealed traffic statistics for December 2021. The percentage figure shown is traffic compared with December 2019.
Croatia: Dubrovnik (-66%), Split (-41%), Zagreb (-22%)
Denmark: Aalborg (-14%), Billund (-37%)
Estonia: Tallinn (-29%)
France: Montpellier (-19%)
Germany: Hamburg (-57%)
Greece: Athens (-32%, domestic -13%, international -40%)
Hungary: Budapest (-47%)
Ireland: Knock (-51%)
Netherlands: Eindhoven (-31%)
Ukraine: Kiev KBP (-33%)
European capacity trends
The following graph shows how airlines have been adjusting planned capacity on a weekly basis for the months ahead. In the last three weeks planned seat capacity for January has fallen from 74.5% to 66.6% of the 2019 figure.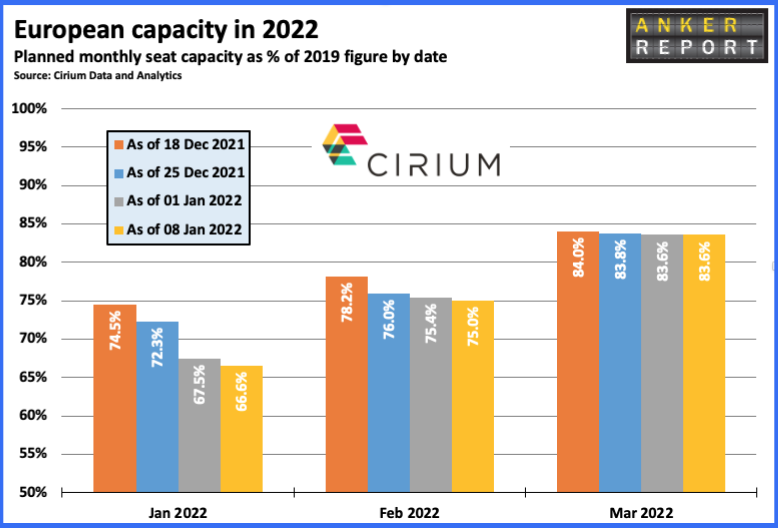 Download all this information and more as a pdf
Want all this information (with additional details regarding all the new routes) as a nice one page printable summary that you can share with friends and colleagues? No problem, just click here.