Last Week in Europe – Monday 16 May 2022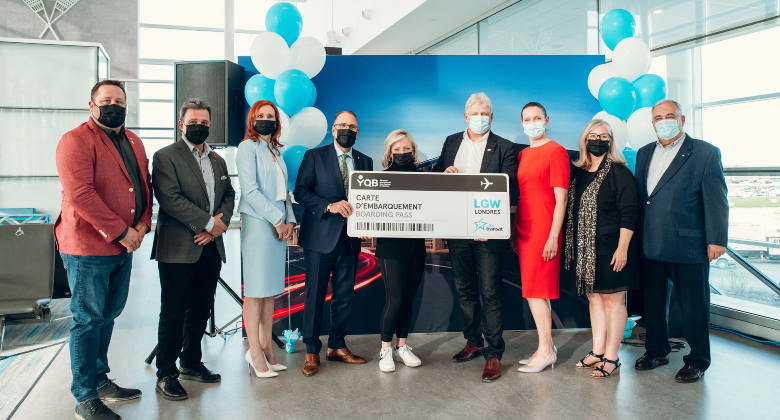 The seventh week of the summer 2022 (S22) season (covering the period Sunday 8 May to Saturday 14 May) saw the launch of 27 new routes involving European airports, down from 143 in the previous week. Highlights included the launch of flights to the new Rize-Artvin Airport in Turkey; Icelandair and PLAY both starting two new routes each from Reykjavik; Air Transat and United both launching new transatlantic routes; Jet2.com starting two new routes from Bristol; and BA CityFlyer commencing three more routes from Southampton
Meanwhile, according to analysis of Eurocontrol data, the 7-day average recovery rate for European flights (comparing 2022 movements with those during the same period in 2019) increased by 0.7 percentage points during the last week from 85.2% as of Saturday 7 May, to 85.9% as of Saturday 14 May.
Ryanair and Wizz Air reporting double-digit growth versus 2019
Among the 12 airlines tracked in more detail in our graph, Wizz Air (124%) and Ryanair (113%) have been joined by Turkish Airlines (104%) in recording a recovery rate above 100%, with Vueling (96%) and Iberia (94%), not far behind. Four of Europe's biggest flag-carriers are all between 70% and 80% in their rate of recovery; Air France (78%), British Airways (74%), Lufthansa (76%) and SAS (72%).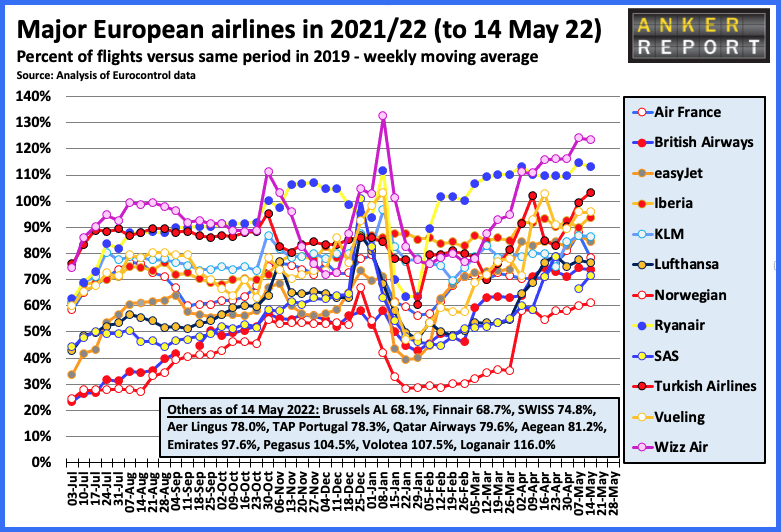 Heathrow once again Europe's busiest airport for passengers in April
On Saturday 14 May April the leading airline for flights in Eurocontrol airspace was Ryanair (2,863 flights) followed by easyJet (1,470), Turkish Airlines (1,326) and Lufthansa (1,290). Then came Air France (945), KLM (823), Wizz Air (740), British Airways (678) and Vueling (591). In the close battle among Europe's leading hub airports, it was Frankfurt's turn to be #1 last Saturday with 1,227 flights. This was just ahead of Amsterdam (1,216), Istanbul IST (1,211), Paris CDG (1,160) and London LHR (1,133).
However, in terms of passenger numbers across all of April, London LHR has once again regained its status as Europe's busiest airport, handling just over five million passengers. Paris CDG was second (4.60m), followed by Istanbul IST (4.45m), Amsterdam (4.43m) and Frankfurt (3.97m).
Want more information on:
European seat capacity changes made since last week for May, June and July?
The 27 new routes launched in Europe during the last seven days?
Passenger trends in April among airports in Europe? We already have traffic data for over 220 airports across Europe in our downloadable EATS file.
If so, then check out our weekly Last Week in Europe report which can be downloaded here.