Last Week in Europe – Monday 18 April 2022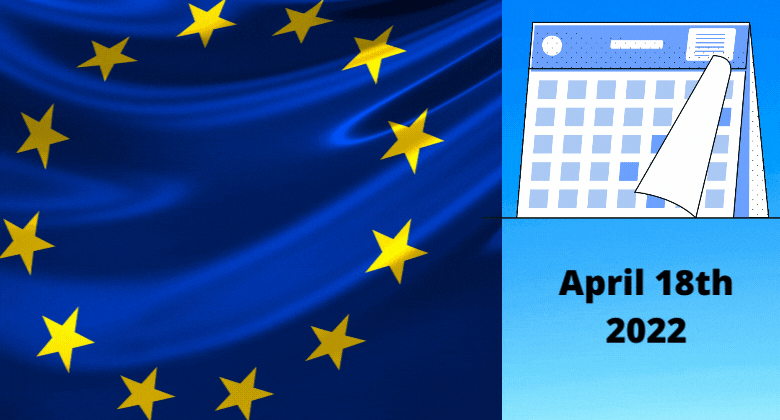 Last week was the third week of the summer 2022 (S22) season which had started on Sunday 27 March. It also included Friday 15 April which is Good Friday, part of the Easter celebrations and a national holiday in many countries. In 2019, Good Friday fell on Friday 19 April so for the next couple of weeks year-on-year comparisons may show some fluctuations unrelated to any underlying trend. With the Easter break being slightly earlier than in 2019, this appears to have contributed to the 7-day average recovery rate for European flights (comparing 2022 movements with those during the same period in 2019) increasing by 2.9 percentage points during the last week from 79.1% as of Saturday 9 April, to 82.0% as of Saturday 16 April.
Two Star Alliance carriers show significant improvement
Among the 12 airlines tracked in more detail in our graph, three airlines are now reporting a recovery rate in excess of 100%. They are Wizz Air (116%), Ryanair (110%) and Vueling (103%). The leading flag-carriers are Iberia (94%) and Turkish Airlines (85%). Two Star Alliance carriers saw significant increases in their recovery rates last week. Lufthansa improved from 69.0% to 76.5%, while SAS jumped from 58.8% to 71.2%. For the first time, 11 of the 12 carriers are all at over 70%. The exception is Norwegian, which is a very different airline from what it was in 2019, having cut all long-haul flying and significantly downsized as part of its long-term survival strategy. Its recover rate is currently at 55%.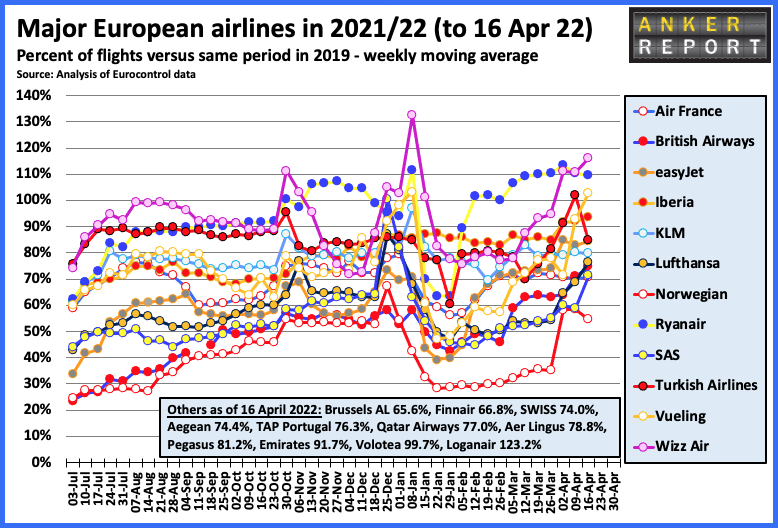 Wizz Air climbs to sixth; Paris CDG top on Saturday
On Saturday 16 April the leading airline for flights in Eurocontrol airspace was Ryanair (2,786 flights), a long way ahead of easyJet (1,439), Lufthansa (1,164) and Turkish Airlines (1,129). Then came Air France (921), Wizz Air (728), KLM (704), British Airways (635) and Vueling (626). Since last week, Wizz Air has overtaken KLM for sixth place and Vueling has closed in on British Airways. Among airports, the busiest for flights were Paris CDG (1,109), Frankfurt (1,099), London LHR (1,090), Amsterdam (1,063) and Istanbul IST (1,025). However, on Sunday 17 April Amsterdam was the busiest with 1,171 flights with London LHR busiest on Tuesday 12 April with 1,121 flights.
Want more information on:
European seat capacity changes made since last week for April, May and June?
Over 40 new routes launched in Europe during the last seven days?
If so, then check out our weekly Last Week in Europe report which can be downloaded here.