Last Week in Europe – Monday 2 May 2022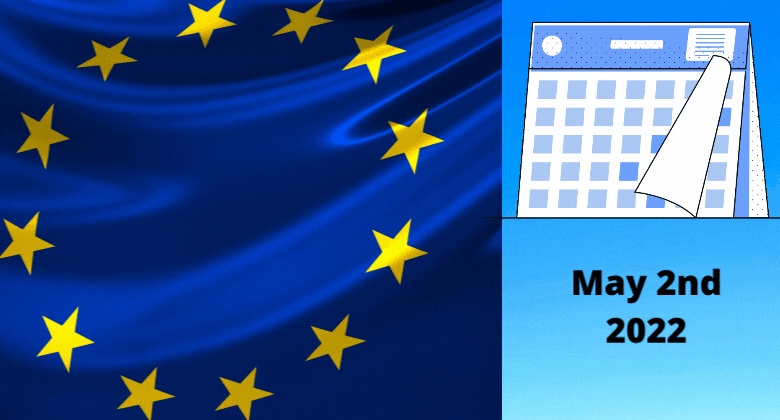 The fifth week of the summer 2022 (S22) season (covering the period Sunday 24 April to Saturday 30 April) saw the launch of 22 new routes involving European airports. This included the revived Flybe launching an additional five routes (including its first international services to Amsterdam), Aer Lingus Regional and PLAY both starting new routes to Dublin, and United adding a new US route from its Newark hub to Nice in the south of France.
Meanwhile, according to analysis of Eurocontrol data, the 7-day average recovery rate for European flights (comparing 2022 movements with those during the same period in 2019) increased by 2.3 percentage points during the last week from 82.4% as of Saturday 23 April, to 84.7% as of Saturday 30 April.
Major European flag-carriers' recovery rate mostly between 70% and 90%
Among the 12 airlines tracked in more detail in our graph Wizz Air (116%) and Ryanair (110%) continue to be the only ones reporting a recovery rate in excess of 100%. All other major European carriers are now at between 70% and just over 90%. KLM saw a significant improvement in its recovery rate during the last week from 75.1% to 84.3%. However, British Airways (from 73.1% to 71.2%), easyJet (from 84.2% to 82.7%) and Lufthansa (from 79.2% to 75.0%) all saw their recovery rates heading in the wrong direction.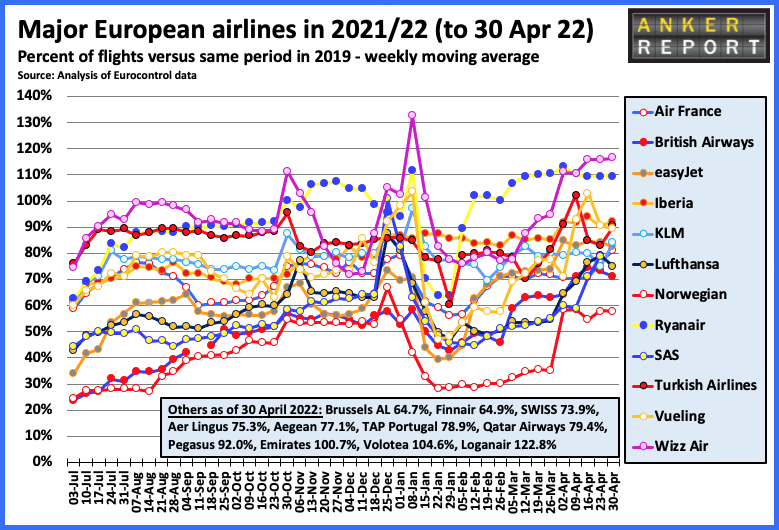 Istanbul IST back in first place for flights on 30 April
On Saturday 30 April the leading airline for flights in Eurocontrol airspace was Ryanair (2,809 flights) followed by Turkish Airlines (1,480), easyJet (1,408) and Lufthansa (1,173). Then came Air France (990), KLM (782), Wizz Air (723), British Airways (621) and Vueling (535). Among airports, the busiest for flights were Istanbul IST (1,277), Amsterdam (1,194), Paris CDG (1,147), Frankfurt (1,119) and London LHR (1,058).
Want more information on:
European seat capacity changes made since last week for May, June and July?
The 22 new routes launched in Europe during the last seven days?
Passenger trends in March among airports in Albania, Belgium, Poland and Norway?
If so, then check out our weekly Last Week in Europe report which can be downloaded here.