Last Week in Europe – Monday 21 February 2022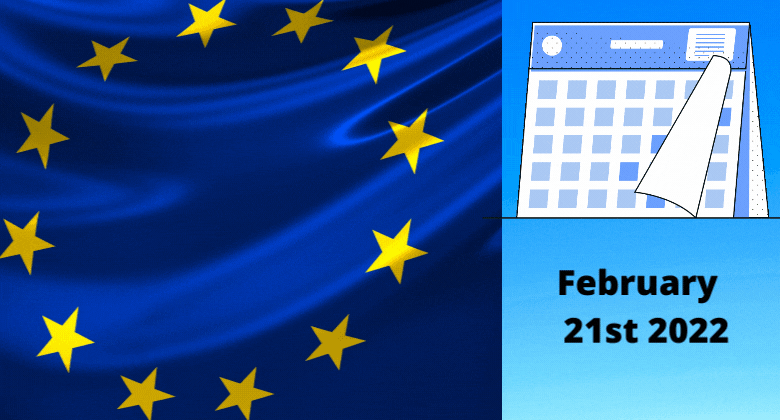 For the third week in a row, analysis of Eurocontrol data shows that the recovery rate for European flights (comparing 2022 movements with those during the same period in 2019) improved during the last seven days. The 7-day average, as of Saturday 19 February, was 70.3%, up only 0.6 percentage points from the previous week. The figure would probably have been better if Storm Eunice had not disrupted flights so much last Friday. Amsterdam flights were down 50% on Friday compared with an average of around 35% for most of February.
Among the 12 airlines tracked in more detail in our graph, Ryanair has again achieved the best recovery rate of 101.9%. This means that the Irish ULCC is actually operating almost 2% more flights than it did in mid-February 2019. Iberia is still second in terms of recovery rate, ahead of Turkish Airlines and Wizz Air, all of which are at over 80%. Among the 12 airlines shown in the graph, eight showed an improvement in their recovery rates compared with a week earlier. The four airlines that saw a small drop in their recovery rates were KLM (from 75.4% to 69.5%), Vueling (from 59.2% to 57.7%), Lufthansa (from 50.3% to 48.8%) and British Airways (from 49.2% to 48.1%).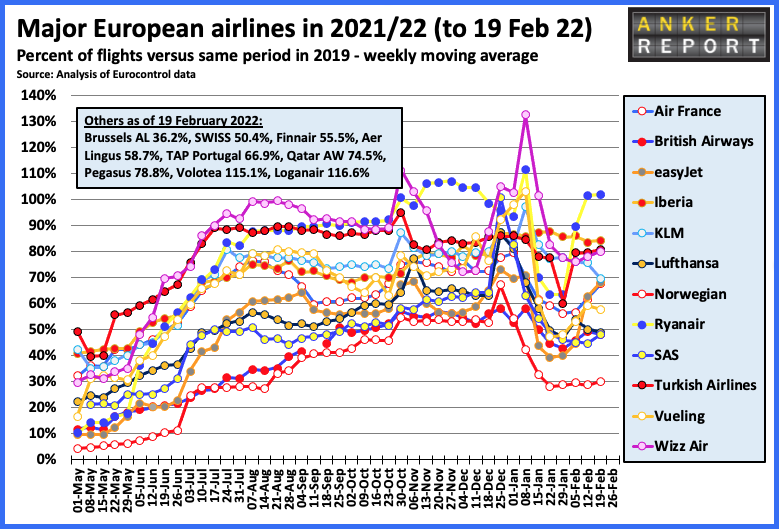 Turkish Airlines and easyJet in battle for second place
On Saturday 19 February the leading airline for flights in Eurocontrol airspace was Ryanair (2,129 flights), a long way ahead of Turkish Airlines (1,053), easyJet (1,015) and Lufthansa (860). Then came Air France (788), KLM (614), British Airways (484) and Wizz Air (444). These rankings do depend on the day of the week. On some days easyJet offers more flights than Turkish Airlines, and Air France offers more flights than Lufthansa.
Want more information on:
European seat capacity changes made since last week for February, March and April?
New routes launched in Europe during the last seven days?
Latest airport passenger statistics for European airports for January?
Latest European airline route announcements?
Latest airline passenger and load factor figures for January?
If so, then check out our weekly Last Week in Europe report which can be downloaded here.