Last Week in Europe – Monday 24 January 2022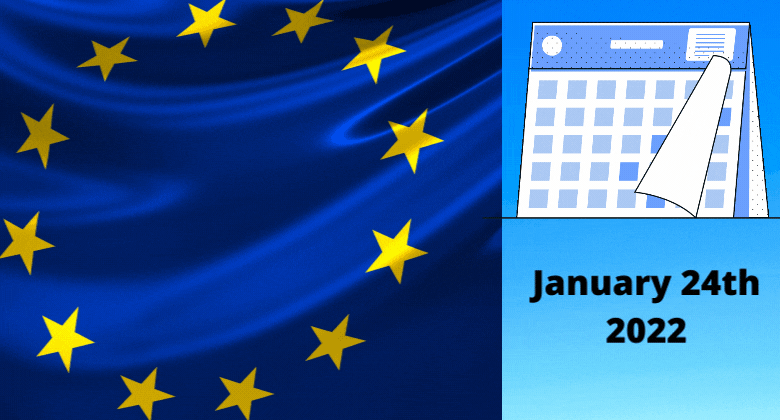 After a dramatic drop in the recovery rate of European flights two weeks ago, last week saw a less dramatic fall, with signs of stabilisation by the end of the week. Analysis of Eurocontrol data for last week shows that as of 22 January, the seven-day moving average for flights was down 35.0% versus 2019. A week earlier, on 15 January, flights had been down 31.3%. However, since 18 January, when the average first fell to minus 35% there has been no further deterioration, suggesting that the bottom may have been reached, at least for all airlines as whole.
Iberia is now leading the way for recovery rate among Europe's leading airlines, operating almost 88% of flights compared with the same week in 2019. Wizz Air which had been at over 130% two weeks ago is now at just over 82%, while Ryanair, which had been at 112% two weeks ago is now at 64%. Vueling has gone from 103% to just 47% in the space of a fortnight. Norwegian has dipped to below 30% for the first time since the middle of last August.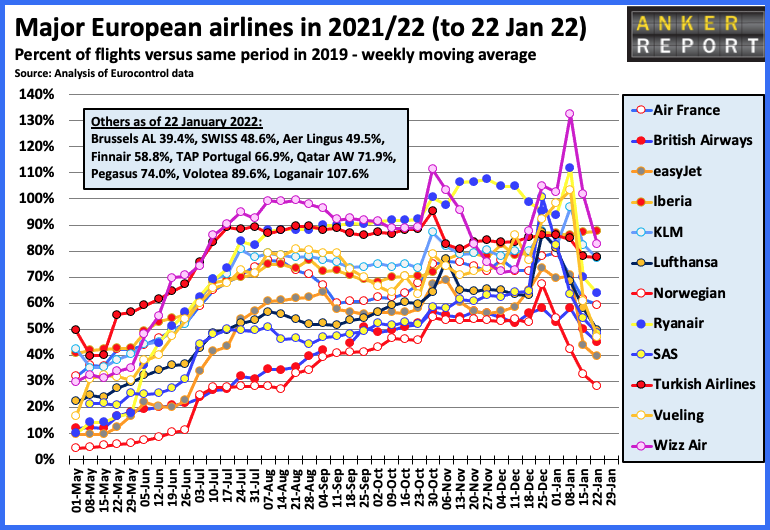 Ryanair still #1 for flights (but not on Thursdays)
On Saturday 22 January the leading airline for flights in Eurocontrol airspace was Ryanair (1,301 flights), well ahead of Turkish Airlines (1,016), Lufthansa Group (710) and Air France Group (579). Then come KLM Group (531), easyJet (428), Wizz Air (419) and British Airways (394). However, on Thursday 20 January, Turkish Airlines actually operated more flights than Ryanair.
Want more information on:
European seat capacity changes made since last week for January, February and March?
New routes launched in Europe during the last seven days?
Latest airport passenger statistics for European airports for December?
Latest European airline route announcements?
If so, then check out our weekly Last Week in Europe report which can be downloaded here.