Last Week in Europe – Monday 25 April 2022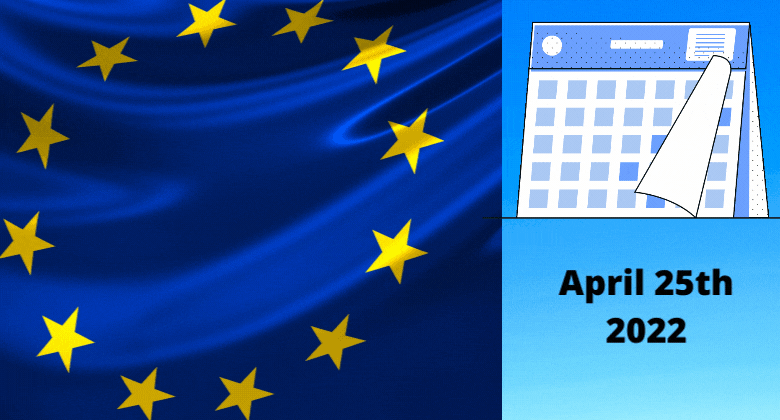 The fourth week of the summer 2022 (S22) season saw the launch of 17 new routes involving European airports. This included the first US service (to Baltimore/Washington) from Iceland's newest airline PLAY, the return of Condor to Athens after a gap of over 20 years, and Transavia launching several low-frequency leisure routes. United also added two new European routes between Chicago and Zurich, and between Denver and Munich.
Meanwhile, according to analysis of Eurocontrol data, the 7-day average recovery rate for European flights (comparing 2022 movements with those during the same period in 2019) increased by 0.4 percentage points during the last week from 82.0% as of Saturday 16 April, to 82.4% as of Saturday 23 April.
Major European flag-carriers' recovery rate mostly between 70% and 90%
Among the 12 airlines tracked in more detail in our graph Wizz Air (116%) and Ryanair (110%) are the only ones reporting a recovery rate in excess of 100%. All other major European carriers are now at between 70% and 90%. Lufthansa and SAS both crept closer to the 80% mark, while Air France improved by almost six percentage points to 76.7%.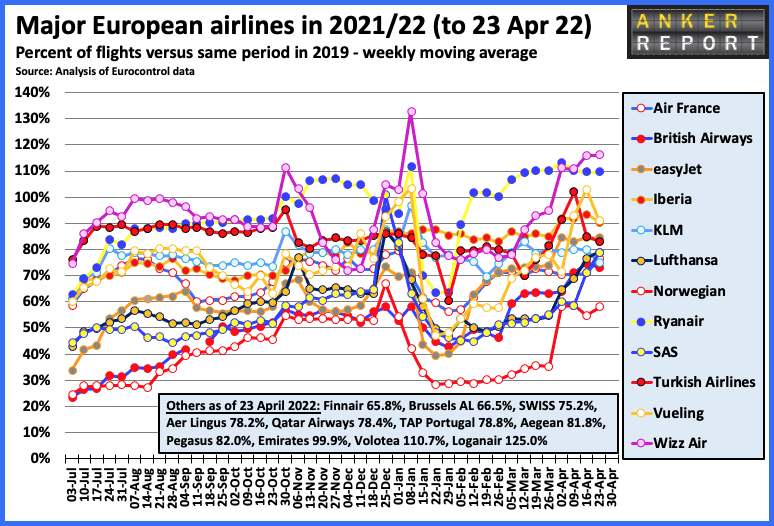 Frankfurt was busiest European airport for flights on 23 April
On Saturday 23 April the leading airline for flights in Eurocontrol airspace was Ryanair (2,723 flights) followed by easyJet (1,404), Lufthansa (1,198) and Turkish Airlines (1,133). Then came Air France (997), Wizz Air (733), British Airways (601), KLM (587) and Vueling (562). Among airports, the busiest for flights were Frankfurt (1,151), Paris CDG (1,139), London LHR (1,065), Istanbul IST (1,042) and Amsterdam (997).
Want more information on:
European seat capacity changes made since last week for April, May and June?
The 17 new routes launched in Europe during the last seven days?
Passenger trends in March at almost 200 European airports?
If so, then check out our weekly Last Week in Europe report which can be downloaded here.