Last Week in Europe – Monday 27 June 2022
Analysis by Air Service One suggests that the 13th week of the summer 2022 (S22) season (covering the period Sunday 19 June to Saturday 25 June) saw airlines launch a total of 40 new routes involving European airports, down from 78 in the previous week. Highlight of the week was the launch on 22 June of the first non-stop service between Perth and Rome, operated by Qantas. However, this was described as a 'promotional' service with scheduled service beginning from Australia on 25 June.
Two airlines accounted for nearly half of all the new routes this week. Turkey's Corendon Airlines launched 10 new routes (including nine from Denmark), while Romania's Blue Air added nine new routes across three Romanian airports, primarily to destinations in Greece. No other carrier launched more than two new routes.
In summary:
40 new routes offered by 18 airlines involving 54 airports
21 (53%) were already served by other carriers, 19 (47%) were not
21 countries involved including some outside of Europe (Algeria, Australia, Kuwait, Morocco, Qatar and UAE)
Average weekly frequency of new services: 2.33 (up from 2.10 last week)
Average sector length of new services: 2,105 kilometres (down from 2,237 kilometres last week). This week, just two new routes were over 4,000 kilometres with Qantas's new Perth to Rome FCO service the longest at 13,348 kilometres. Jersey to Rennes was the shortest at just 132 kilometres.
Airports in Greece welcomed the most, new services, with 14, followed by Denmark with 11. Then came Spain with 10, Romania with nine, Turkey with seven and the UK with six. The leading airports for new services last week were Copenhagen with eight and Bucharest with six. Billund and Malaga both welcomed three new airline routes. This week is likely to see an increase in new route launch activity in Europe with at least 70 new routes launching between 26 June and 2 July.
July capacity drops by 1.3 percentage points in one week
Comparison of Cirium schedule data for Europe for the last two weeks reveals that the July recovery rate has fallen by 1.3 percentage points during the last week from 89.4% to 88.1%. Analysis by airline reveals that among Europe's top 20 airlines, the carriers that have made the biggest cuts to their July schedules (in percentage terms) are Eurowings, British Airways, Turkish Airlines and easyJet.
Impressively, Europe's biggest airline, Ryanair, has not seen fit to make any reductions. A recent study in a UK national newspaper also found that Ryanair and Jet2.com had by far the lowest cancellation rates of all major carriers serving the UK.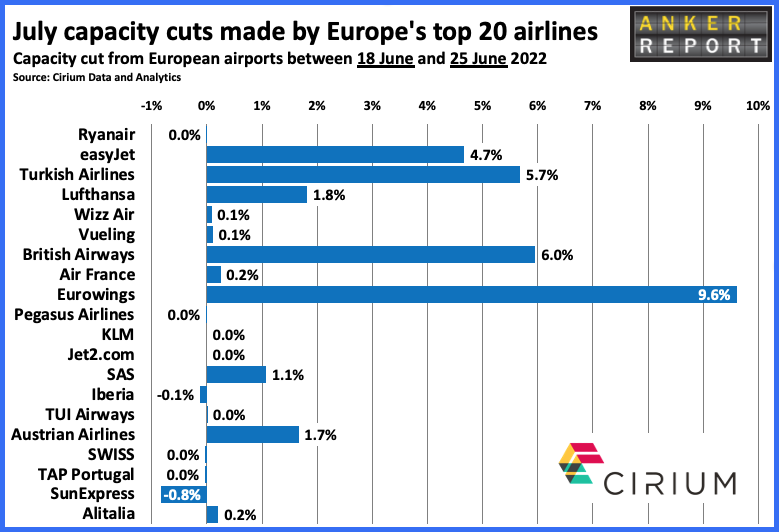 Want more information on:
European seat capacity changes made since last week for July, August and September?
The 40 new routes launched in Europe during the last seven days?
If so, then check out our weekly Last Week in Europe report which can be downloaded here.