Last Week in Europe – Monday 9 May 2022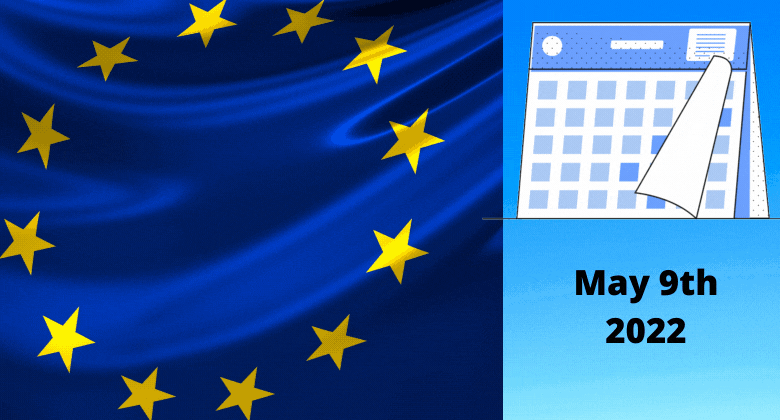 The sixth week of the summer 2022 (S22) season (covering the period Sunday 1 May to Saturday 7 May) saw the launch of 143 new routes involving European airports. The start of a new month seems to have been a popular time to introduce a raft of new, mostly leisure routes, involving many new connections from northern Europe to southern Europe, notably Greece and Turkey.
Meanwhile, according to analysis of Eurocontrol data, the 7-day average recovery rate for European flights (comparing 2022 movements with those during the same period in 2019) increased by 0.5 percentage points during the last week from 84.7% as of Saturday 30 April, to 85.2% as of Saturday 7 May.
Wizz Air now 20% up on 2019 flights
Among the 12 airlines tracked in more detail in our graph Wizz Air (124%) and Ryanair (115%) continue to be the only ones reporting a recovery rate in excess of 100%, although Turkish Airline came close to joining them at 99.4% (up from 90.4% a week earlier). Other airlines seeing a significant improvement in their recovery rate during the last week included Wizz Air (116.4% to 123.9%), Air France (80.9% to 87.8%) and Vueling (89.3% to 95.8%). However, Iberia saw its recovery rate fall from 92.4% to 90.1%.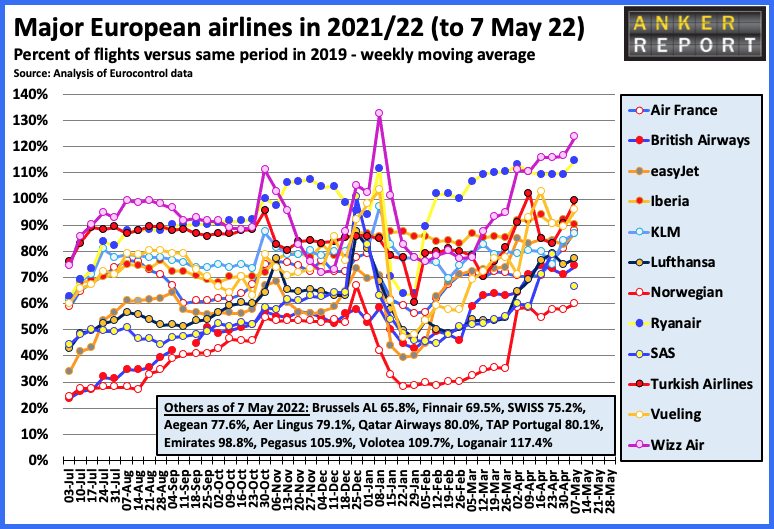 easyJet back ahead of Turkish Airlines as #2 airline for flights
On Saturday 7 May the leading airline for flights in Eurocontrol airspace was Ryanair (2,868 flights) followed by easyJet (1,475), Turkish Airlines (1,424) and Lufthansa (1,281). Last week Turkish Airlines was ahead of easyJet. Then came Air France (1,006), KLM (826), Wizz Air (745), British Airways (629) and Vueling (586). Among airports, the busiest for flights were Istanbul IST (1,259), Amsterdam (1,245), Frankfurt (1,208), Paris CDG (1,161) and London LHR (1,103).
Want more information on:
European seat capacity changes made since last week for May, June and July?
The 143 new routes launched in Europe during the last seven days?
Passenger trends in March and April among airports in Europe?
If so, then check out our weekly Last Week in Europe report which can be downloaded here.