Last Week in North America – Monday 10 January 2022
Using the latest published passenger figures from the US Transportation Security Administration (TSA) we can compare demand in the most recent week with that from the same period in 2019. Now that we are in 2022, that means comparing data with that from three years ago, rather than two, as was the case up until the end of December.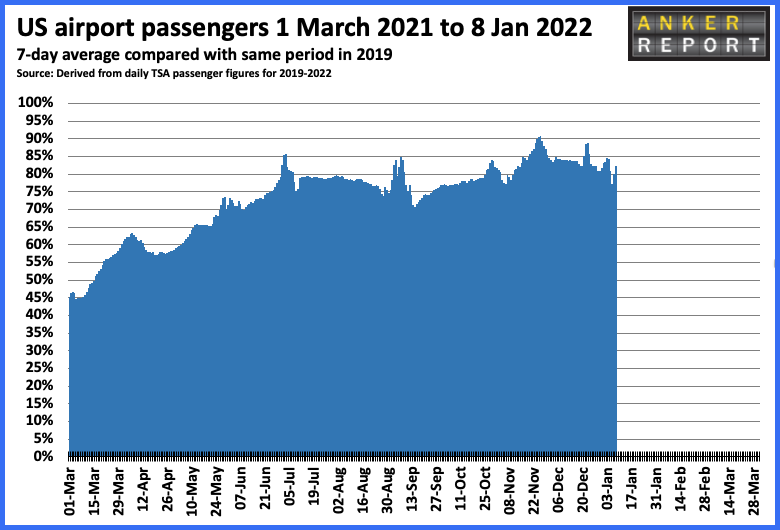 New routes launched during the last week in North America
Between Monday 3 December 2022 and Sunday 9 January 2022, we have identified nine new routes that were launched by airlines involving airports in North America. Figure in brackets is weekly frequency.
3 January 2022
aha!: Reno – Palm Springs (3)
4 January 2022
American: Austin – Albuquerque (7), New York JFK – Worcester (7)
5 January 2022
Delta: New York LGA – Albany (13), New York LGA – Providence (19)
United: Denver – Butte (7)
6 January 2022
Avelo: Las Vegas – Redding (2)
Spirit: Miami – Minneapolis/St. Paul (5)
7 January 2022
Spirit: Miami – San Jose SJO (1)
North American capacity trends
The following graph shows how airlines have been adjusting planned capacity on a weekly basis for the months ahead. In the last three weeks planned seat capacity for January has fallen from 91.4% to 90.2% of the 2019 figure.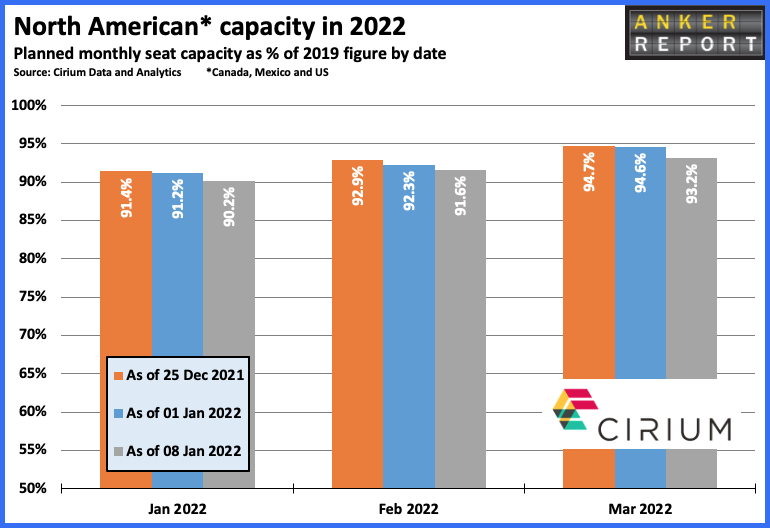 Download all this information (and more) as a pdf
Want all this information (with additional details regarding all the new routes) as a nice one page printable summary that you can share with friends and colleagues? No problem, just click here