Last Week in North America – Monday 14 March 2022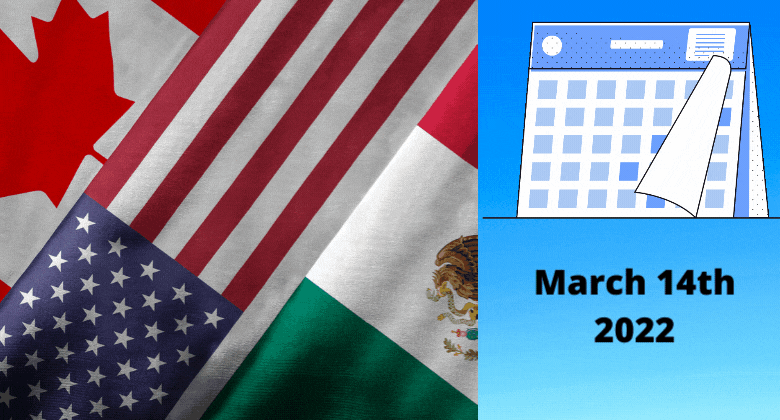 Air travel demand in the US during the last week was relatively stable at around 85% of the level seen during the same period in 2019. Air Service One has identified and confirmed 15 new routes that launched in North America during the last week, of which four were between the US and Mexico, while LEVEL resumed service between Barcelona and Los Angeles, a route it last flew in the summer of 2018. This counts as a new route as it did not operate in the pre-pandemic summer of 2019.
The US domestic market saw Allegiant add eight new airport-pairs, of which four involved destinations in Florida. The shortest new route of the week was the 674-kilometre intra-Texas service started by Texas-headquartered Southwest, between Austin and Amarillo. Only four of the 15 new routes face direct competition. To see details of all new routes launched in North America (Canada, Mexico and US) since 1 January 2021 check out the downloadable NAMNERD (North AMerican NEw Route Database) file in the downloads section of this website.
Montana leads way for capacity growth in March
Analysis of Cirium data for March 2022 and March 2019, reveals which US states have seen the addition of most seat capacity. Across all states capacity is down just over 10%. However, two states, Montana and Wyoming are showing increases of more than 10%. Montana's 16% growth is driven primarily by a 50% increase in capacity at the state's biggest airport serving Bozeman. Southwest started serving the airport in May 2021. In Wyoming the 12% growth is driven by increased service from Jackson Hole, the state's busiest airport. American and United have added capacity while Alaska Airlines has started service.
Seven other states are also set to see an increase in capacity compared with three years ago, including popular vacation destinations Florida and Hawaii.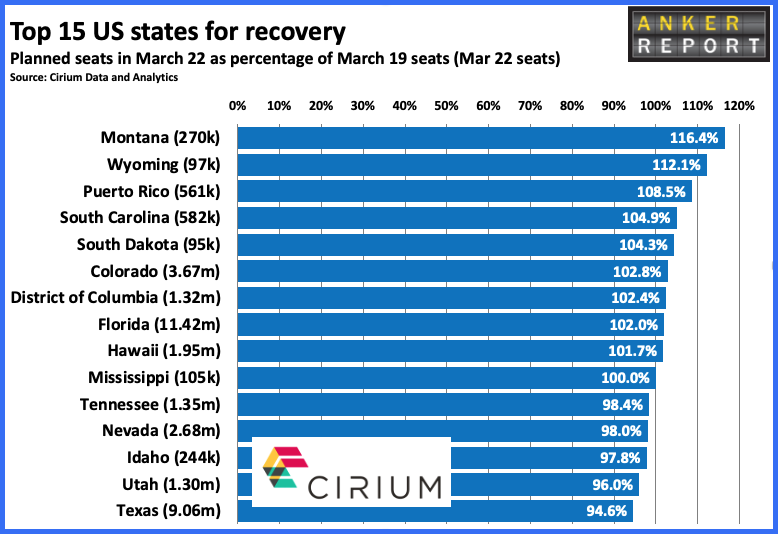 At the other end of the rankings, the states with the biggest percentage drop in monthly seat capacity are led by Alabama (down 24.1%), followed by Nebraska (down 23.1%), New Hampshire (down 22.0%) and Oregon (down 21.3%). Four other states (Pennsylvania, California, Michigan and Maryland) have all seen capacity reductions in excess of 20%.
Want more information on:
Latest US airport passenger figures (TSA) and comparison with 2019?
North American seat capacity changes made since last week for March, April and May?
New routes launched in North America during the last seven days?
If so, then check out our weekly Last Week in North America report which can be downloaded here.