Last Week in North America – Monday 2 April 2022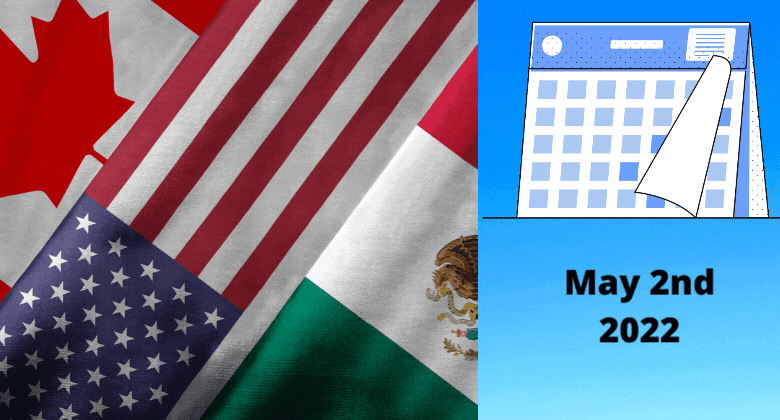 Air travel demand in the US during the last four weeks was remarkably stable at around 90% of the level seen during the same period in 2019. Given that capacity levels appear to also be at around 90%, this suggests that airline load factors are comparable with what they were back in 2019.
Air Service One has identified and confirmed 59 new routes that launched in North America during the last four weeks. This included the first scheduled services of Canada's newest low-cost carrier, Lynx Airlines which began commercial operations on 7 April. There was also the first US service (to Baltimore/Washington) of Iceland's PLAY which debuted on 20 April. Other new transatlantic services were launch by French Bee, La Compagnie and United.
American began 3-daily service between Boston and Toronto, Vivaaerobus began two new routes to Medellin in Colombia from Mexico, Flair introduced new routes between Canada and the US, and Aeromexico added a route to Honduras.
In the US domestic market, Frontier launched eight routes from Chicago MDW at the end of April, Allegiant added three new routes from Nashville, and Southwest introduced two new routes between Texas and Oklahoma.
Puerto Rico leads way again for capacity growth in May
Analysis of Cirium data for May 2022 and May 2019, reveals which US states and territories have seen the highest rates of seat recovery. Across all states capacity is down just under 9%. However, six states and territories are showing increases of more than 5%. Puerto Rico leads the way with almost 19% more seat capacity compared with May 2019, with Frontier and Spirit leading the way for capacity growth at San Juan.
Idaho has climbed from sixth in April to second in May in terms of highest growth. While capacity at Boise (the state's busiest airport) is up just 1%, the number of seats on offer from Idaho Falls Regional Airport is up 157% this month compared with three years ago. The airport has attracted two new carriers in that time; Alaska Airlines with flights from Seattle (on 17 June 2021) and American with service from Dallas/Fort Worth (2-daily, started 3 June 2021) and Phoenix (daily, also started 3 June 2021). In addition, Allegiant (with new routes from Orange County and Portland), Delta (from Salt Lake City) and United (from Denver) have all increased capacity by between 80% and 110%.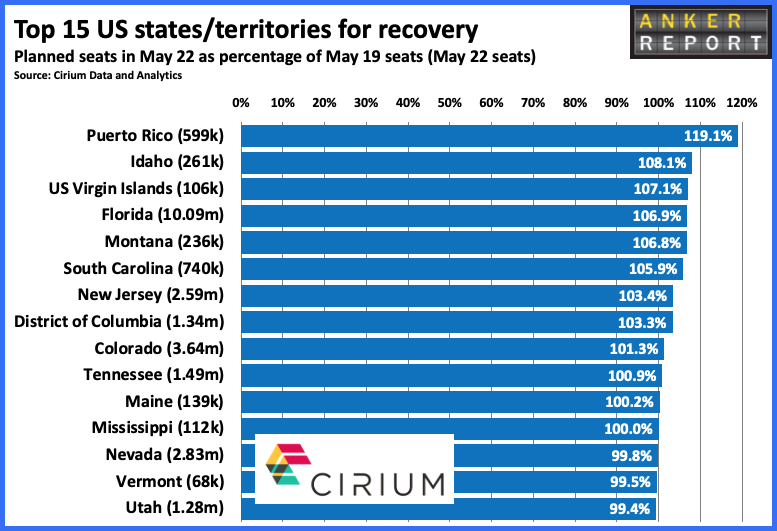 At the other end of the rankings, the states with the biggest percentage drop in monthly seat capacity are led by Wyoming (down 49%) and New Hampshire (down 33%). Wyoming's massive reduction is due to the state's busiest airport at Jackson Hole being closed from 11 April to 27 June for runway reconstruction. Seven other states (Alabama, Kentucky, Michigan, Minnesota, Pennsylvania, Rhode Island and Wisconsin) have all seen capacity reductions in excess of 20%.
Want more information on:
Latest US airport passenger figures (TSA) and comparison with 2019?
North American seat capacity changes made during the last few weeks for May, June and July?
New routes launched in North America during the last four weeks?
If so, then check out our Last Month in North America report which can be downloaded here.