Last Week in North America – Monday 30 May 2022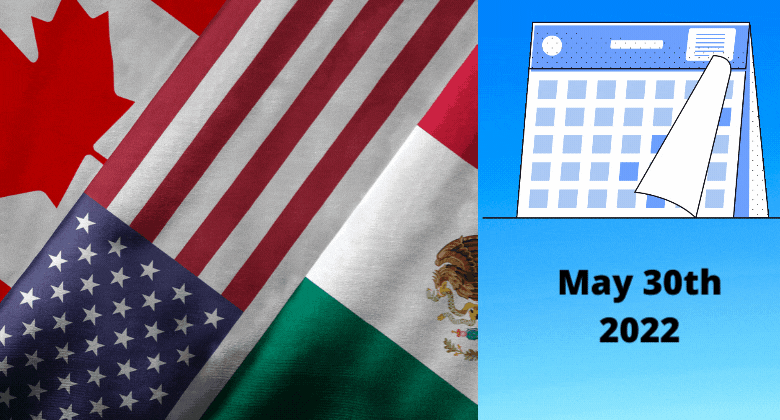 Air travel demand in the US during the last four weeks was stable at around 90% of the level seen during the same period in 2019. Given that capacity levels appear to also be at around 90%, this suggests that airline load factors are comparable with what they were back in 2019.
Air Service One has identified and confirmed 100 new routes that launched in North America during the last four weeks. This included new US domestic routes from Allegiant, Frontier and Spirit, as well as new routes from newcomers Avelo and Breeze. In Canada, Air Canada, Air Transat, Flair, Lynx, Porter and Swoop have been busy expanding their domestic and transborder networks.
There were several new routes added between Europe and North America during May. Air Canada, Air France, Air Transat and WestJet all commenced new connections between Canada and Europe, while Condor, Delta, Eurowings Discover, Icelandair, PLAY, TUI Airways, Turkish Airlines, United and Virgin Atlantic all introduced new services between the US and Europe.
Idaho finally tops recovery rankings in June
Analysis of Cirium data for June 2022 and June 2019, reveals which US states and territories have seen the highest rates of seat recovery. Across all states capacity is down just under 8%. However, seven states and territories are showing increases of more than 5%. Idaho leads the way with just over 17% more seat capacity compared with June 2019. It ranked sixth in April and second in May for recovery rate.
While capacity at Boise (the state's busiest airport) is up 8%, the number of seats on offer from Idaho Falls Regional Airport is up 156% in June compared with three years ago. The airport has attracted two new carriers in that time; Alaska Airlines with flights from Seattle (on 17 June 2021) and American with service from Dallas/Fort Worth (2-daily, started 3 June 2021) and Phoenix (daily, also started 3 June 2021). In addition, Allegiant (with new routes from Orange County, Portland and San Diego), Delta (from Salt Lake City) and United (from Denver) have all increased capacity by between 80% and 95%. Idaho Falls has also benefitted from the temporary closure (see below) of Jackson Hole Airport in neighbouring Wyoming, which is just 110 kilometres away.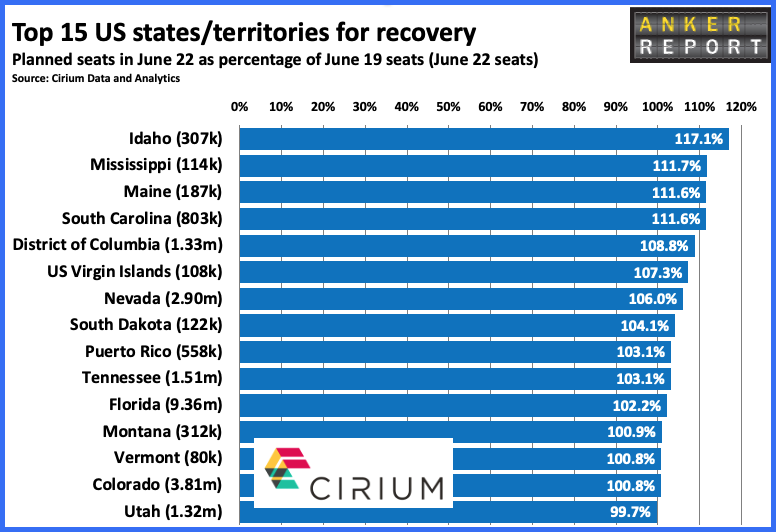 At the other end of the rankings, the states with the biggest percentage drop in monthly seat capacity are led by Wyoming (down 66%). This is due to the state's busiest airport at Jackson Hole (IATA code JAC) being closed from 11 April to 27 June for runway reconstruction. Five other states (Alabama, Michigan, Minnesota, Oregon and Wisconsin) have all seen capacity reductions in excess of 20%.
Want more information on:
Latest US airport passenger figures (TSA) and comparison with 2019?
The recovery rate for the top 15 airlines in the US in June 2022?
The 100 new routes launched in North America during the last four weeks?
If so, then check out our weekly Last Week in North America report which can be downloaded here.