Last Week in North America – Monday 7 March 2022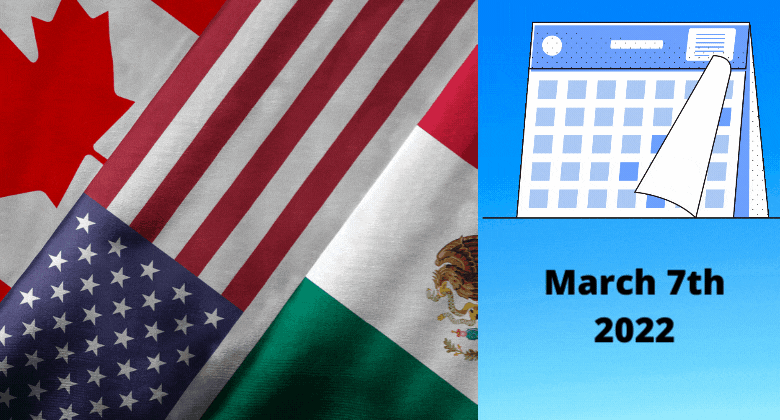 The latest TSA passenger statistics reveal that US demand for air travel last week was between 85% and 90% of the level achieved during the same period in 2019. Until now, the only time US air travel demand has reached 90% of the pre-pandemic level was during the Thanksgiving holiday period last November.
Miami and Austin lead way for capacity increase in March
Analysis of Cirium data for March 2022 and March 2019, reveals which US airports have seen the addition of most seat capacity. Miami in Florida and Austin in Texas lead the way, both, coincidentally, venues for rounds of this year's F1 motor racing series. Among the top 15 airports for most added seats, four are in Florida. In addition to Miami, the airports serving Sarasota/Bradenton, Fort Myers and Key West have also seen significant capacity growth. In percentage terms, Bozeman in Montana, Colorado Springs in Colorado and Key West in Florida have all seen seat growth of just over 50% compared with three years ago. However, Sarasota/Bradenton has seen capacity growth of almost 150%, thanks primarily to two carriers. Southwest launched services from the airport on 14 February 2021 while Allegiant has increased its presence at the airport from 45 departures in March 2019 to 320 in March 2022. It is worth noting that Southwest also began service to Bozeman (27 May 2021) and Colorado Springs (11 March 2021) since the start of the pandemic. Among the fastest-growing airports for additional seats are New York LGA and Washington DCA. However, in percentage terms their growth is just 2% compared with March 2019.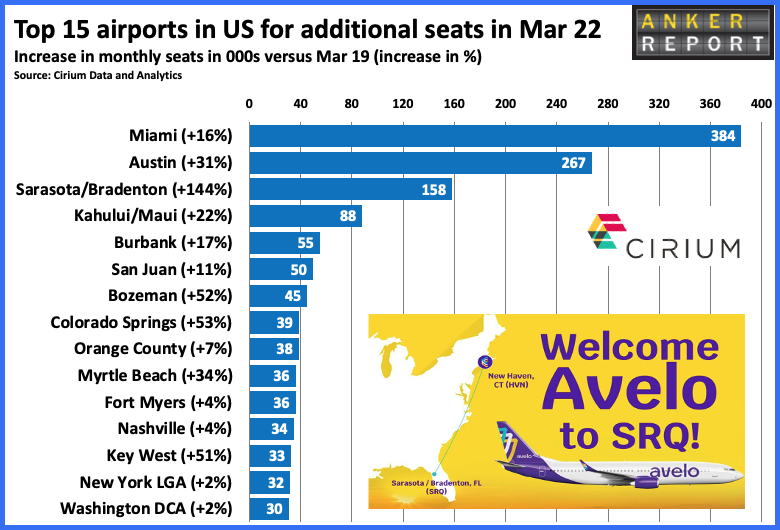 At the other end of the rankings, four airports have seen a reduction of more than 500,000 monthly departing seats. Los Angeles has fared worst with 1.15m fewer seats in March (down 27%), followed by Atlanta with 890,000 (down 16%), San Francisco with 866,000 (down 32%) and Chicago ORD with 802,000 (down 19%). Across all airports capacity is down 10%, with flights down 16%, indicating a move towards the use of higher capacity aircraft. Want more information on:
Latest US airport passenger figures (TSA) and comparison with 2019?
North American seat capacity changes made since last week for February, March and April?
New routes launched in North America during the last seven days?
Latest Canadian airport passenger figures (CATSA) and comparison with 2019?
If so, then check out our weekly
Last Week in North America
report which can be downloaded
here
.