Latest Route News + April Part 2
Routes launched between Saturday 13 March 2021 and Friday 16 April 2021 PART 2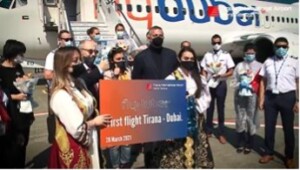 f
lydubai
(IATA code FZ) began 2-weekly (Thursdays and Sundays) service from
Dubai
to
Tirana
on 28 March. The 3,740-kilometre route faces no direct competition. Albania joins Bosnia & Herzegovina, Bulgaria, Czech Republic, Finland, Poland, Romania, Serbia and Turkey in having direct flights to
Dubai
with
flydubai
. For
Tirana
this easily becomes the airport's longest route, almost double the previous record of 1,900 kilometres to
London
.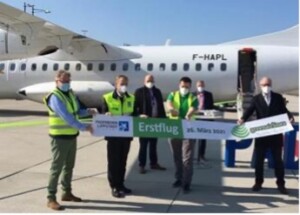 Green Airlines (IATA code CE) a new virtual German airline, launched 2-weekly (Fridays and Sundays) flights on a domestic route between Paderborn/Lippstadt and Sylt on 26 March. The flights are operated by French carrier Chalair using that carrier's ATR 72-500. No other carrier currently operates on the 370-kilometre route. International flights are set to start in September connecting Paderborn/Lippstadt and Sylt with Zurich. The airline also appears to be set to connect Karlsruhe/ Baden-Baden with Berlin.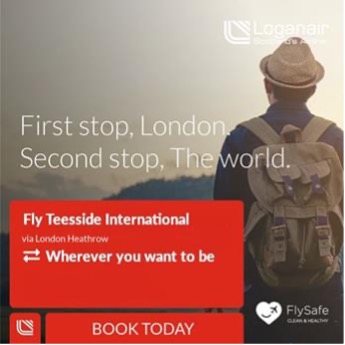 Loganair
(IATA code LM) on Monday 12 April commenced 3-weekly (Mondays, Fridays and Sundays) service between
Teesside
in the north-east of England and
Belfast
BHD in Northern Ireland using ERJ145s. The 290-kilometre route faces no direct competition. However,
easyJet
currently operates 4-weekly flights from
Newcastle
(around 60 kilometres from
Teesside
) to
Belfast
BFS (around 25 kilometres from
Belfast
BHD) using its much larger Airbus aircraft.
Loganair
already serves
Aberdeen
and
London
LHR from
Teesside
and plans to add additional routes to
Bristol
,
Dublin
,
Jersey
and
Newquay
by the end of May. From
Belfast
BHD,
Loganair
already serves
Aberdeen
,
Dundee
,
Glasgow
and
Inverness
, with
Isle of Man
service set to start in June. According to UK CAA statistics for January 2021,
Loganair
carried 8,560 passengers on scheduled domestic flights, at a load factor of 26%. This represents around 8% of the UK domestic market, well behind
British Airways
(50% of the market and a load factor of 51%) and
easyJet
(35% of the market and a load factor of 34%) .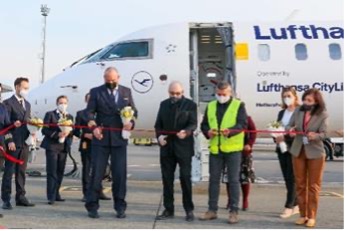 Lufthansa
(IATA code LH) at the start of the summer season added two new routes from
Frankfurt
and two from
Munich
. From its main
Frankfurt
base the German flag-carrier began weekly flights to
Djerba
in Tunisia (competing with
Tunisair
) and 3-weekly flights to
Punta Cana
in the Dominican Republic (competing with
Condor
). Meanwhile,
Hurghada
in Egypt and
Tirana
became the airline's latest destinations from
Munich
. The Egyptian resort will be served weekly with A320neos, while the 990-kilometre
Tirana
route will be served 2-weekly utilising CRJ 900s operated by
Lufthansa CityLine
.
Lufthansa
previously operated the route from May 2007 to March 2016, after which fellow Star Alliance member,
Adria Airways
, took over the route. Their service ended in September 2019 when the carrier ceased all operations.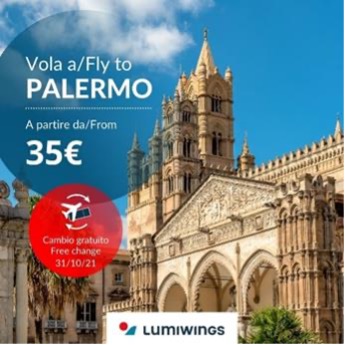 Lumiwings
(IATA code L9), founded in 2017 by two Greek pilots, has launched two new routes from its base in
Forli
, Italy. The Sicilian destinations of
Palermo
and
Trapani
are now both served 3-weekly using the airline's 139-seat 737-300 (registration SX-LWA). In June, the airline hopes to add international routes from
Forli
to destinations in the Czech Republic, Greece, Poland, Romania and Ukraine.
Forli
handled over 260,000 passengers in 2012 but this fell to just 40,000 in 2013 when scheduled services ended in March of that year.
Wizz Air
had been the last carrier operating scheduled flights from
Bucharest
,
Cluj-Napoca
,
Sofia
and
Timisoara
. This year, apart from
Lumiwings
,
Forli
is set to welcome service from
Air Dolomiti
(to
Munich
) and
EGO Airways
Luxair
(IATA code LG) has used its fleet of Q400s (of which it currently has 11 according to planespotters.net) to start two new routes from
Luxembourg
. On 1 April, the carrier began 2-weekly (Mondays and Thursdays) flights on the 1,290-kilometre route to
Podgorica
in Montenegro, followed by weekly (Saturday) flights from 3 April on the 720-kilometre route to
Toulon
in the south of France. Neither route faces any direct competition.
Luxair
normally operates to between 50 and 60 destinations during the summer season. However, Cirium Data and Analytics indicates that the carrier plans to operate close to 80 routes this summer. Further new routes for this summer include
Belgrade
,
Hamburg
,
Oslo
and various Greek destinations.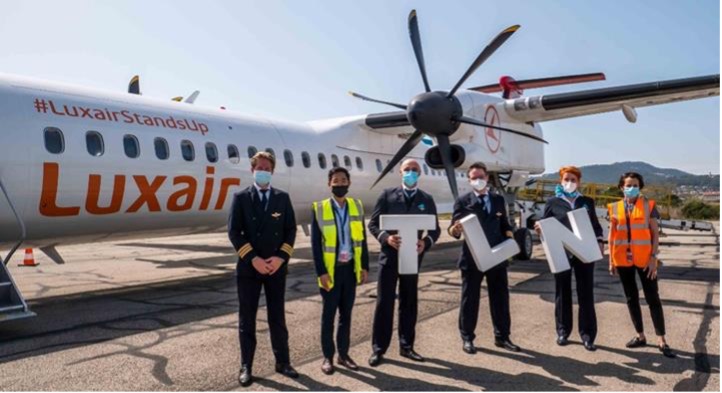 Nordwind Airlines
(IATA code N4) appears to have added two more new routes between Russia and
Istanbul
IST. On 13 March 2-weekly service began between
Makhachkala
and the Turkish hub, followed by 2-weekly flights from
Ekaterinburg
on 31 March. The former route is operated by the airline's A321s, while the latter is served using 737-800s. According to Cirium Data and Analytics, by the end of August
Nordwind Airlines
will be serving
Istanbul
IST from 12 Russian airports with a total of 33 weekly flights.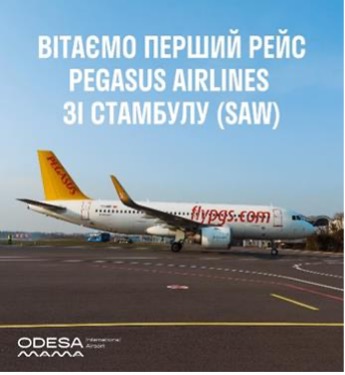 Pegasus Airlines
(IATA code PC) began a new 2-weekly service (Thursdays and Sundays) between
Istanbul
SAW and
Odessa
in Ukraine on 28 March. The 620-kilometre route will be flown by a mix of the airline's 737-800s and A320neos. While the airline faces no direct competition on the route,
SkyUp Airlines
,
Turkish Airlines
and
Ukraine International Airlines
all currently operate between
Istanbul
IST and
Odessa
. According to Cirium Data and Analytics,
Pegasus Airlines
already serves three other destinations in Ukraine from
Istanbul
SAW;
Kharkiv
,
Lviv
and
Zaporizhzhia
.
Pobeda
(IATA code DP) on 1 April added a new service between
Ekaterinburg
and
Istanbul
IST. The 2,870- kilometre route will be flown using the airline's 737- 800s. Initially there will be three weekly flights increasing to 5-weekly by the end of April.
Nordwind Airlines
also serves the route with 2-weekly flights, while
Turkish Airlines
will resume operations between the two airports at the end of April with 3-weekly flights.
Pobeda
now serves
Istanbul
IST from five airports in Russia with a total of 28 weekly flights. In addition to service from
Ekaterinburg
there are also flights to the Turkish hub from
Kazan
(4-weekly),
Mineralnye Vody
(2-weekly),
Moscow
VKO (14-weekly) and
Ufa
(3-weekly).
Ryanair
(IATA code FR), which normally launches dozens of new routes at the start of the aviation summer season (end of March), appears to have added just seven new routes between 28 March and 2 April. Five of these are Italian domestic routes, some of which made a brief appearance over the Christmas and New Year period. From
Bari
,
Ryanair
has added new links to
Catania
,
Palermo
and
Verona
, all of which will also be served this summer by
Volotea
.
Wizz Air
also links
Bari
and
Verona
. In addition,
Verona
is now also connected to
Lamezia Terme
, and
Catania
is now linked with
Naples
. Again, both of these routes will be served by
Volotea
this summer, while
easyJet
also offers flights between
Naples
and
Catania
. New international services have been launched from
Rome
CIA to both
Brussels
BRU and
Vienna
, both operating 2-weekly initially.