Latest Route News + June 2021 Part 1
Aegean Airlines (IATA code A3) has started expanding its international route network from Greek airports other than Athens. This summer it plans to introduce some 20 new services mostly from Heraklion, Mykonos and Thessaloniki. Confirmed route launches so far are; Heraklion to Warsaw (weekly from 16 May competing with LOT Polish Airlines), Corfu to London LGW (2-weekly from 29 May competing with easyJet and TUI Airways), Thessaloniki to Zurich (3-weekly from 4 June competing SWISS), Santorini to Paris CDG (2-weekly from 5 June competing with Air France), Thessaloniki to Brussels BRU (up to 3-weekly from 5 June competing with TUI fly Belgium) and Thessaloniki to London LHR (up to 3-weekly from 5 June competing with British Airways). All routes will be operated by the airline's A320s. By the end of July, Aegean Airlines plans to operate some 51 international routes outside of Athens; 19 from Heraklion, 14 from Thessaloniki, seven from Rhodes, six from Mykonos, four from Corfu and one from Santorini.

Air Serbia (IATA code JU) added a new destination in Russia on 4 June when the airline commenced 2-weekly (Fridays and Sundays) service from Belgrade to Rostov-on-Don. The 1,540-kilometre route faces no direct competition. Air Serbia now serves four destinations in Russia, the others being Krasnodar, Moscow SVO and St. Petersburg. Since the start of the pandemic, Air Serbia has also launched new routes to Oslo (in July 2020) and Geneva (in March of this year). However, according to analysis of Cirium Data and Analytics figures, its network comprises 39 routes from Belgrade this summer, compared with 48 in 2019.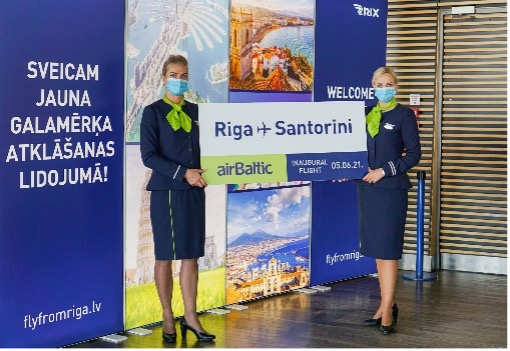 airBaltic (IATA code BT) has launched three new routes in the last four weeks, two from Riga and one from Tallinn. The two new routes from its home base in Latvia are both to Greece; Heraklion(2-weekly from 15 May) and Santorini (weekly from 5 June competing with Wizz Air's weekly service). The new route from the Estonian capital is to Nice and will operate 2-weekly (Wednesdays and Sundays) and faces no competition. airBaltic already serves Paris CDG from Tallinn. All routes are operated by the airline's fleet of Airbus A220-300s.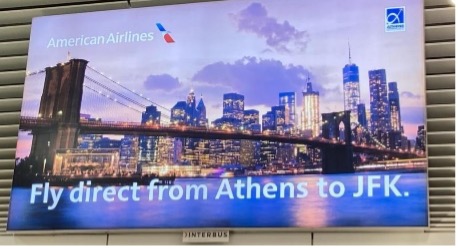 American Airlines (IATA code AA) on Thursday 3 June began two new transatlantic routes, both to be served daily. From Boston the oneworld carrier resumed service to London LHR, a route it last operated in 2013. Competition on the route is currently provided by British Airways and Virgin Atlantic with Delta Air Lines currently planning to resume service in August. The second new European route was from New York JFK to Athens, which is already served 2-daily by Delta Air Lines. American will also be serving the Greek capital this summer from Chicago ORD and Philadelphia.
AnadoluJet (IATA code TK) appears to have started five new routes recently. The Turkish Airlines subsidiary began holiday flights in mid to late May from Sarajevo (Bosnia & Herzegovina), Skopje (North Macedonia) and Sofia (Bulgaria) to Antalya. It also launched a new route from Pristina to Istanbul SAW which will operate 3-weekly and, like many of the routes it has recently launched from Istanbul SAW, compete directly with Pegasus Airlines. Finally, a weekly service between Tabriz in Iran and Izmir was introduced on 3 June. All these routes will be flown using the airline's 737-800s.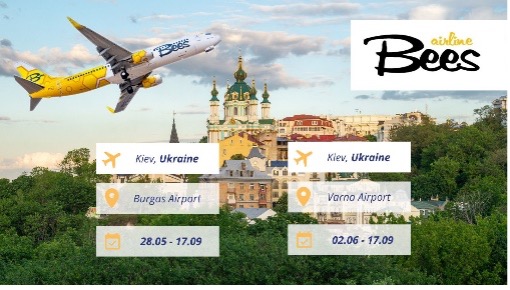 Bees Airline (IATA code 7B), a new airline based in Ukraine, has recently started four new international routes, two to Bulgaria and two to Georgia. From Kiev IEV it began service to Varna (weekly from 2 June), Bourgas (2-weekly from 4 June) and Batumi (5-weekly from 9 June). Wizz Air is a direct competitor on the Bourgas route. On 11 June, the carrier began 2-weekly service between Kherson and Tbilisi. All routes are operated by the airline's 737-800s, of which it now has three (UR-UBA, UR-UBB and UR-UBC).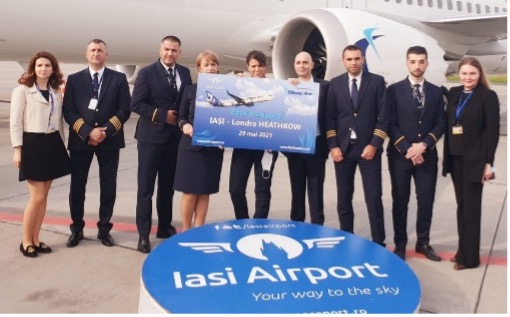 Blue Air (IATA code 0B) has had a busy few weeks launching an estimated 12 new routes, 11 of which are new international routes from Romania. From its main base in Bucharest, Blue Air has added five new destinations; Munich, Mykonos, Prague, Turin and Zakynthos. Wizz Air competes directly on the two Greek routes, while Lufthansa and TAROM already connect the Romanian capital with the Bavarian hub. From Bacau, during the first few days of June, Blue Air began service to Athens, Barcelona and Larnaca, all destinations not currently served by any other carrier.Wizz Air is the other major carrier at the airport and although the two carriers do compete directly on a few routes, they do not include these new Blue Air destinations. From Cluj-Napoca the carrier has now added service to Amsterdam and Larnaca (competing with Wizz Air). Finally in Romania, Blue Air started 2-weekly service between Iasi and London LHR on 29 May. Meanwhile in Italy, Blue Air has begun connecting Turin with Olbia, a route already served by Volotea
British Airways (IATA code BA) responded to the UK government's decision to place Portugal on its green list of countries for travel (meaning that quarantine was not required when returning to the UK) by launching new routes to Faro from Edinburgh, Manchester, Newcastle and Southampton. The Manchester and Newcastle services were planned to operate with mainline A320s while the Edinburgh and Southampton links were operated with E190s from London LCY based BA CityFlyer. Portugal has since been put back on the amber list of countries, resulting in a mad rush back to the UK before the change of status at 04:00 on Tuesday 8 June.
Danish Air Transport (IATA code DX) on 24 May began a Finnish domestic route between Helsinki and Kajaani. The 460-kilometre service will be operated as a Public Service Obligation (PSO) route and will be flown 12-weekly using the airline's ATR 42s. Kajaani is the capital of the Kainuu Region in central Finland. This is the airport's only route at present. Finnair used to operate the route with up to four daily flights using ATR 72s flown by Nordic Regional. However, once the pandemic started frequency was reduced to just one weekly service from last November until April 2021.
Delta Air Lines (IATA code DL) has added a new service to Europe with the launch on 20 May of a daily service between Boston and Reykjavik KEF. The 3,880-kilometre route is also flown daily by Icelandair. The only other daily flights between Iceland and the US at the end of May were from New York JFK (also flown by both Delta and Icelandair). According to Cirium Data and Analytics figures, at the end of May there were 37 weekly flights between the US and Iceland and by the end of June this should have doubled to 72. For comparison, in August 2019 there were 135 weekly flights between the two countries.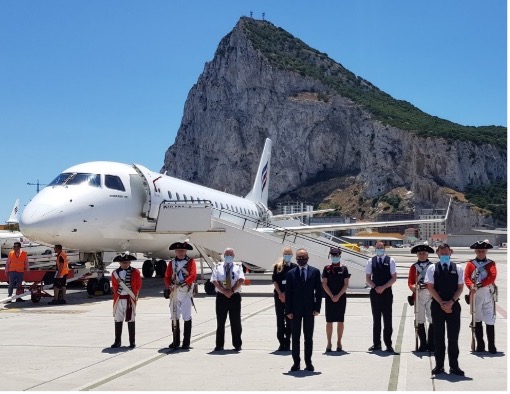 Eastern Airways (IATA code T3) began three new routes all at the end of May. On 24 May, the carrier launched its first ever service to Gibraltar, which is still on the UK's green list for travel. The 2-weekly service (Mondays and Fridays) on the 1,675-kilometre route from Southampton will be flown using the airline's E190s and faces no competition. Four days later a similar service was launched from Birmingham. The sector length for this route is 1,830 kilometres. Apart from Eastern Airways, there will be services between the UK and Gibraltar this summer provided by British Airways (from London LHR and London LCY), easyJet (from Bristol, Edinburgh, London LGW and Manchester) and Wizz Air (from London LTN). Eastern Airways, on 27 May, has also introduced a 6-weekly service between Belfast BHD and Cardiff using its Jetstream 41 fleet. This route also faces no direct competition. The two airports were previously linked by Flybe with 2-daily service during the summer of 2019.