Latest Route News + June 2021 Part 3
S7 Airlines (IATA code S7) now serves Heraklion in Greece from its Moscow DME base. The airline is currently operating an A321 on the weekly (Tuesday) service and faces no direct competition. This becomes the airline's third route to Greece having served Rhodes for several years and launched service to Thessaloniki earlier this year. Looking ahead the airline is set to start two new routes to Croatia later this month.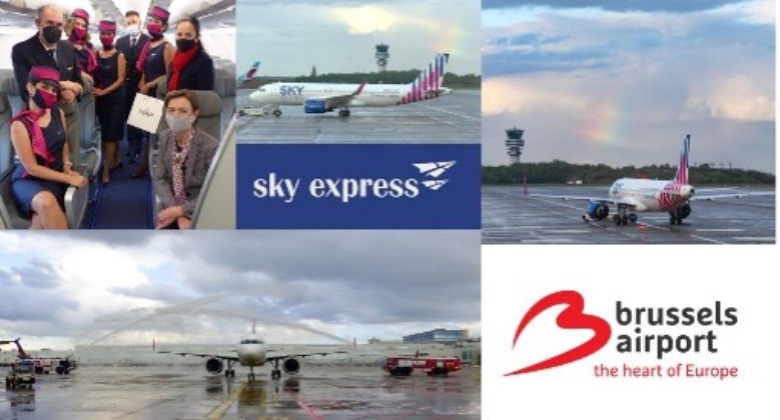 Sky Express (IATA code GQ) continues to use its new Airbus aircraft to venture into new international markets. On 16 May the Greek carrier began 5-weekly service from Athens to Brussels BRU (competing with Aegean Airlines and Brussels Airlines), followed on 5 June by a new weekly service between the Greek capital and Paris CDG (this time competing with Aegean Airlines and Air France). Sky Express already operates internationally to Larnaca in Cyprus and plans to start serving London LHR later this summer.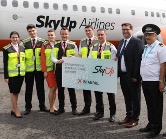 SkyUp Airlines (IATA code PQ) of Ukraine has had a busy few weeks launching routes from several airports in the country. Keeping track of exactly when its new routes start is a painstaking business as several routes have seen their launch dates pushed back several times and planned new routes have been taken off sale. However, 14 new routes have been confirmed as having started between 28 May and 6 June using the airline's 737-800s and -900s. These are: Kharkiv to Tirana (2-weekly) and Tivat (4-weekly); Kiev KBP to Bodrum, Corfu, Izmir and Rhodes (all 3-weekly); Lviv to Tirana (2-weekly) and Tivat (5-weekly); Odessa to Lviv (3-weekly) and Tivat (4-weekly); and finally, Zaporizhzhia to Batumi (2-weekly), Istanbul (3-weekly), Tirana (2-weekly) and Tivat (4-weekly).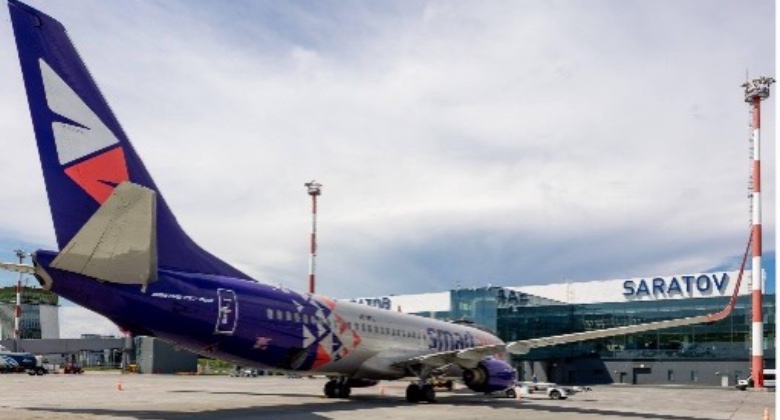 Smartavia (IATA code 5N) on 10 June began daily service on the 690-kilometre sector between Moscow DME and Saratov. Competition on the route comes from S7 Airlines (8-weekly) and Red Wing Airlines (daily). Smartavia will use its 737-800s on the route. The airline is the fourth biggest carrier at Moscow DME after S7 Airlines, Ural Airlines and Red Wing Airlines. Two days earlier, on 8 June, Smartavia celebrated its one millionth passenger since the start of 2021. The airline reported that in 2018 this milestone was reached in mid-October
SunExpress (IATA code XQ) began a weekly service from Brussels BRU to Eskisehir on 21 May, with frequency set to increase to 2-weekly from July. The 2,420-kilometre route is also served by TUI fly Belgium with a 2-weekly service. SunExpress also offers weekly service from Brussels to four other destinations in Turkey; Adana, Ankara, Antalya and Izmir.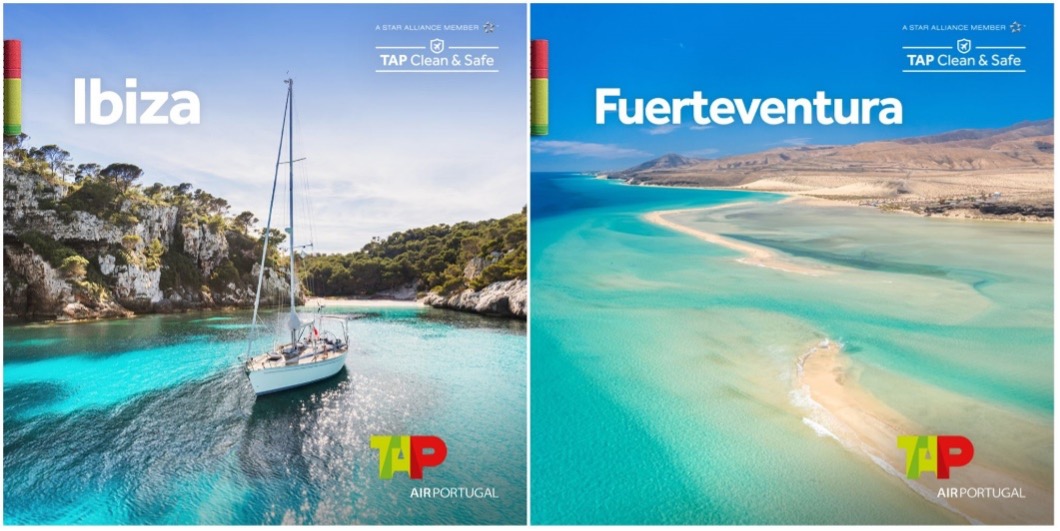 TAP Portugal (IATA code TP) [PICs] has launched three new routes from Lisbon during the first week of June. On 2 June it commenced 3-weekly (Wednesdays, Fridays and Sundays) service on the 2,210-kilometre route to the Croatian capital, Zagreb. The airline's A320-series aircraft will be used to serve the market. The route was previously flown by fellow Star Alliance carrier Croatia Airlines. On 5 June, TAP began two new Spanish routes, to Fuerteventura (weekly) in the Canary Islands and Ibiza (3-weekly) in the Balearic Islands, using its Embraer jets. Competition on the Ibiza route is provided by Vueling. According to Cirium Data and Analytics there has not been scheduled service between Lisbon and Fuerteventura for at least 15 years.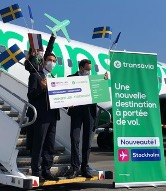 Transavia France (IATA code TO) continues to grow its international network from French regional airports. During the last four week it has added service between Lyon and Santorini (2-weekly from 16 May), Lyon and Rhodes (weekly from 29 May) and between Montpellier and Stockholm ARN (weekly from 11 June). None of these routes currently face any direct competition. Transavia also serves Santorini this summer from Montpellier, Nantes and Paris ORY, while Rhodes is also served from Nantes and Orly. At present, the Stockholm route is only available to book until 13 August.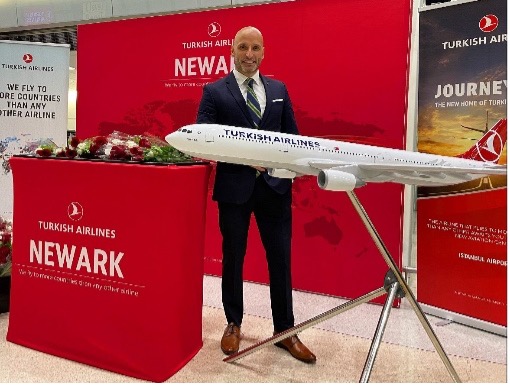 Turkish Airlines (IATA code TK) added New York EWR to its US network on 21 May with the introduction of a planned daily service from Istanbul IST. A mix of the airline's 787-9s and A330-300s are currently operating the route with 4-weekly flights, though the inaugural flight utilised a 777-300ER. This becomes the Star Alliance carrier's 10th US route joining Atlanta (launched May 2016), Boston (launched May 2014), Chicago ORD, Houston IAH (launched April 2013), Los Angeles (launched March 2011), Miami (launched October 2015), New York JFK, San Francisco(launched April 2015) and Washington IAD (launched November 2010). Turkish Airlines currently has the non-stop US-Turkey market to itself, as neither American, Delta nor United currently serve Istanbul.
Volotea (IATA code V7) has been extremely busy recently, opening two new bases in Lyon and Olbia. It has also found time to launch 12 new routes, of which five were domestic Italian routes (Bologna to Lampedusa and Pantelleria, and Milan LIN to Catania, Lampedusa and Pantelleria), two were Spanish domestic routes (Asturias to both Gran Canaria and Lanzarote) and one was a French domestic route (Lille–Nice). The other four were international routes, three between Lyon and Greek destinations (Corfu, Heraklion and Santorini) and one between France (Toulouse) and Luxembourg. Of particular interest is the Linate to Catania service, operated daily, and competing with Alitalia and easyJet. The Lille–Nice route, served 4-weekly, will see competition from easyJet and Air France.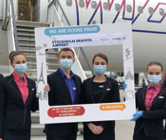 Wizz Air (IATA code W6) is this month's European new route champion with over 40 new services having launched during the last four weeks. Highlights include adding Ancona (in Italy), Banja Luka (in Bosnia & Herzegovina), Genoa (in Italy) and Preveza (in Greece) to the airline's ever-expanding network. It also opened new bases in Bourgas (Bulgaria), Palermo (Italy) and Sarajevo(Bosnia & Herzegovina). The full list of new routes launched is; BCM-CTA, BOJ-DTM, BOJ-IEV, BOJ-POZ, BOJ-TLV, BSL-BNX, CLJ-JMK, DSA-ALC, DSA-BOJ, DSA-FAO, DSC-KSC, DTM-BNX, EIN-BNX, GDN-JTR, JMK-TLV, KRK-SPU, MMX-BNX, MXP-CAG, MXP-TLV, NYO-BNX, OLB-VRN, PMO-BLQ, PMO-PSA, PMO-TRN, PMO-TSF, PMO-VRN, POZ-SPU, RHO-TLV, SJJ-BSL, SJJ-CPH, SJJ-DTM, SJJ-EIN, SJJ-FMM, SJJ-GOT, SOF-JTR, TIA-AOI, TIA-GOA, TIA-NYO, TIA-PSR, TSF-OLB and WAW-PVK. Of the 82 airports involved in these new routes, 21 are in Italy with six each in Bosnia & Herzegovina, Bulgaria and Greece.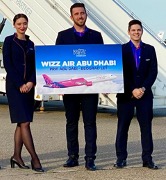 Wizz Air Abu Dhabi (IATA code 5W) began a new route to Europe on 23 May when it introduced 2-weekly service between Abu Dhabi and Belgrade in Serbia. The 3,830-kilometre route will be flown by the airline's A321s and faces no direct competition. Etihad Airways used to connect the two airports with 2-daily flight in the summer of 2019, but the service was terminated last October. Wizz Air Abu Dhabi currently has 29 routes on sale to 17 countries. Almost two thirds of the routes are to destinations in Europe.L