Latest Route News + May 2021 Part 1
Routes Launched between Saturday 17 April 2021 and Friday 14 May 2021 – Part 1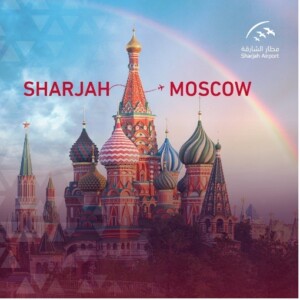 Aeroflot (IATA code SU) on 17 April enhanced its connectivity to the Middle East when it launched a weekly (Saturday) service between Moscow SVO and Sharjah in the UAE. The 3,700-kilometre route will be operated by the airline's A330-300 fleet. Direct competition comes from Nordwind Airlines, which also operates a weekly flight (on Sundays) using its 737-800s. Further indirect competition comes from Air Arabia which offers 4-weekly flights from its base in Sharjah to Moscow DME. Other destinations in the Middle East currently served by Aeroflot from Sheremetyevo are Aqaba in Jordan (2-weekly starting on 27 May), Dubai DXB (daily), Tehran in Iran (2-weekly) and Tel Aviv in Israel (4-weekly). Back in May 2019, Aeroflot also offered non-stop service to Beirut and Dubai DWC.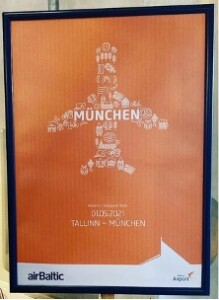 airBaltic (IATA code BT) has expanded its network from Tallinn with the introduction of service to Munich from 1 May. The 1,500-kilometre route is set to be operated 3-weekly (Tuesdays, Thursdays and Saturdays) using the airline's A220-300s and faces no direct competition. At present, the carrier is looking to serve 13 destinations non-stop from Tallinn this summer. airBaltic recently announced plans for a further new route to Nice, to be operated 2-weekly starting on 2 June. Compared with S19, the number of flights planned from Tallinn in August is down around 30%, but the number of destinations served is up one from 12 to 13. While Munich and Nicehave been added, Vienna has been dropped for this summer, though schedule data indicates the route will resume at the end of October. Both Ryanair and Wizz Air had started connecting Tallinn and Vienna in 2020. Wizz Air's 2-weekly service is set to resume from 28 June, while Ryanair's service is currently bookable from 1 June, initially operating 2-weekly and increasing to 3-weekly in July.
AnadoluJet (IATA code TK) appears to be becoming a more clearly defined subsidiary within Turkish Airlines, though it continues to still use the parent company's two-letter IATA code for flights. Its focus is on operating from Istanbul SAW, while Turkish Airlinesfocuses on Istanbul IST. Following the recent launch of flights from Istanbul SAW to Basel, Hamburg, Sarajevo and Zurich (all competing against Pegasus Airlines), AnadoluJet has now added further new routes to Copenhagen (on 10 May) and Lyon (13 May). Both will be operated 3-weekly initially. Maybe not surprisingly, both destinations are also already served by Pegasus Airlines. It is worth noting that Turkish Airlines already serves Copenhagen (13-weekly) and Lyon (6-weekly) from its Istanbul IST base.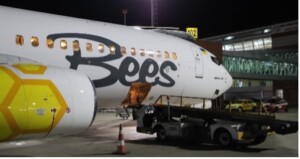 Bees Airline (IATA code 7B) is a new Ukrainian carrier which currently has two 189-seat 737-800s (ex-Ukraine International Airlinesaircraft, registrations UR-UBA and UR-UBB) and is offering scheduled and charter flights from Kiev IEV and Lviv. Its first scheduled routes were from Kiev IEV to Yerevan (2-weekly from 29 April) and Tbilisi (3-weekly from 30 April). Neither route faces direct competition at present though both SkyUp Airlines and Ukraine International Airlines operate both Tbilisi and Yerevan flights from Kiev KBP. Bees Airline has announced further scheduled services to destinations in Bulgaria, Cyprus, Georgia and Greece, all of which are set to start by the end of June. In addition to the scheduled services, flightradar24.com shows that the airline's aircraft have been busy operating charter flights in recent weeks from Ukraine to Antalya, Hurghada, Marsa Alam and Sharm el-Sheikh.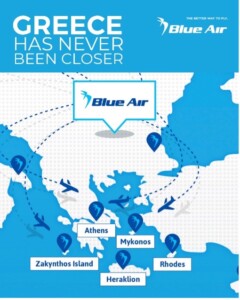 Blue Air (IATA code 0B) at the end of April added three new routes to Greece from its main base at Bucharest. On 27 April, the carrier began 2-weekly service to Heraklion, with a 2-weekly service to Rhodes beginning the following day. Two days later, on 30 April, service was introduced to Athens. Initially the Greek capital will be served 5-weekly, increasing to daily in June. The 760-kilometre route is already served by Aegean Airlines and TAROM, while Ryanair connected the two capital between March 2016 and October 2020. Blue Air has also added a new domestic route from Bucharest, to Suceava in the north-east of the country. This service, launched on 23 April, will operate 3-weekly using the airline's 737-500s and will compete directly with TAROM's 5-weekly service. Finally, also on 23 April, Blue Air began 2-weekly service between Cluj-Napoca and Paris CDG. This service will compete indirectly with Wizz Air's service to Paris BVA, which is scheduled to operate up to 6-weekly in the summer peak. Paris is the first of several new destinations Blue Air plans to launch from Cluj-Napoca this summer.
Chair Airlines (IATA code GM) has begun 2-weekly service between Zurich and Podgorica in Montenegro. The 1,020-kilometre route will be flown 2-weekly (Thursdays and Sundays) with a third frequency set to be added in July. Montenegro Airlines used to serve the route, but the carrier suspended all operations last December. Chair Airlines was formed in 2019 and is operating from Zurich with three 150-seat A319s this summer to 17 holiday destinations in Egypt, Croatia, Cyprus, Greece, Kosovo, Lebanon, Montenegro and Spain. The carrier, which was previously Germania Flug (the Swiss subsidiary of German carrier Germania), is now owned by Albex Aviation (50.01%) and Poland's Enter Air (49.99%).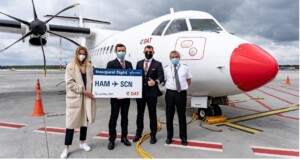 Danish Air Transport (IATA code DX) on 3 May began operating a new domestic route in Germany between Hamburg and Saarbrücken. The 530-kilometre route will initially be flown 2-weekly increasing to 3-weekly in June. The carrier will use its ATR 42s on the route, which is not currently served by any other carrier. The route was previously flown by Luxair until early January. Prior to the pandemic the carrier operated up to 2-daily flights on the route. This becomes the sixth domestic route from Hamburg after Cologne Bonn, Düsseldorf, Frankfurt, Munich and Stuttgart. Flights to Friedrichshafen, Nuremberg and Westerland, which operated in S19, are yet to resume this summer, though Eurowings plans to begin Nuremberg service from 1 June.
easyJet (IATA code U2) on 1 May resumed service between London LGW and Aberdeen, a route it last served in February 2019. Frequency on the route is set to climb quickly from 3-weekly, to 5-weekly from the end of May, and then daily from the end of June. easyJet already serves Aberdeen from London LTN (5-weekly service is set to resume on 4 June) while British Airways offers up to 4-daily flights from Heathrow. Loganair has previously also served London SEN from Aberdeen with multiple daily flights. easyJet's only other service from Aberdeen is a weekly service in winter to Geneva for ski traffic. A second new route launched on 1 May was between Amsterdam and Faro. Initially served weekly (on a Saturday), frequency is set to increase to 3-weekly from the beginning of July. The 1,970-kilometre route is currently served by Transavia with daily flights.
flydubai (IATA code FZ) added a second route to Moscow from Dubai DXB with the addition of weekly (Wednesday) flights to MoscowZIA from 12 May using its 737-800s. The 3,650-kilometre route is already operated 2-weekly by Ural Airlines. flydubai already serves Moscow VKO with 5-weekly flights, a route it launched in September 2014. This is believed to be the 17th Russian airport that flydubaihas elected to serve since its launch in June 2009. Not all of these are still operating. An 18th airport, Perm, is set to welcome its first flydubai service at the beginning of June, at which point flydubai will be serving 12 airports in Russia. Russian airports once served, but not currently bookable for this summer according to the airline's on-line booking tool are Grozny, Krasnodar, Moscow SVO, Nizhniy Novgorod, Volgograd and Voronezh.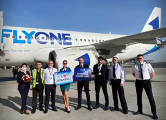 FlyOne (IATA code 5F) began service between Chisinau and Istanbul IST on 1 May. Initially, weekly frequency is a little erratic, but the airline's website shows service stabilising at 3-weekly (Mondays, Wednesdays and Saturdays) from the beginning of June, local travel restrictions permitting. The 630-kilometre sector from the Moldovan capital to Turkey's busiest airport is already operated by Air Moldova and Turkish Airlines. FlyOne will operate the route with an A319. The airline's booking tool shows FlyOne is currently offering flights to 13 destinations from Chisinau with the other routes being Batumi, Dublin, Eindhoven, Frankfurt HHN, Lisbon, London LTN, Moscow VKO, Paris CDG, Parma, St. Petersburg, Tel Aviv and Verona. Some of these have yet to start.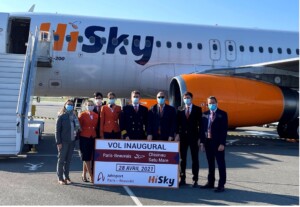 HiSky (IATA code H4) has added new international routes from three airports in Romania at the end of April. On 28 April, the carrier began connecting Cluj-Napoca with Lisbon and also Satu Mare with Paris BVA. The following day it added service between Iasi and Dublin. All three routes are set to operate 2-weekly using the airline's fleet of three A320-series aircraft (two A320s and one A319) and none face direct competition. The Satu Mare service originates in Chisinau in neighbouring Moldova, thus creating a one-stop, same aircraft service between Chisinau and Paris BVA.