Latest Route News + May 2021 Part 2
Routes Launched between Saturday 17 April 2021 and Friday 14 May 2021 - Part 2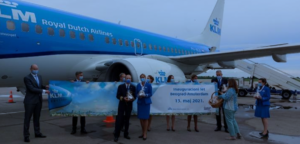 KLM
(IATA code KL) returned to
Belgrade
on 13 May after a gap of three decades, with non-sop service from
Amsterdam
. Initially operating 3-weekly with E190s on the 1,410-kilometre route, frequency is set to increase to daily in the coming months. The first flight was actually operated by a 737-700 (PH-BGK). Competition on the route comes from
Air Serbia
(operating 5-weekly at present).
KLM
has previously codeshared with
Air Serbia
on the route.
KLM
's in-house LCC
Transavia
began serving
Belgrade
from
Amsterdam
with year-round flights in April 2017. However, according to Cirium Data and Analytics there were just five flight on this route in June and July 2020.
KLM
's recently published Q1 figures show that the airline carried 1.42 million passengers in the first three months of the year. Load factor on short and medium-haul routes was 50.7%, while long-haul load factor was just 28.3%. The corresponding figures for 2020 Q4 were 58.0% and 31.0%. However,
KLM
's cargo load factor in Q1 was over 86.2% (up from 64.8% in 2020 Q1), which helps explain why so many of the long-haul routes are still operating.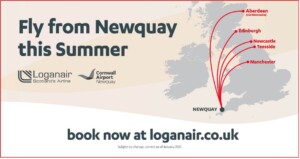 Loganair
(IATA code LM) in early May increased its presence at
Newquay
in the south-west of England by adding non-stop service from
Teesside
in the north-east of England (3-weekly from 9 May) and
Manchester
(initially 2-weekly from 3 May, increasing to 5-weekly in due course). Both routes are flown using the airline's ERJ-145s.
easyJet
will also start competing on the
Manchester
route from the end of May, while
Eastern Airways
is already offering service from
Teesside
. Back in the summer of 2019,
Flybe
operated between
Manchester
and
Newquay
with two daily flights.
Loganair
also currently serves
Newquay
from
Aberdeen
,
Edinburgh
and
Newcastle
, making it the airport's leading carrier for routes.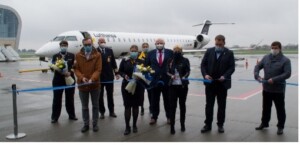 Lufthansa
(IATA code LH) added a new route from both of its two hubs in the last four weeks. On 30 April, the German flag-carrier began 3-weekly service between
Frankfurt
and
Lviv
in Ukraine, using its CRJ 900s. Frequency is set to increase to 6-weekly in June. The two airports were previously connected by
Ukraine International Airlines
. However, that carrier's service ended in October 2009. The 1,100-kilometre route to
Lviv
is
Lufthansa
's second route to Ukraine from
Frankfurt
as it has long served
Kiev
KBP. It previously served
Lviv
from
Munich
with daily flights until the start of the pandemic in March 2020. ther connections between Germany and
Lviv
are currently being offered by
Wizz Air
, from
Berlin
,
Dortmund
and
Memmingen
, while
Ryanair
has previously served
Lviv
from
Memingen
and
Weeze
and will resume 2-weekly service from the latter airport in early August. Meanwhile, from
Munich
,
Lufthansa
began a weekly (Saturday) service to
Jerez
in Spain on 8 May, also using CRJ 900s. This route has previously been flown by
airberlin
and
Condor
(as recently as last summer) and will be served this summer by
TUI fly Deutschland
.
Luxair
(IATA code LG) expanded its presence in Tunisia at the beginning of May with the launch of a new route on 7 May from
Luxembourg
to
Tunis
. The 2-weekly service will operate on Mondays and Fridays. There is no competition on the 1,460-kilometre route. Two days later, the carrier resumed service to
Monastir
, after a seven-year hiatus. This route will also be served 2-weekly (Thursdays and Sundays) and replaces the airline's previous service to
Enfidha
.
Luxair
also flies to
Djerba
, a destination it has served for several years.
Luxair
also plans to launch several more new routes this summer, including to destinations in France, Germany, Greece, Norway and Serbia.
Nordwind Airlines
(IATA code N4) on 24 April began weekly (Saturday/Sunday) service between
Nizhniy Novgorod
in Russia and
Yerevan
in Armenia using its 737-800s and A321s. The 1,790-kilometre route is also flown weekly by
Pegasfly
and
Ural Airlines
according to Cirium Data and Analytics.
Nordwind
's service departs Russia at 21:25 arriving in Armenia at 01:10 on Sunday morning. The return flight leaves
Yerevan
at 02:05 and arrives back at
Nizhniy Novgorod
at 03:50. Last year the Russian airport handled 574,000 passengers, down 48% on the 1.11 million passengers processed in 2019. This month,
Nordwind
is offering non-stop service from a total of 11 Russian airports to Yerevan, according to Cirium Data and Analytics. This compares with just one (
Moscow
SVO) in summer 2019.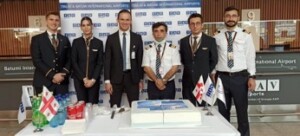 Pegas Fly
(IATA code EO and formerly known as Ikar Airlines) started connecting
St. Petersburg
with
Düsseldorf
with a weekly (Saturday) service on 24 April using its 110-seat E190s. The 1,750-kilometre route is also served 4-weekly by
Aeroflot
, which recently resumed service between the two airports. Since 2005, the two airports have also been linked by
airberlin
(May 2009 to January 2013),
germanwings
/
Eurowings
(June 2014 to August 2015),
Lufthansa
(April 2009 to May 2014) and
Rossiya
(January 2005 to March 2014), as well as
Aeroflot
(since March 2014).
Pegas Fly
now offers two routes to German airports, as it also connects
St. Petersburg
with
Berlin
on a weekly basis, a route it started on 4 March. According to planespotters.net the airline has a fleet of 15 aircraft, comprising five E190s, five 737s, four 767-300s and one 777-200.