Leeds Bradford benefits from Doncaster Sheffield closure; Jet2.com celebrates 20 years at home airport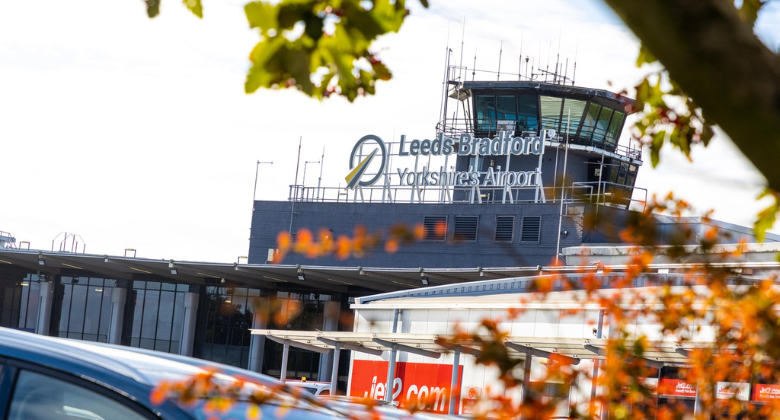 Yorkshire's Leeds Bradford Airport welcomed 3.29 million passengers last year. By December it was handling as many passengers as in the same month of 2019, but across the year as a whole traffic was down 18% compared with the last pre-pandemic year. Unusually, 2019 had not been the airport's busiest year. That happened in 2017 when 4.07 million flying customers passed through the airport.
In the early 2000s traffic at the airport had stagnated at around 1.5 million annual passengers. Then, in February 2003, Jet2.com was launched at the airport with 737s and by the end of 2004 the airport had seen traffic stimulated to almost 2.4 million, an increase of just short of 60%. Ryanair then made the airport a base in 2010, helping to boost traffic still further.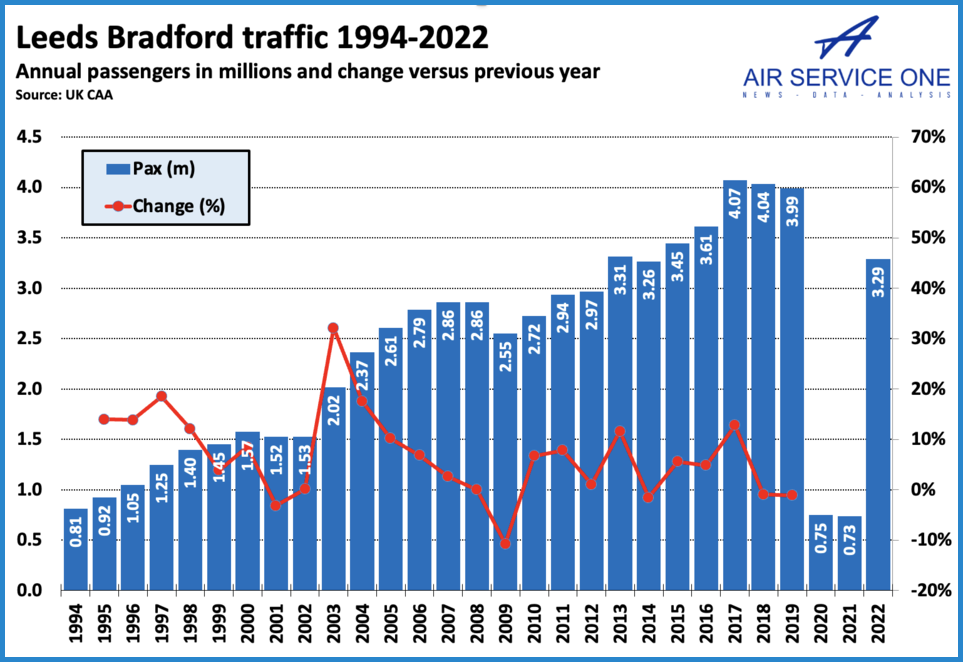 Pre-pandemic, the airport's focus on leisure routes meant that August traffic was round 150% higher than in January. The pandemic hit the airport hard with the first half of 2021 seeing hardly any passengers using the airport. However, things improved once Jet2.com ramped up operations in the second quarter of 2022.
Another boost to traffic came from the closure of Doncaster Sheffield Airport (around 60 kilometres away) at the beginning of November 2022, when Wizz Air moved many of its routes from Central and Eastern Europe to the bigger Yorkshire airport.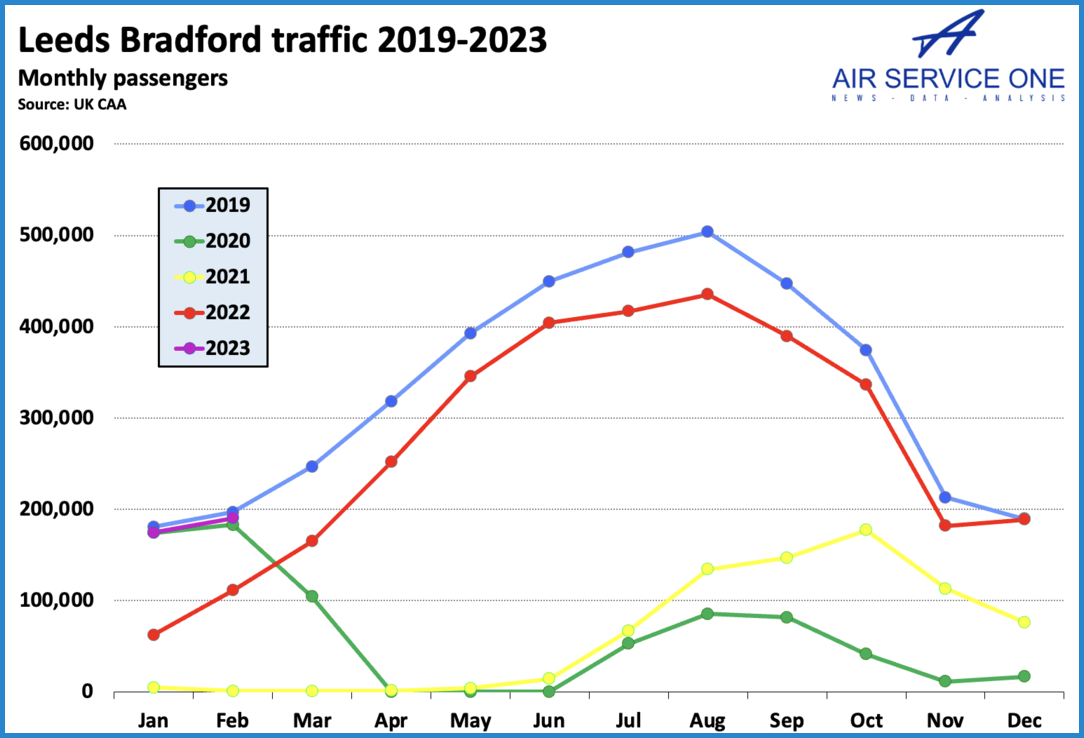 Jet2.com has offered over 70 routes
Locally-based Jet2.com recently celebrated its 20th anniversary at the airport. It remains the airport's leading carrier, though its share of seat capacity (according to analysis of Cirium data) has fallen from 55.4% in S19 to 51.0% in S23. Ryanair, on the other hand, has increased its capacity share from 29.5% to 31.3%.
This summer, Jet2.com will be flying to 44 destinations non-stop and also operates six winter-only routes. There are no new routes for this summer. During the last 20 years it has served over 70 destinations from the airport. Ryanair will be offering a total of 24 routes. This includes two new routes, to Perpignan in France and Porto in Portugal. However, compared to last summer it is dropping service to Vilnius in Lithuania. In total, Ryanair has offered flights to just over 40 destinations from Leeds Bradford.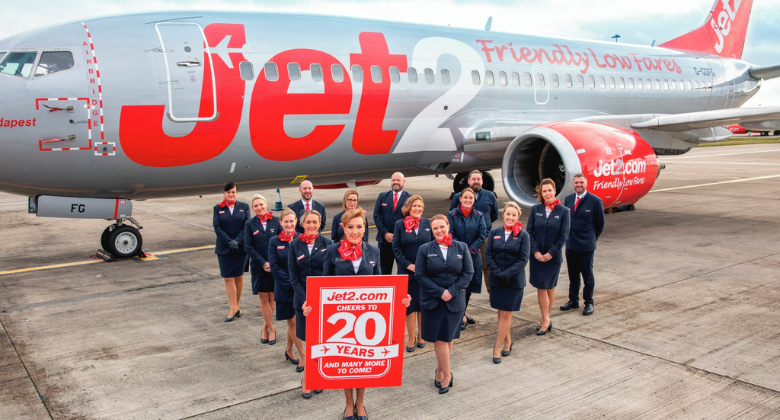 The third biggest carrier is now Wizz Air. It is offering flights to seven destinations of which five are in Poland; Bucharest, Cluj Napoca, Gdansk, Katowice, Krakow, Warsaw WAW and Wroclaw. Aer Lingus competes with Ryanair on the Dublin route, while also offering service to Belfast BHD through its partnership with Emerald Airlines.
KLM has service to Amsterdam with 3-daily flights this summer using its Embraer E-jets operated by KLM Cityhopper. With the airport having lost its connection to London LHR, when the recent version of Flybe collapsed, the Amsterdam service is the nearest thing to a hub connection from the airport.
For holidaymakers who prefer to travel with TUI Airways, the carrier is offering five routes from Leeds Bradford this summer; Corfu in Greece (weekly), Palma de Mallorca in Spain (3-weekly) and, new for this summer, Dubrovnik in Croatia (weekly on Thursdays starting 4 May allowing passengers to connect with Marella Cruises itineraries) and 2-weekly flights to Antalya and Dalaman starting on 24 May, which were originally supposed to operate from Doncaster Sheffield.
Six of top 10 routes are to Spain
Analysis of Cirium data for this summer and S19 shows that Palma de Mallorca is still the leading summer destination, but it has extended its lead over its nearest rival, which is now Dublin rather than Alicante. Six of the top 10 destinations are to Spain. The top 15 routes also include two destinations in each of Poland and Turkey, all four of which have seen significant capacity increases since 2019. The only domestic route in the top 15 is to Belfast BHD, now only served by Aer Lingus after the recent, second collapse of Flybe.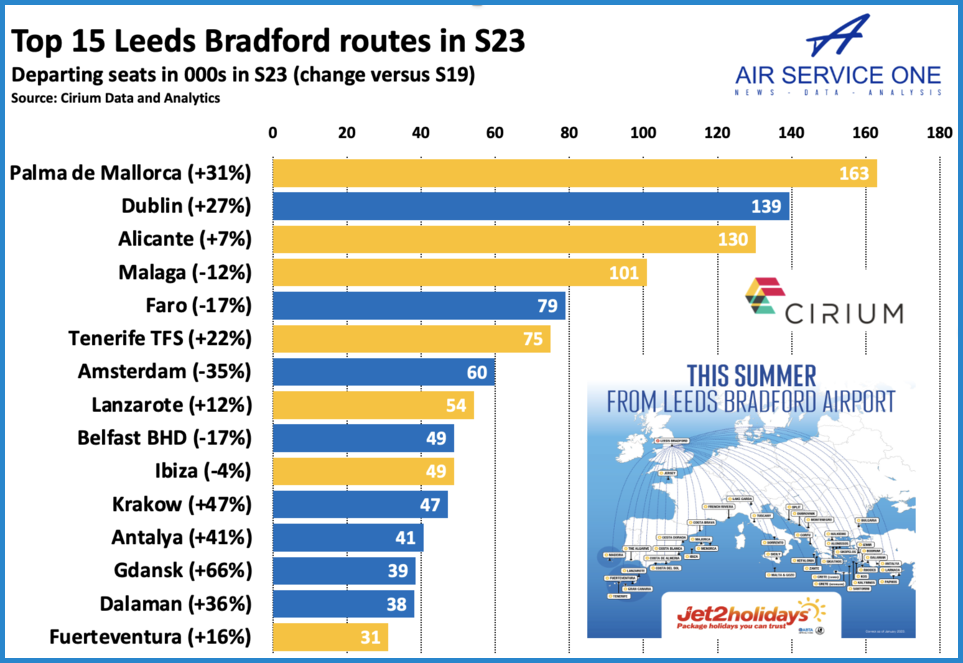 Destinations gained since S19 include Belfast BFS (easyJet), Bucharest (Wizz Air), Catania (Jet2.com), Cluj-Napoca (Wizz Air), Katowice (Wizz Air), Paris BVA (Ryanair), Perpignan (Ryanair), Porto (Ryanair), Poznan (Ryanair), Santorini (Jet2.com), Skiathos (Jet2.com), Warsaw WAW (Wizz Air)and Zadar (Ryanair). However, several destinations served from Leeds Bradford in 2019 are no longer served this summer. They are Düsseldorf, Enfidha, La Rochelle, London LHR, Murcia, Newquay, Pula, Southampton, Venice VCE and Vilnius.