Lille has 45 S23 routes; Volotea narrows the gap with #1 carrier easyJet; Air Arabia Maroc starts in June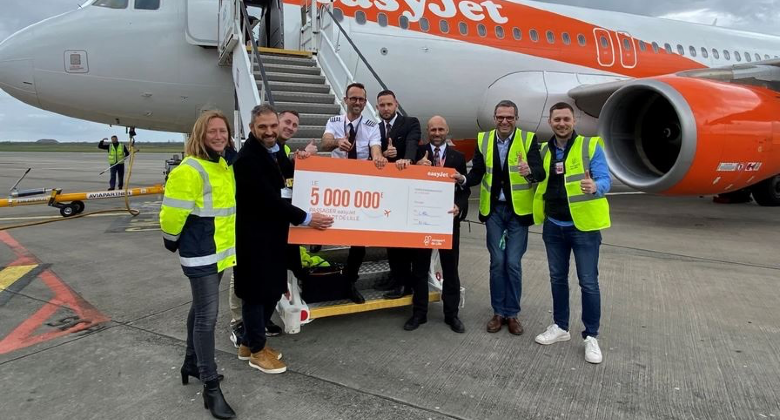 Located closer to Brussels than to Paris, Lille welcomed 1.78 million passengers in 2022, when it was France's 10th busiest airport. According to the airport's own figures, traffic was inevitably up by a strong 52.2% year-on-year. However, it was down by 19.1% versus 2019.
As the recovery continues, there is much to shout about. In April 2023, easyJet celebrated carrying five million Lille passengers, while Aegean returns after a three-and-a-half-year absence. In June, Lille will welcome its next airline – Air Arabia Maroc. It adds to Greece's SKY express, which launched at the airport last year.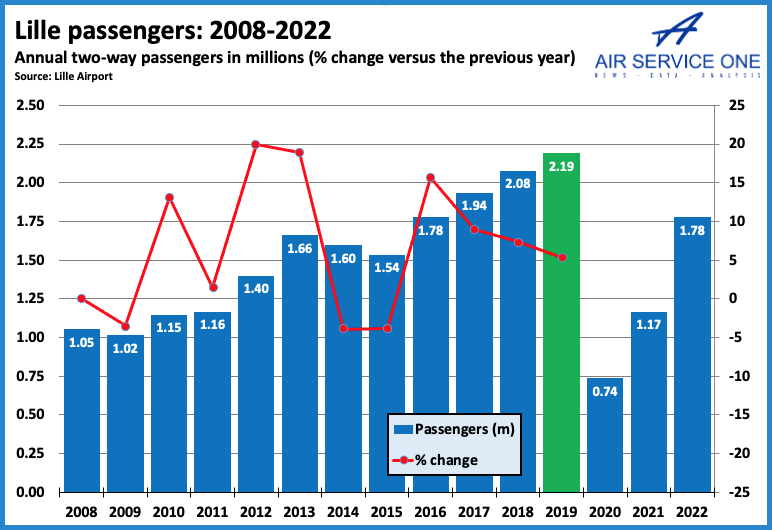 easyJet is Lille's leading airline, but Volotea is catching up
According to Cirium schedules information data, easyJet has 239,000 one-way seats in S23, as shown below. It has about a third of Lille's total capacity. easyJet serves 23 French airports this season, of which Lille ranks seventh. It is even bigger there than it is at Marseille.
While remaining the number one carrier, easyJet's capacity has reduced by 9.5% versus S19, the result of its network falling from nine routes to five. No longer does it serve Nantes, Faro, Naples, Lisbon or Biarritz, offset by the addition of Palma (in 2021). easyJet has served Lille for 11 years, in which time it has also ended Malaga, Milan MXP and Venice VCE.
easyJet's capacity gap over Volotea has shrunk to just 6.2%. While Lille has been part of Volotea's network since 2012, it did not expand rapidly until 2021. Indeed, Volotea was Lille's sixth largest operator in S19, when it had four routes. Now it has 25. Volotea's rise was also aided by the substantial reduction of Air France Hop and TUI fly. In S19, they were Lille's second and third largest carriers.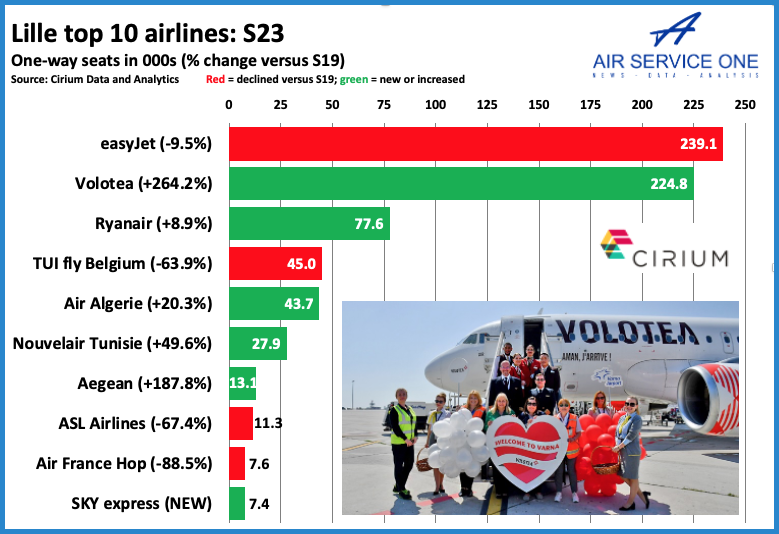 45 summer routes, 12 across France
Cirium informs that Lille has 45 routes in S23 involving 12 countries. Given the location of the city in the very far north of France, it is not surprising that far more destinations are in France (13) than in any other country. Flights go to Ajaccio, Bastia, Biarritz, Bordeaux, Calvi, Figari, Lyon, Marseille, Montpellier, Nantes, Perpignan and Toulouse.
After France, Spain has the next most destinations (seven), then Morocco (five), Italy (four) and Algeria (four). This mixture of domestic, outbound tourism and VFR traffic helps to achieve a reasonably good seasonality profile, as shown below. While clearly summer-seasonal, it is less extreme than might otherwise be the case.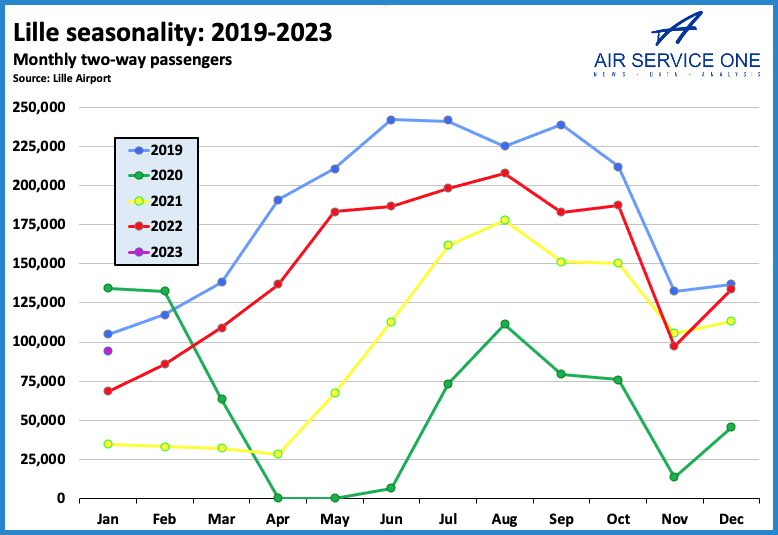 Nice is Lille's top route
Some 58% of Lille's available seats are domestic, nearly eight times more than Algeria, the second most-served country by this measure. As the following figure shows, eight of the airport's top 10 routes are within France or to Algeria. By far Lille's leading route is Nice. In the week beginning 11 July, it is served by easyJet (13-weekly), Volotea (6) and Air France Hop (3).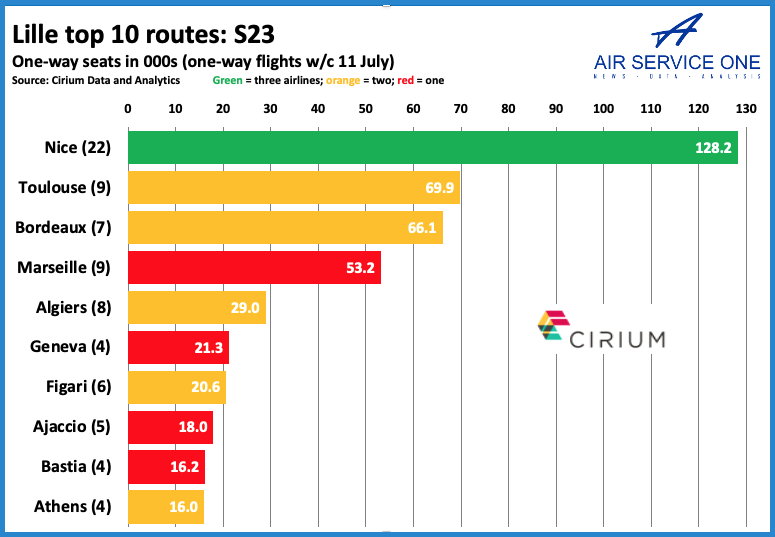 Air Arabia Maroc is coming, Aegean returns
On 21 June, Air Arabia Maroc will become Lille's latest carrier. It will operate weekly from Oudja, 1,800 kilometres away. It is one of six routes to begin this year:
14 April 2023: Aegean, Heraklion (weekly)
17 April 2023: Twin Jet, Lyon (9-weekly)
24 April 2023: SKY express, Rhodes (weekly)
27 April 2023: Aegean, Athens (2-weekly); last served in 2019
21 April 2023: Volotea, Olbia (2-weekly)
21 June 2023: Air Arabia Maroc, Oudja (weekly)
Air Arabia Maroc will be the fourth airline from Oudja since 2008. Royal Air Maroc briefly operated it in 2007/2008, then Transavia in 2013/2014 and TUI fly Belgium in 2021-2023. In mid-July, Air Arabia Maroc's weekly offering is against TUI's 3-weekly operation.