Ljubljana welcomes 1 millionth passenger of 2023 as Turkish Airlines is crowned leading carrier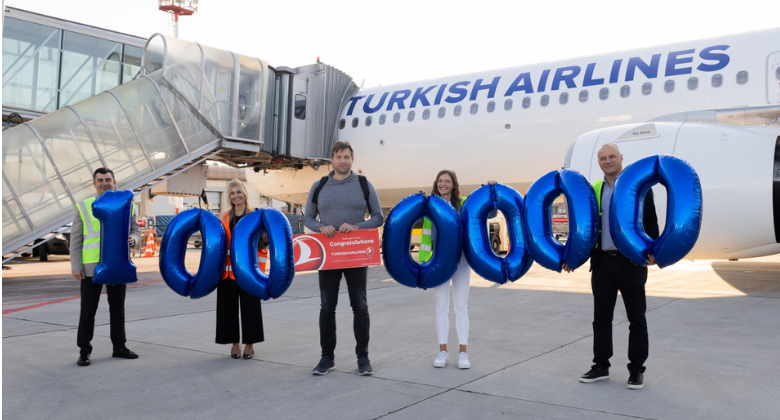 Ljubljana is the capital of Slovenia and is located closer to the Italian city of Trieste than it is to its second most populous city, Maribor. Due to the end of flag carrier Adria four years ago, Ljubljana remains among Europe's least recovered airports.
It welcomed 832,000 passengers in the first eight months of 2023, down by 35% versus 2019. Nonetheless, it has gained new carriers and routes, and is actively targeting new additions. Slovenia is also aiming for another flag carrier. While not shown in the figure below, Ljubljana gained its one millionth passenger of the year in October, the first time it hit that milestone since 2019.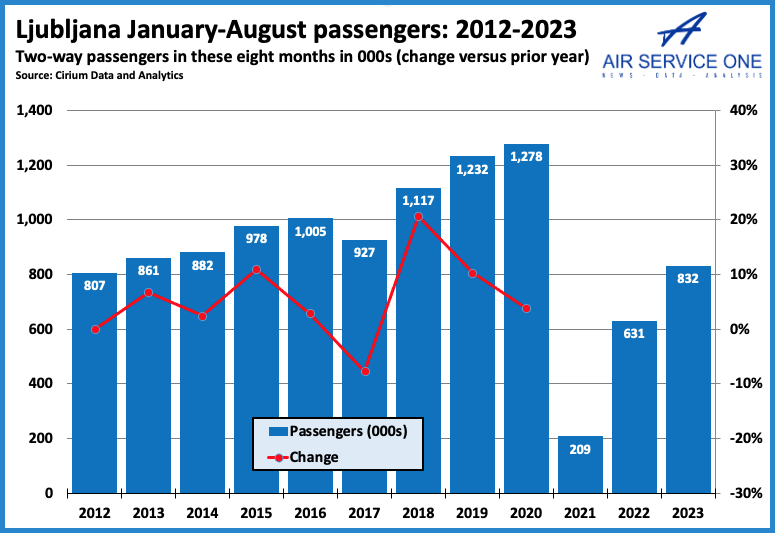 New routes and airlines
The following routes have started or will do so, with Red Sea Airlines and Luxair being new carriers at Ljubljana. While Aegean is not as it briefly operated in 2016, that was long enough ago to be a significant development. They will be joined by airBaltic – another new carrier – next year. It will be the first time the capitals of Latvia and Slovenia have had non-stop service.
21 May 2023: Red Sea Airlines, Hurghada (weekly)
6 June 2023: Aegean, Athens (2-weekly)
13 September 2023: Air Montenegro, Tivat (weekly)
14 September 2023: Luxair, Luxembourg (2-weekly)
20 September 2023: Air Montenegro, Podgorica (3-weekly)
27 September 2023: Wizz Air, Skopje (2-weekly)
2 May 2024: airBaltic, Riga (2-weekly)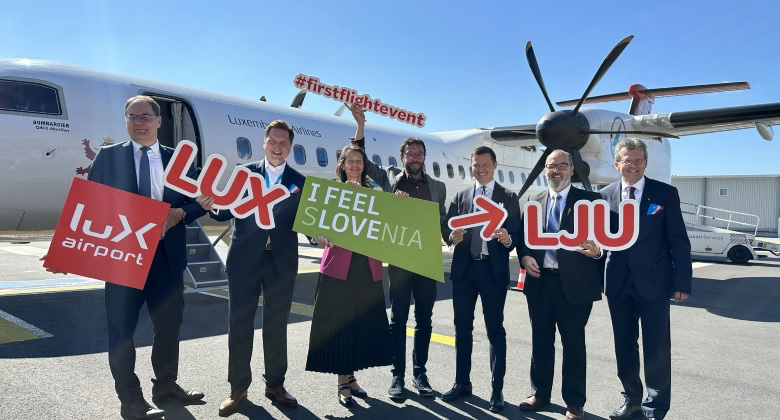 Turkish Airlines is the top carrier in Q4
The lack of a flag airline and a dominant LCC means that Turkish Airlines is in the strange position of being Ljubljana's leading carrier based on October-December (Q4) available seats. It replaces Lufthansa, which was first in Q3. Yet Turkish Airlines only has one route – Istanbul IST – with up to 2-daily flights.
Not helped by being winter, only about 18% of Ljubljana's capacity is provided by (U)LCCs, much lower than in Central and Eastern Europe generally (56%; excluding Russia). While Wizz Air, easyJet, and Transavia serve Ljubljana, only two make the top 10 list with Wizz Air in sixth place with just two routes: London LTN and the newly introduced Skopje.
The relative lack of (U)LCCs contributes to Ljubljana having a surprising number of flag carriers. Aside from those mentioned earlier in this article, there is also Air France, Air Serbia, British Airways, Brussels Airlines, LOT Polish, Lufthansa and SWISS this Q4. Several of those in the top 10 capitalised on the exit of Adria by growing considerably.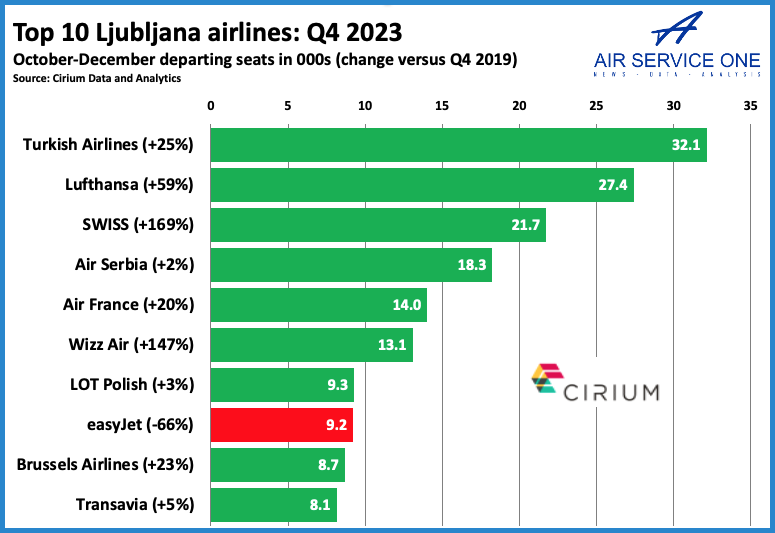 Hub routes dominate the top 10
Given the number of flag carriers, it should not be surprising that hubs and big airports remain fundamental for Ljubljana, with six of the top 10 being Star Alliance. While Istanbul is the leading destination, Zurich stands out, with capacity well over twice as high as in 2019. Then, Adria and SWISS operated, but it is now only the latter. It has a 12-weekly operation, with even the A320 and A321 used at times.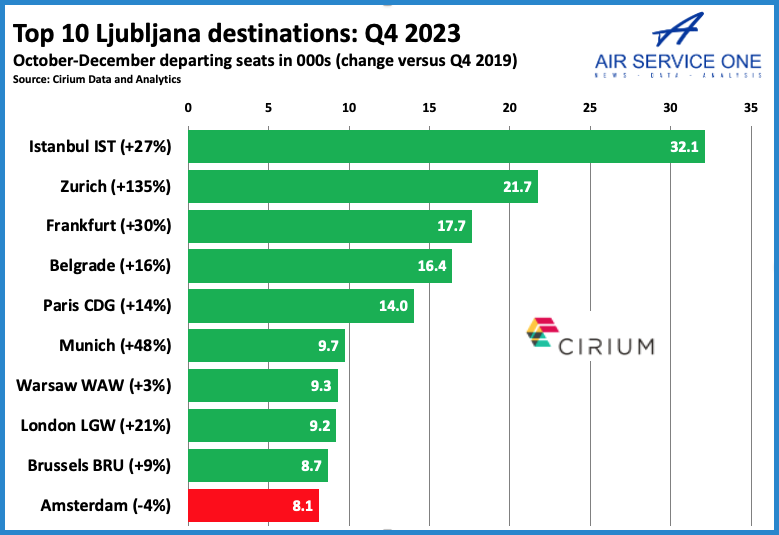 Berlin is the largest unserved market
Analysis of passenger traffic in 2019 shows that Ljubljana's top 10 unserved markets (excluding Russia which cannot be served) are Berlin, Tirana, Pristina, Copenhagen, Prague, Sarajevo, Bucharest, Stockholm, Sofia and Vienna. They had about 225,000 p2p passengers in 2019.