Loganair begins new Heathrow routes; had scheduled flights to 4 London airports in past 6 years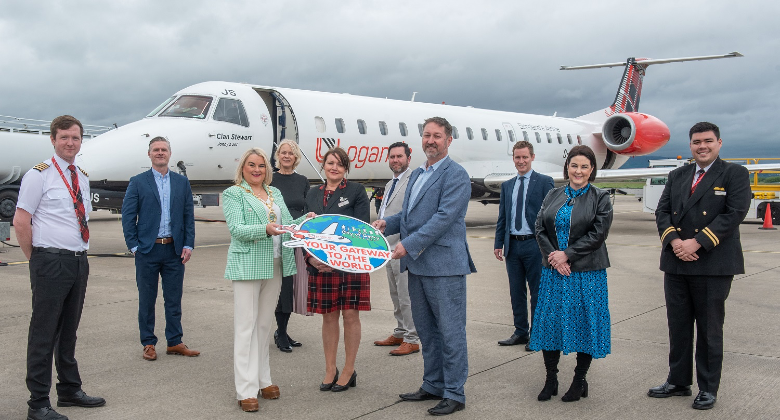 Loganair has inaugurated City of Derry and Dundee to London LHR, the next stage in its evolving UK capital network. Loganair – 'Scotland's airline' – has served London since 2017. In this time, it has had scheduled flights to four of six London airports: Stansted, Southend, City, and Heathrow. Only Gatwick and Luton have not been served, although it has regular charters to Luton. Loganair has now consolidated at Heathrow and City. Serving Heathrow adds more global connectivity to City of Derry and Dundee with Loganair's partners British Airways, Emirates, and more, while easy day trips to London are possible.
Loganair begins two Heathrow routes
Using slots leased from British Airways, Loganair has introduced two routes: City of Derry-Heathrow on 6 May (19-weekly) and Dundee-Heathrow on 7 May (11-weekly). Both operate on a public service obligation (PSO) basis. City of Derry switched from Stansted, and Dundee from City. The two Heathrow routes coexist with Loganair's existing service from the Isle of Man (daily).
The 595-kilometre route from City of Derry exclusively uses the 49-seat Embraer 145, Loganair's main aircraft type, while the 48-seat ATR-42 is deployed from Dundee. According to Cirium schedules information data, Loganair is the only operator of the two aircraft types at Heathrow this summer.
Not surprisingly, they are the smallest equipment Heathrow gets on scheduled flights. It raises the question of PSOs and wider connectivity for smaller communities versus getting the 'most' of slots – especially at peak times – at a very slot-constrained airport.
No stranger at Heathrow
Loganair is no stranger at Heathrow, which is its 12th-busiest airport based on weekly August flights, as shown below. It arrived from the Isle of Man in December 2020, after which it launched Teesside in March 2021. While Isle of Man continues to be served, Teesside ended in May 2022.
Not far from Newcastle in England's Northeast, Teesside has seen multiple airlines attempt London in the past two decades: bmi, bmibaby, Eastern Airways and Loganair. The business case is greatly undermined by fast trains – sub-150 minutes – from the nearby town of Darlington to central London.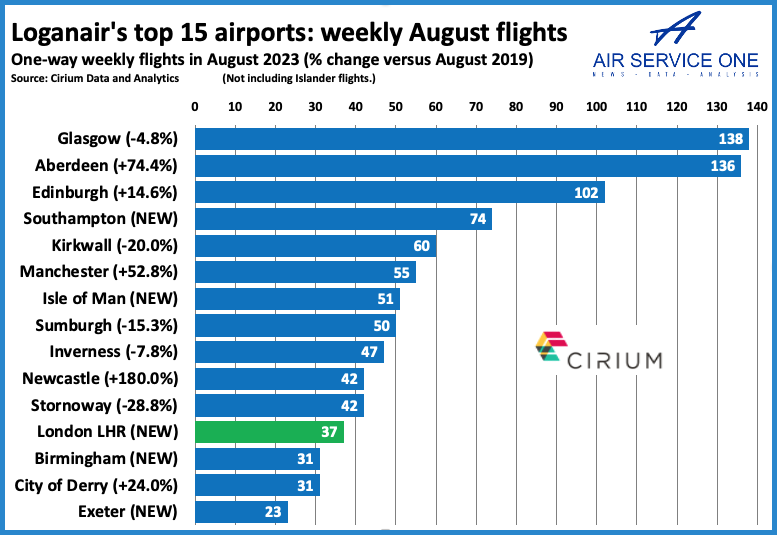 Loganair has four London routes; up to 6-daily at Heathrow
Analysis of Cirium data tells that Loganair has 45-weekly London flights on a network of four routes, as shown below. This makes the carrier the (distantly) third largest domestic operator from London, behind British Airways (403-weekly in August) and easyJet (362-weekly). Following the exit of Aer Lingus from Belfast BHD, Loganair is one of two domestic carriers serving Heathrow.
City of Derry-Heathrow (19-weekly)
Dundee-Heathrow (11-weekly)
Isle of Man-City (8-weekly)
Isle of Man-Heathrow (daily)
As you would expect, none of the four routes have direct competition. Not surprisingly given its PSO operation, Loganair is the only carrier between City of Derry and Dundee and London, although easyJet serves the Isle of Man from Gatwick (12-weekly in August). Loganair launched City of Derry-London after bmi regional ended Stansted in February 2019, which launched almost immediately after Ryanair ceased the airport pair in March 2017.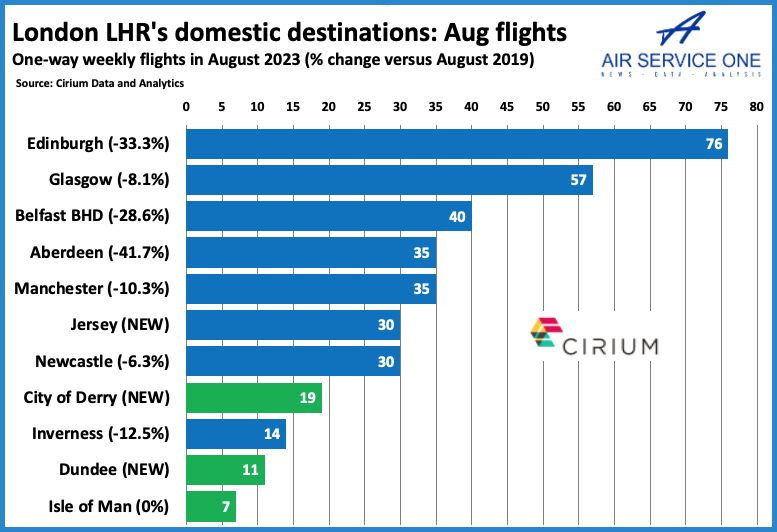 Loganair previously served Southend and Stansted
It is fair to say that Loganair's London network has seen a lot of change, with the following eight routes previously operated. Some, like Glasgow to Southend, did not last long. Loganair has now served City of Derry and Dundee from three London airports. For example, Dundee to Stansted (September 2017-March 2020) to City (March 2020-May 2023) and now to Heathrow (May 2023+).
Aberdeen-Southend: May 2019-April 2020
Carlisle-Southend: July 2019-April 2020
City of Derry-Stansted: March 2019-May 2023
City of Derry-Southend: October 2019-April 2020
Dundee-Stansted: September 2017-March 2020
Dundee-City: March 2020-May 2023
Glasgow-Southend: May 2019-January 2020
Teesside-Heathrow: March 2021-May 2022