Lufthansa leads Europe's flag-carriers for most new hub routes since summer of 2019
Maybe to the surprise of many, Europe's financially-challenged flag-carriers have, between them, started some 300 new routes since the pre-pandemic summer of 2019. However, analysis by The ANKER Report of schedule information from Cirium Data and Analytics of 23 airlines operating from 26 airports, shows that these same airlines have currently suspended around 700 routes during the same period.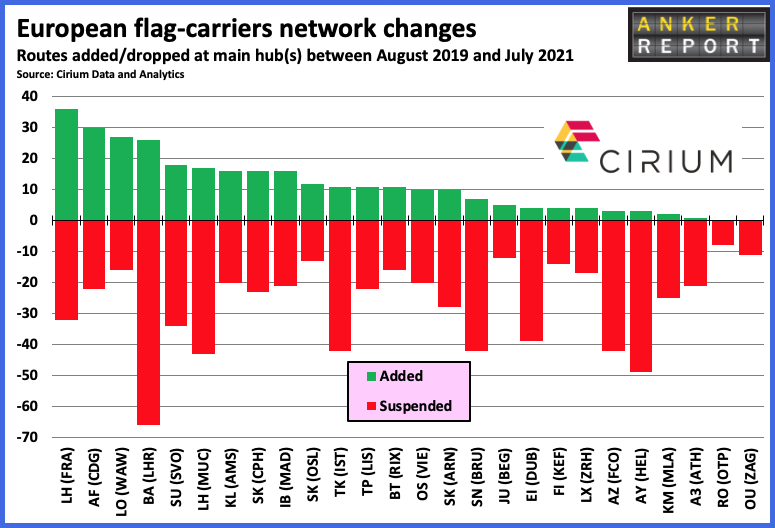 Lufthansa leads Air France
In terms of new hub routes added since August 2019, Germany's Lufthansa leads the way from its Frankfurt base, with flights to 36 new destinations. This beats the 30 new routes from Air France, and 27 from LOT Polish Airlines. British Airways ranks fourth with 26 new routes at Heathrow, mostly those that it transferred from its base at Gatwick. Having suspended 66 routes, it has recorded a net loss of 40 routes. Only Finnair with a net loss of 46 routes has performed worse. Other airlines with significant net route losses from their main hubs are Alitalia (net loss of 39 at Rome FCO), Aer Lingus (net loss of 35 in Dublin) and Brussels Airlines (net loss of 35 at Brussels). Only Romania's TAROM (from Bucharest) and Croatia Airlines (from Zagreb) failed to launch any new services in the last two years. Most airlines gained at least one new route by having to shift their flights to the German capital, from either Berlin TXL or Berlin SXF, to the new Berlin BER.