Lufthansa to add Belfast BHD and London LGW flights from Frankfurt in S23; will then serve 12 UK airports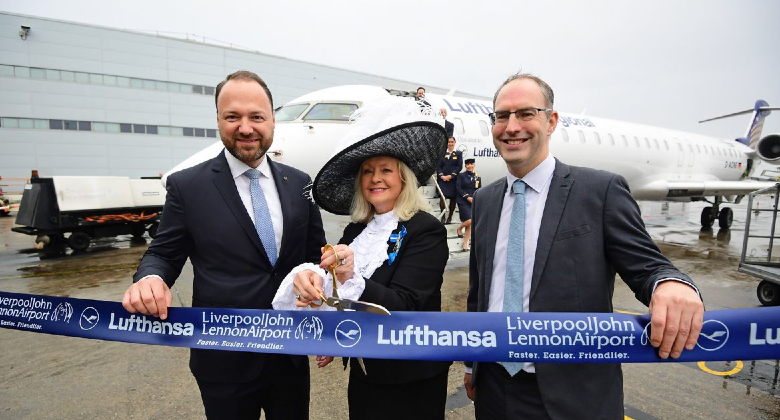 Belfast BHD is set to receive flights from Germany for the first time. On 23 April 2023, Lufthansa CityLine will begin Frankfurt, with the 4-weekly, 1,110-kilometre service using the 100-seat Embraer E190. It will provide an additional option to reach the wider world from Northern Ireland, will be the country's sole German route following Ryanair's October 2019 end of Belfast BFS to Berlin SXF, and will be the only time Northern Ireland has had Frankfurt flights. Elsewhere on 23 April, Lufthansa will also reintroduce Frankfurt to London LGW, returning after 10 years.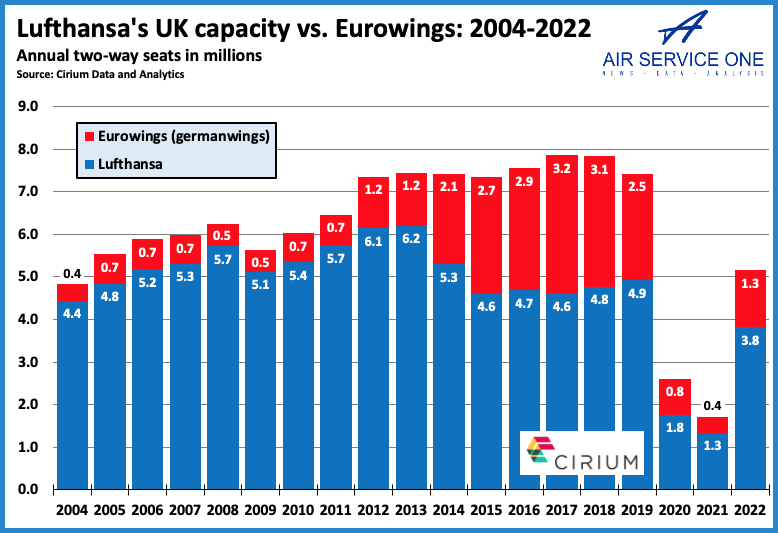 Lufthansa's own UK network jumps to 12 airports
Although it may change, the addition of Belfast and London LGW means that Lufthansa will serve 12 UK airports next summer, according to Cirium schedules information data. If subsidiary Eurowings is included, it rises to 13, the same number as British Airways/BA CityFlyer. In comparison, KLM has service to 17 UK airports.
Lufthansa has grown its UK airport network recently. The figures in brackets denote expected weekly frequencies next summer:
1 July 2021: Newcastle from Frankfurt (7), the first time they've been connected. Lufthansa served Newcastle from Düsseldorf until 2014, a route that switched to Eurowings, and briefly from Munich in the early stages of the pandemic.
2 August 2021: Bristol re-joined Lufthansa's network from Frankfurt (10). Bristol was served by the carrier in 2009. The relaunch replaced bmi regional, which had codeshared with Lufthansa
2 May 2022: Liverpool, the first time it has had Frankfurt service (6). It launched at 4-weekly, and rises to near daily in April.
23 April 2023: Belfast BHD from Frankfurt (4)
23 April 2023: London LGW from Frankfurt (14). Last served by Lufthansa in 2013 and by British Airways until 2005. Lufthansa carried 104,511 Gatwick passengers in 2012, according to the UK Civil Aviation Authority.
Lufthansa has 16 UK routes
Since 2015, Lufthansa's UK route network had focused solely on its Frankfurt and Munich hubs, with lower-cost Eurowings operating from other German airports. Lufthansa's UK network is as follows:
Frankfurt: Belfast BHD, Birmingham, Bristol, Edinburgh, Glasgow, London LCY, London LHR, London LGW, Liverpool, Manchester, Newcastle
Munich: Birmingham, Edinburgh, Jersey (summer seasonal), London LHR, Manchester
Between October 2011 and March 2018, Lufthansa served Aberdeen from Frankfurt and on many occasions had 3-daily flights. It is by far the most important UK route to no longer have the airline.