Lynx Air launches low-cost flights across Canada with three MAX 8s; 14 routes serving 10 airports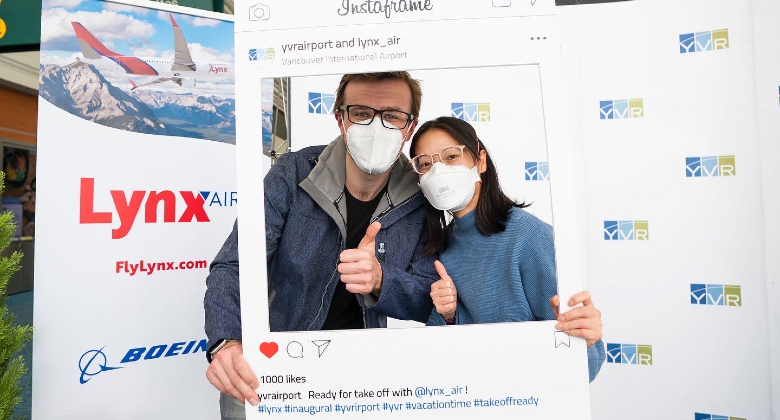 The skies of Canada welcomed a new airline last week when Calgary-based Lynx Air (IATA code Y9) launched its first route between Calgary and Vancouver on Thursday 7 April. However, the airline is not quite as new as it seems as it has evolved out of Enerjet, which received its Canadian AOC as long ago as November 2008. Then CEO and President Tim Morgan had been one of the founders of WestJet. Data from planespotters.net indicates that Enerjet operated a total of nine 737-700s and -800s between October 2008 and April 2017, though never more than four at any one time. The carrier appears to have focussed on charters, in particular for the energy industry.
Reinvented as a ULCC with plans for almost 50 aircraft by the end of the decade
Lynx Air was born last November, and its current fleet comprises three 189-seat 737 MAX 8s. The aircraft have the registrations C-GJSL, C-FULI and C-FULH. A recent press release from the airline stated that it plans to have a fleet of 46 aircraft by 2029. The airline's CEO is Australian Merren McArthur, who has had previous airline experience with Virgin Australia and was CEO of Tigerair Australia between May 2018 and November 2019.
So far, the airline has announced and put on sale 14 domestic routes involving a total of 10 Canadian airports, all the way from Victoria in British Columbia in the west of the country to St. John's in Newfoundland in the east. The first route launched last week, and six more routes will start before the end of April. A further two routes will start in May, four in June and one in July. Frequencies are set to be ramped up on several routes as the summer season progresses.
Competition will be intense on almost all routes
Analysis of Cirium schedule data for August reveals how the airline's planned frequencies on its 14 routes compares with those of its competitors. There are six routes from both Calgary and Toronto, four from Vancouver and three from Winnipeg. Lynx is offering two non-stop routes from Halifax, Hamilton and Kelowna and just one each from Edmonton, St. John's and Victoria.
Not surprisingly, at this stage Lynx Air has a relatively small market share apart from on its two routes from Hamilton. Lynx's most served route is its launch route between Calgary and Vancouver, one of the airline's shorter routes at just 670 kilometres. Despite offering a double-daily service in August, this represents just 7% of all the planned weekly frequencies. On the two Hamilton routes it will have between 20% and 30% of flights, while between Toronto and St. John's Lynx will account for 11% of flights. In all other markets it will have less than 10% of flights.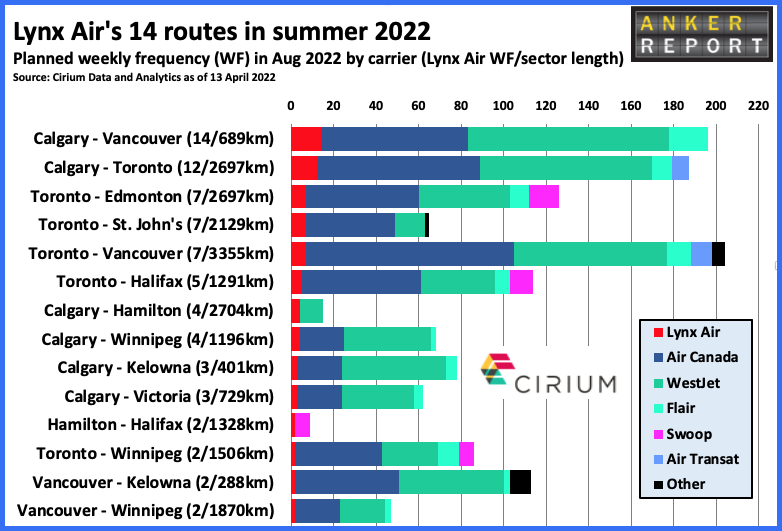 Of course, August is still several months away and Lynx may adjust its schedules and frequencies in response to advanced bookings which can often give an early signal as to whether or not a route is going to work, especially in the low-cost point-to-point market. Canada's other carriers may also make changes to their schedules and frequencies. Air Service One will be watching with interest.